Badge Frame's Latest & Greatest!!
click any image to enlarge...
40" Welcome to the Facility presentation for Rialto PD
Velco attached laser engraved title plaques for changing options in the future.
Rialto PD Section here
"Welcome to Badge Frame" / Interactive Presentation / 32"X28"
Shown with a 17" monitor and 8 different title categories.
Gary & Jim Souza - Pyro Spectacular Interactive Presentation
Vizio HDMI 720 resolution 23" monitor inset into laminated graphic backboard.
Outer dimensions 42" X 33" framed.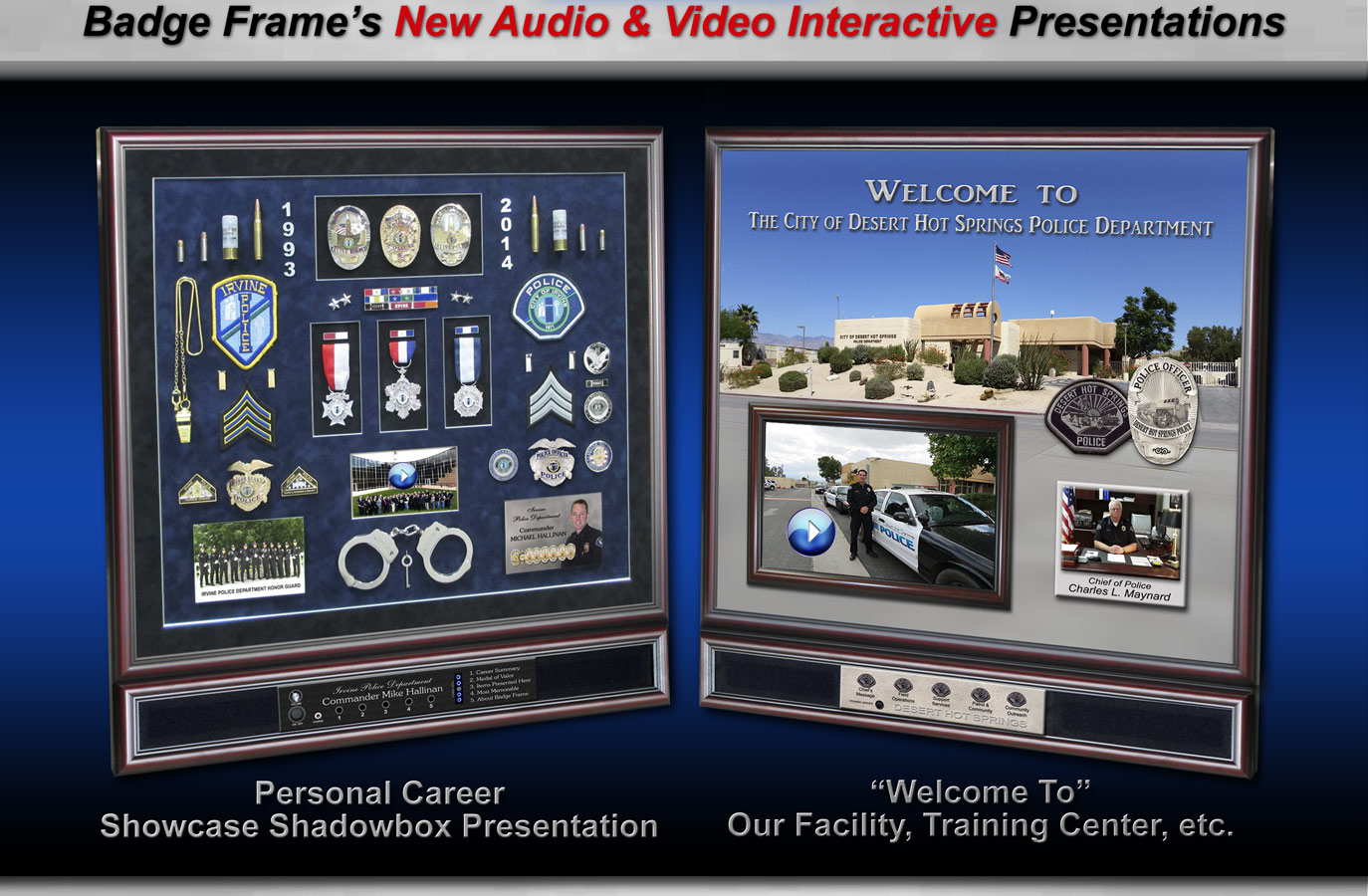 Two main types of these presentations are currently available.
1). The Personal Career Presentation...
This can also be made as a audio only version but the screen allows for basically an unlimited
number of photos and video files viewed as a slide show and triggered by 5 buttons on the
custom designed faceplate.
Irvine PD / Commander Mike Hallinan's / Interactive Presentation
2). The "Welcome to the Facility" presentation...
This version is made for lobbies, entryways, museums areas etc.
It also features the custom faceplate with the 5 trigger buttons.
Because this version runs for lonf periods of time, it is set-up for AC power
and requires an outlet (preferrably installed behind the unit to hide the cord.
Framed size of above vesion... 30" X 33"
MORE COMING / BRAND NEW SECTION !!!!
CALL US WITH YOUR QUESTIONS & IDEAS!

See more of our framing projects at our
Baxter's Frame Works Section
Call us...(800) New-Frame / National Toll Free
© 2005 Baxter's Frame Works / Badge Frame / All Rights Reserved
3811 Schaefer Ave., Suite A Chino, CA 91710 Local (909) 591-3033
EMAIL: fwbill32@verizon.net
EM us here
HEY!!! Don't forget to sign our GUEST BOOK before you bail.