About Org Charts...
The best way to go about obtaining a customized org chart from us is to follow these steps (in order).
1). Measure your wall and tell us the optimum OUTSIDE DIMENSION for you project.
2).
EM us
a list of ALL positions and personnel you wish to have represented.
3). EM or fax (909) 591-3032 a layout of your organization.
After these preliminary steps, we can design your chart (leaving extra room for future growth) and specify the
correct plaque or label holder sizes you will need to make your board look it's best.
Available options include magnetic clipboards (dry erase or regular) (lined or blank), all types of accessory holders for keys etc.
You can also have a protective front acrylic that hangs in front frame and backboard. See bottom of page to view this covering.
These pieces currently can get to 44X64 (outside framed dimension) and can include any graphics of your choice.
Larger sizes are currently being developed. Some agencies are using multiple panel layout outs to accommodate all the names.
Click on images to enlarge...
Click on any images to enlarge...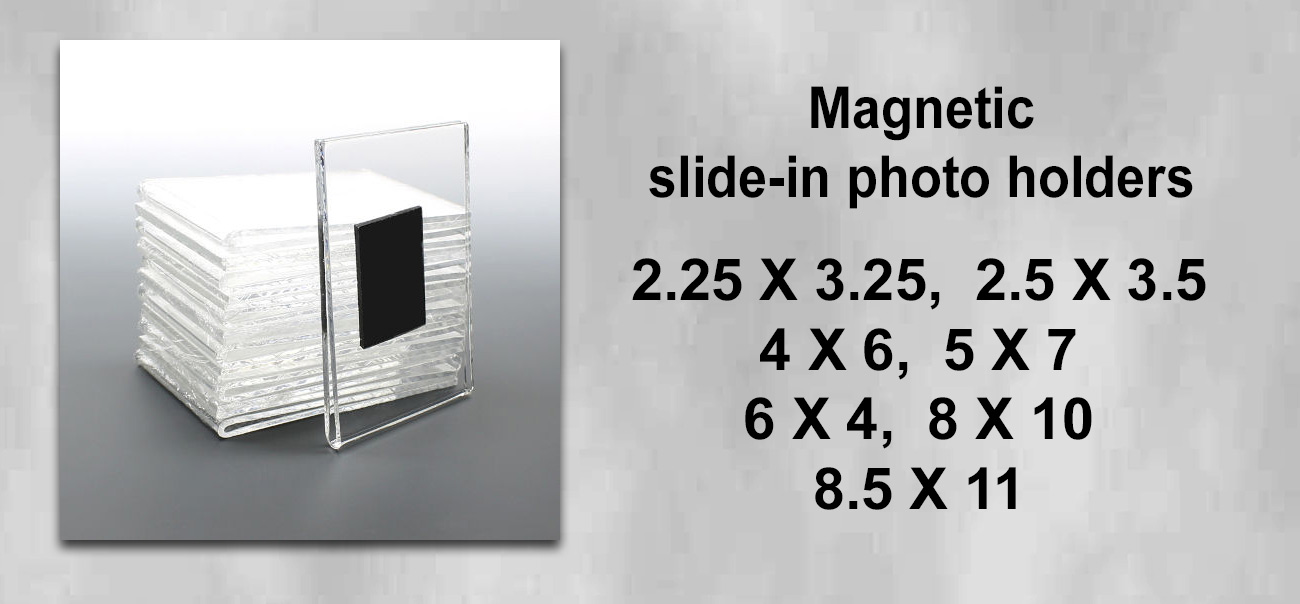 Bill / Shelley, Just wanted to send you a quick thank you for the great work you did on our organizational chart! J.K. Placentia PD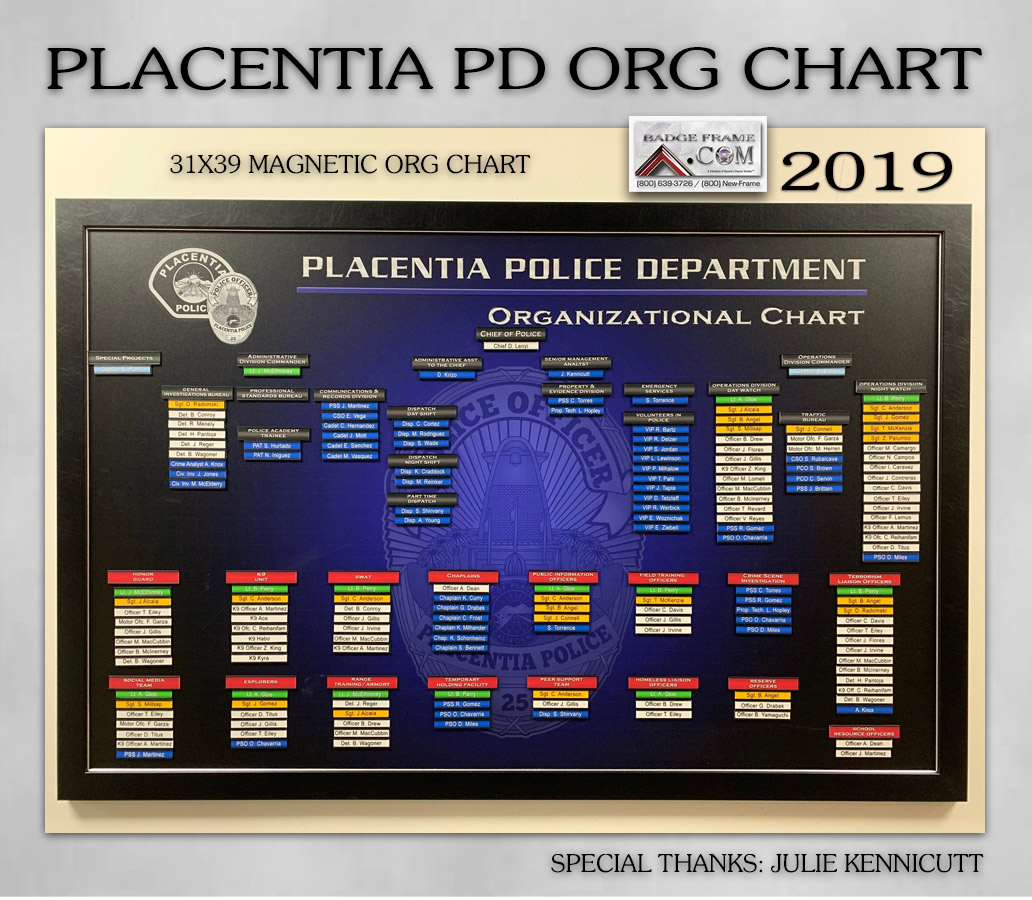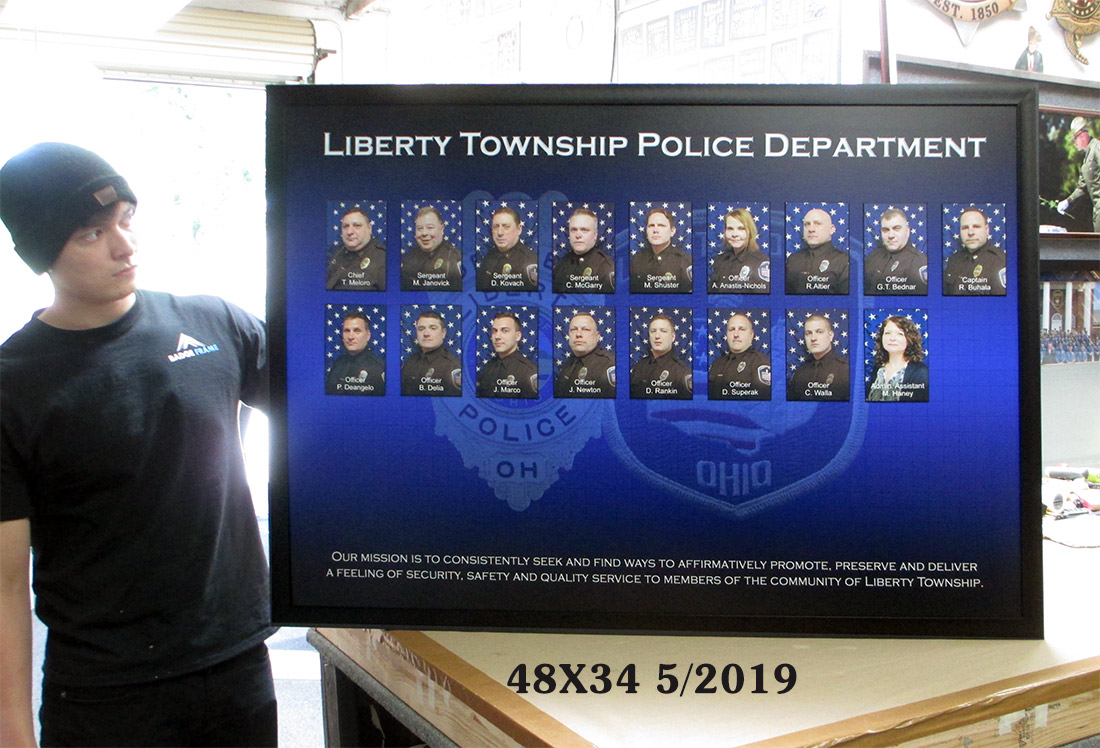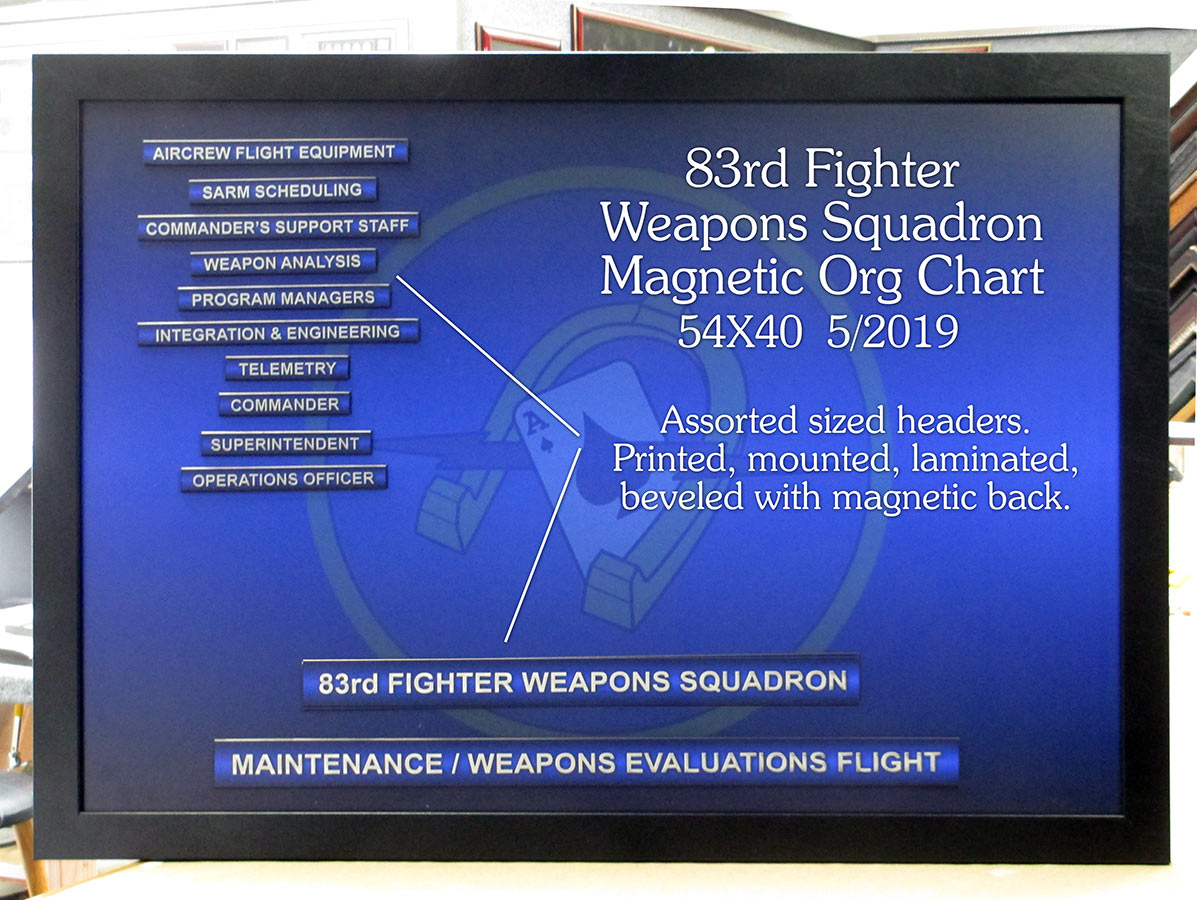 Air Force Section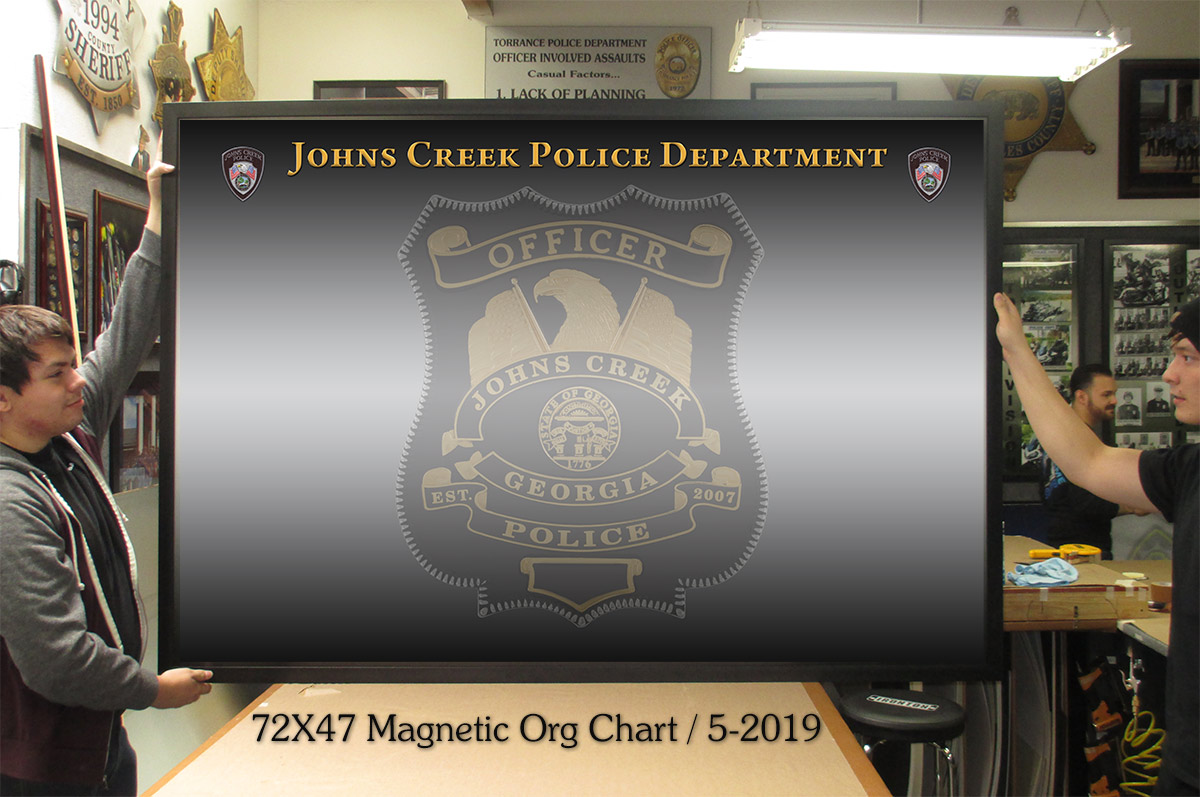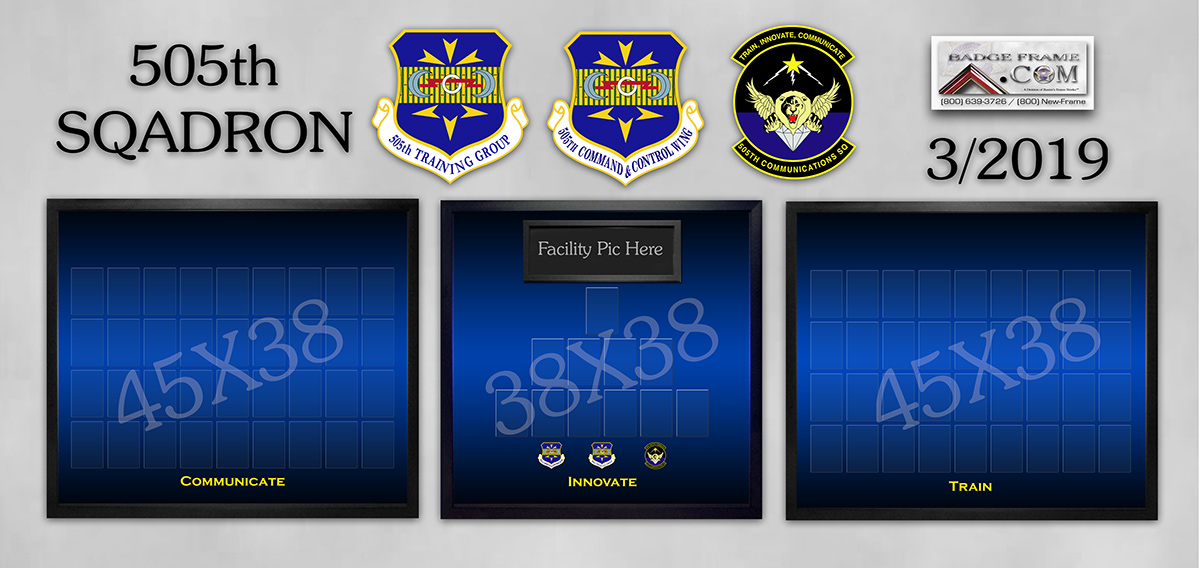 Air Related Section
Air Force Section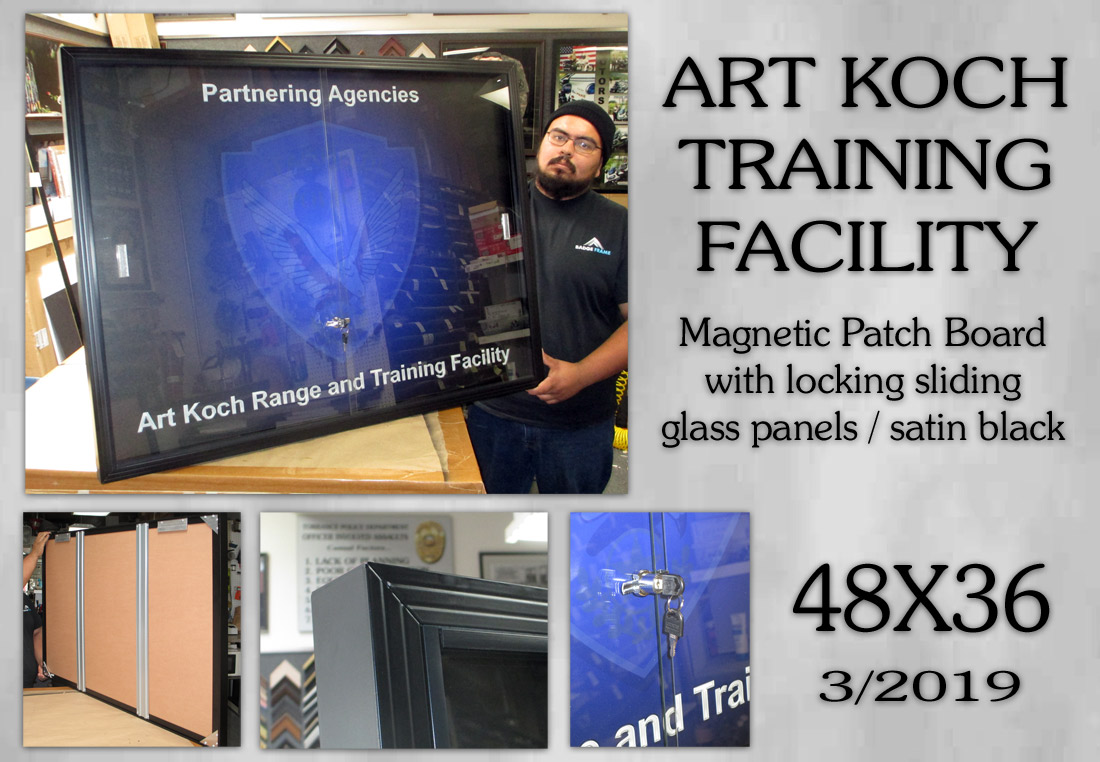 Display Cases Section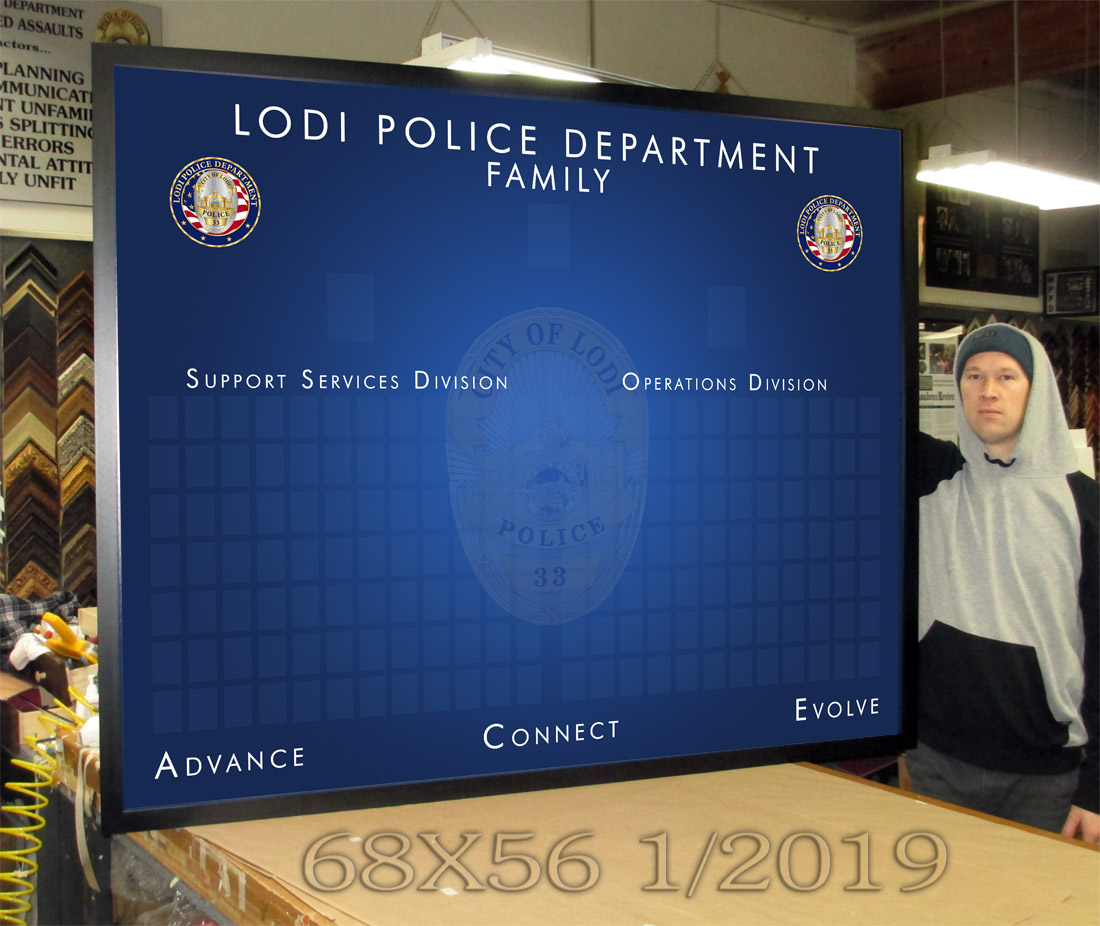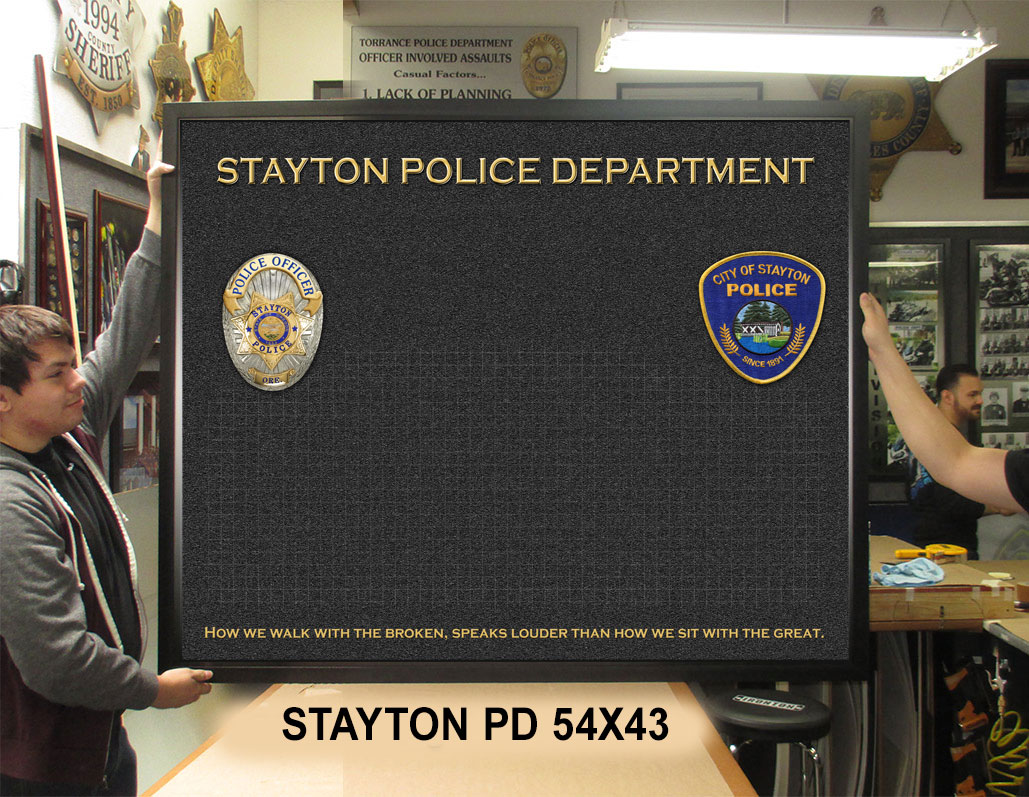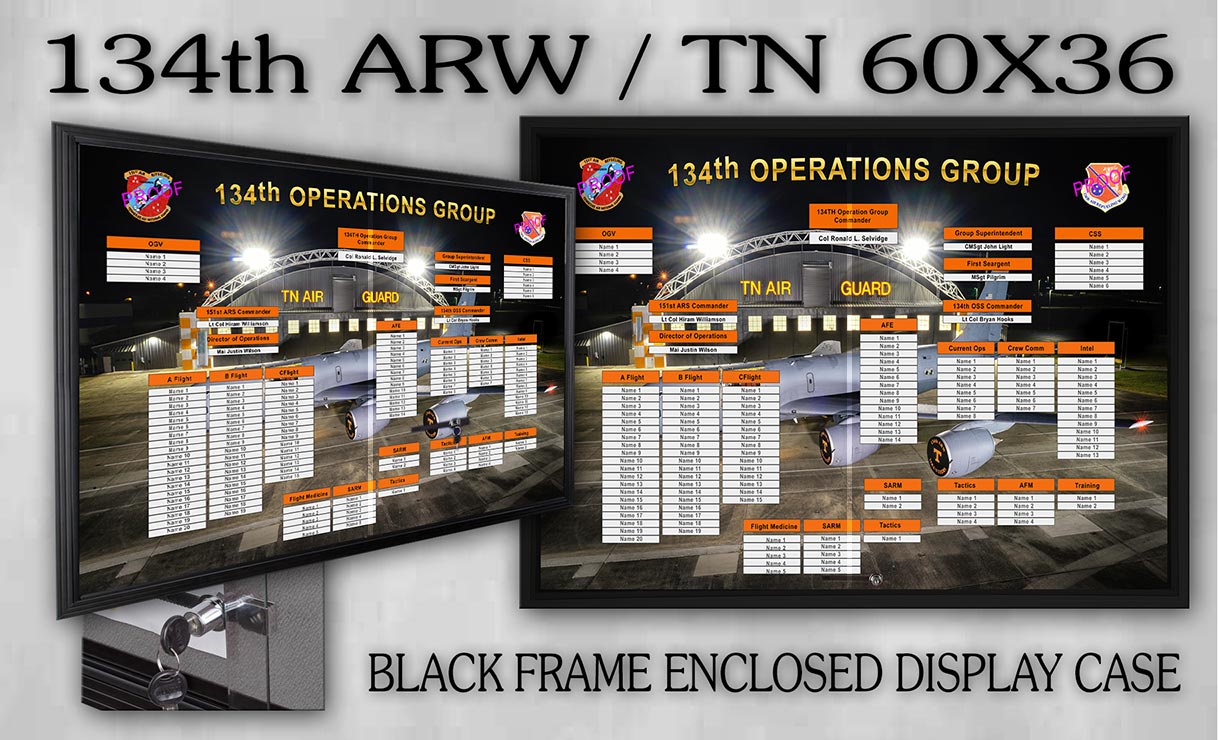 Display Case Section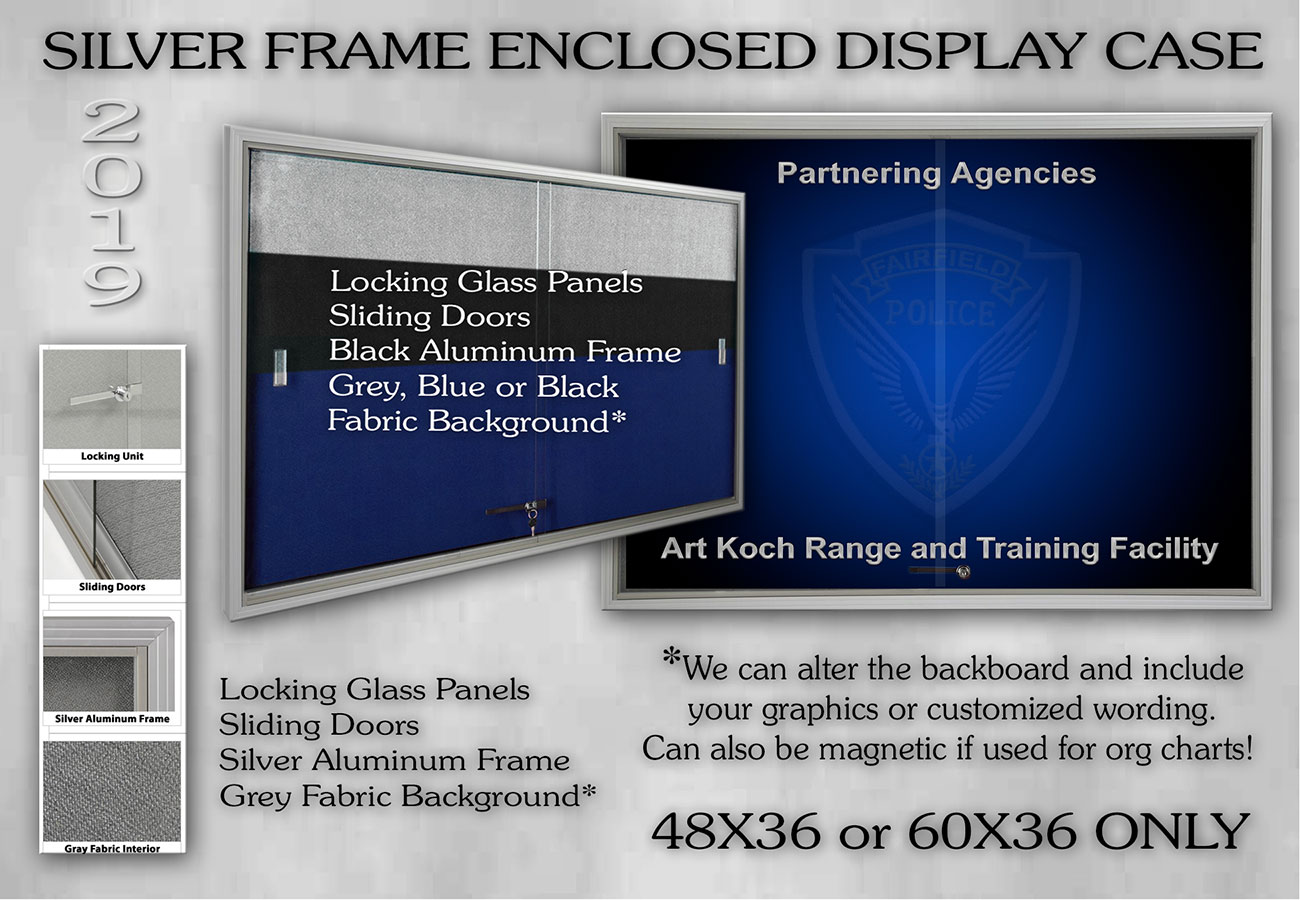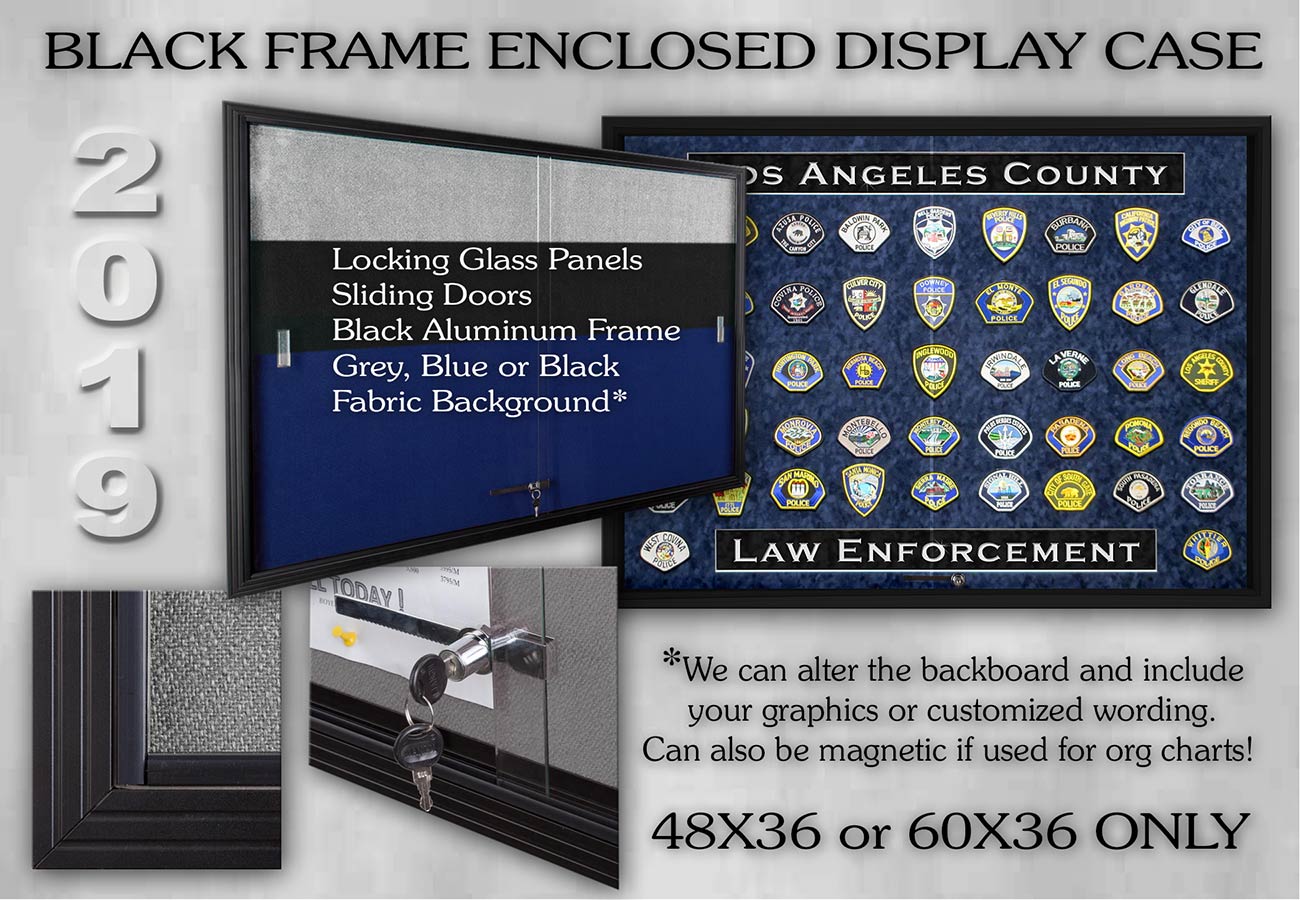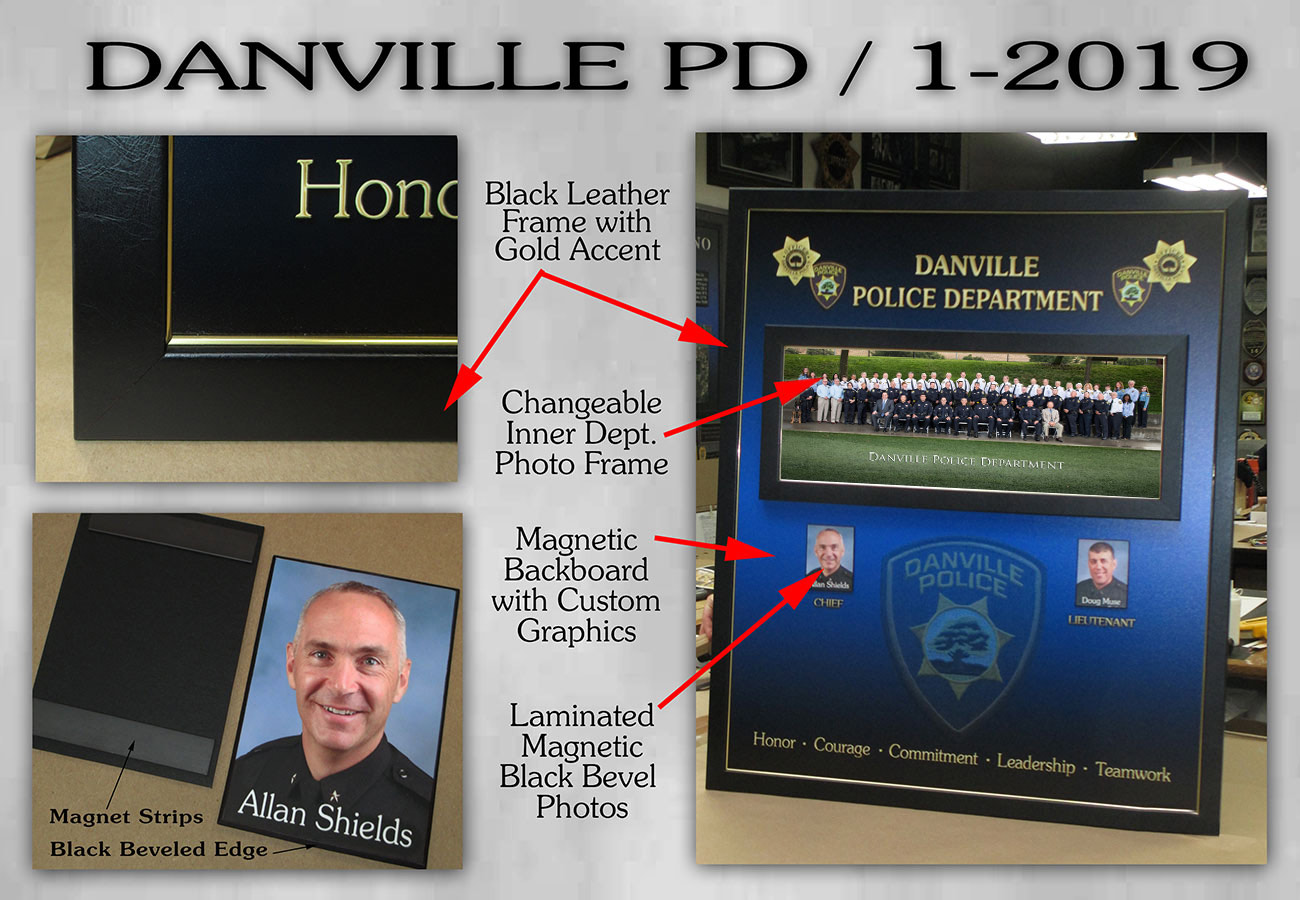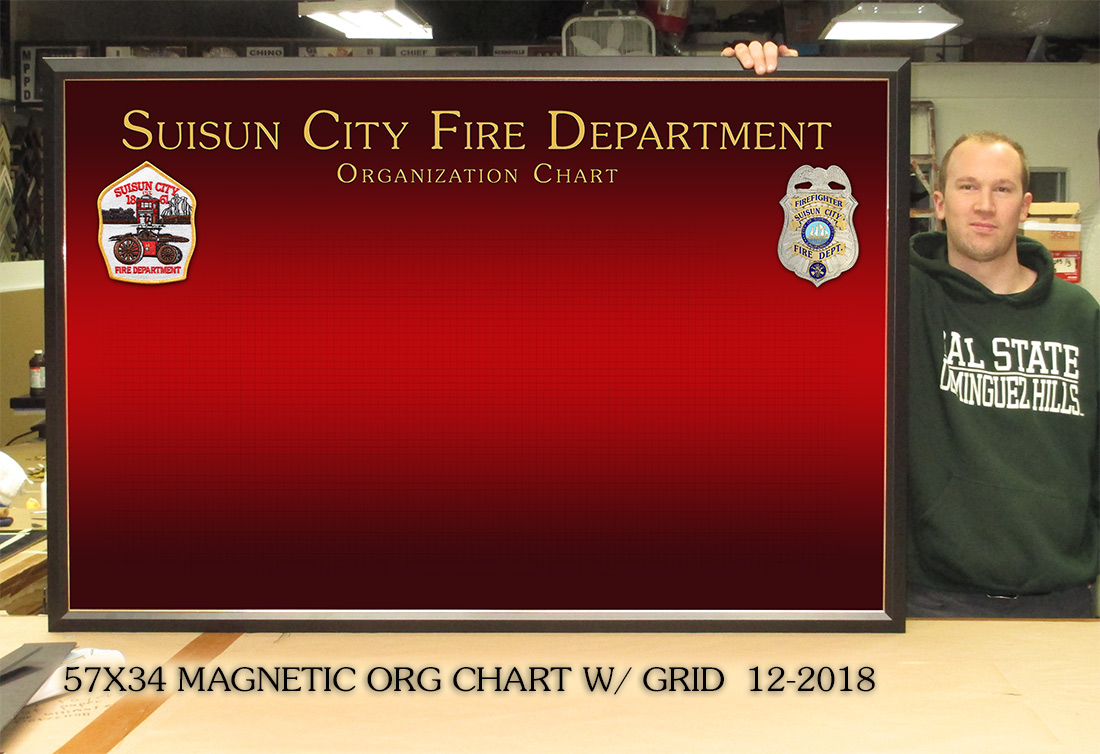 Fire Section
Grid Close-up Here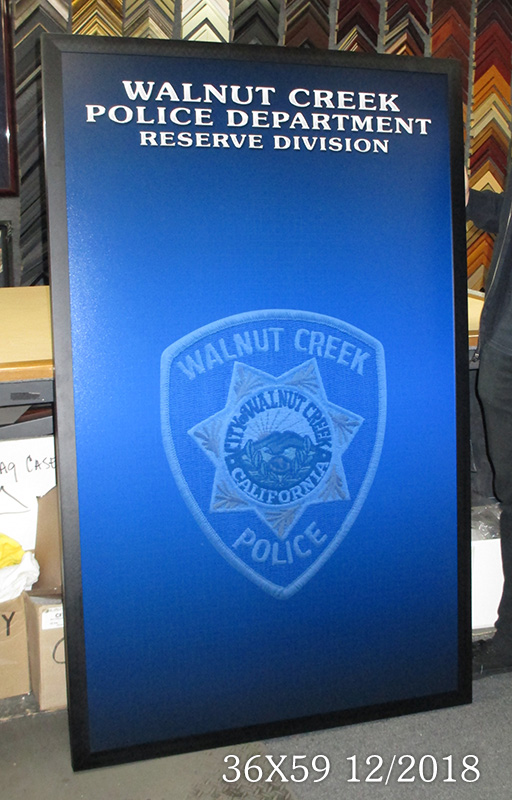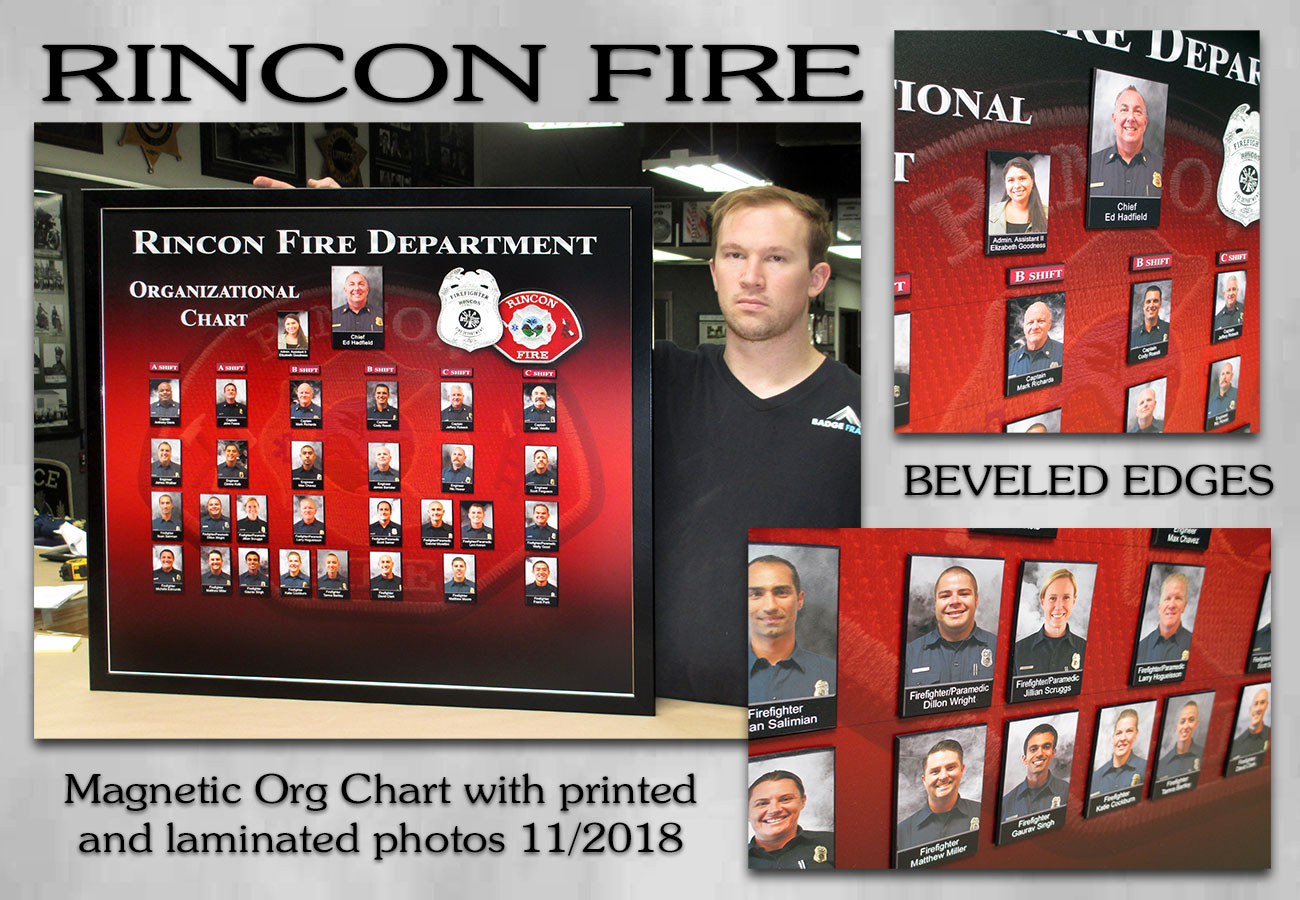 Fire Section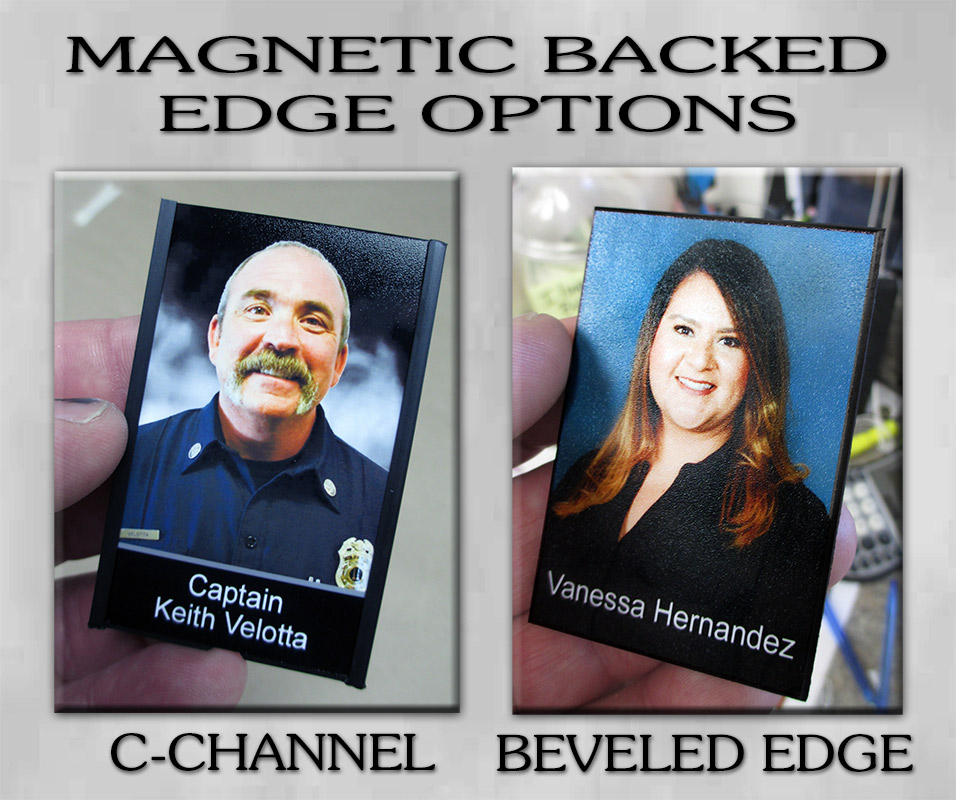 C-Channels Section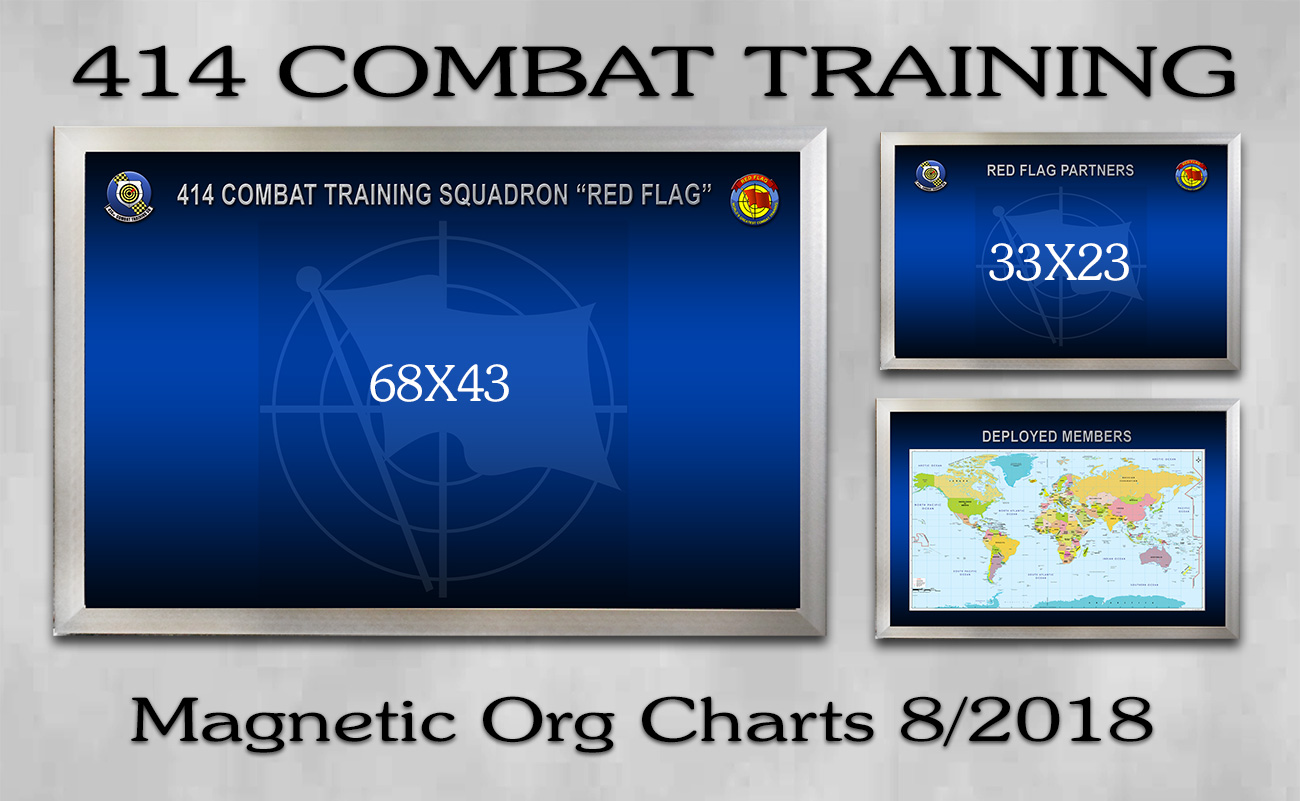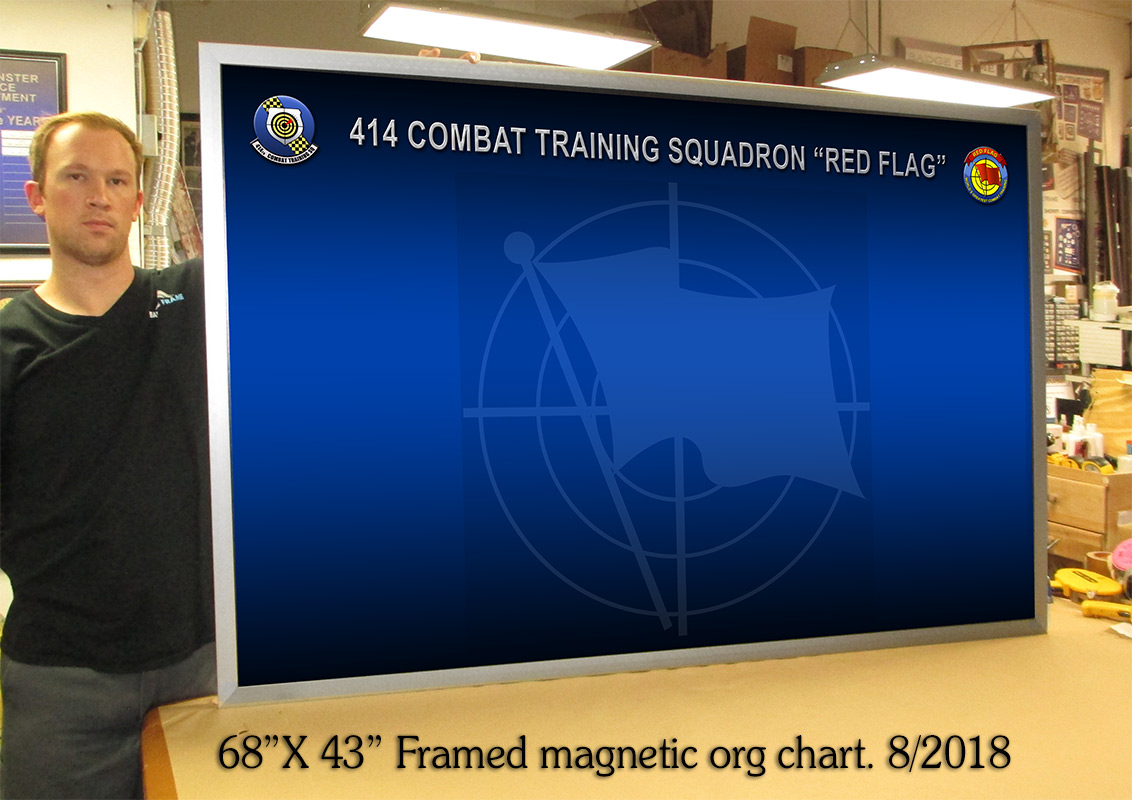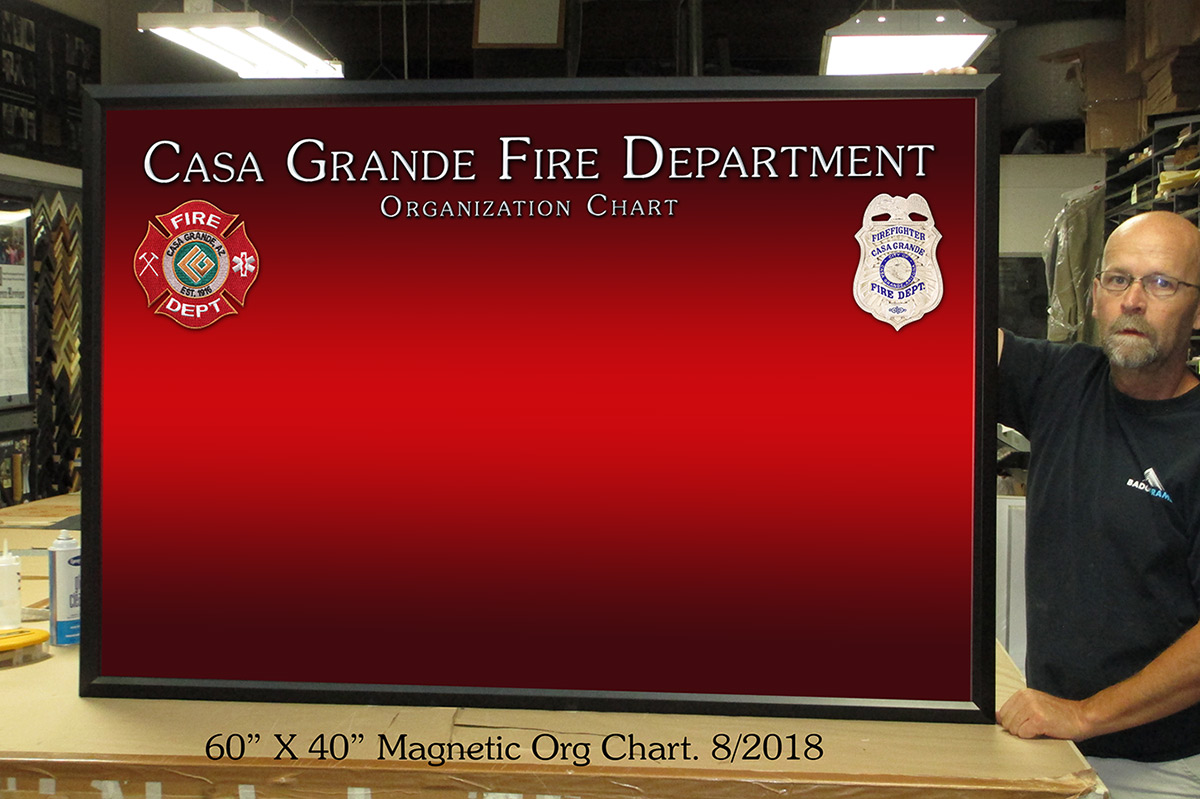 Fire Section

Air Force Section
Air Related Section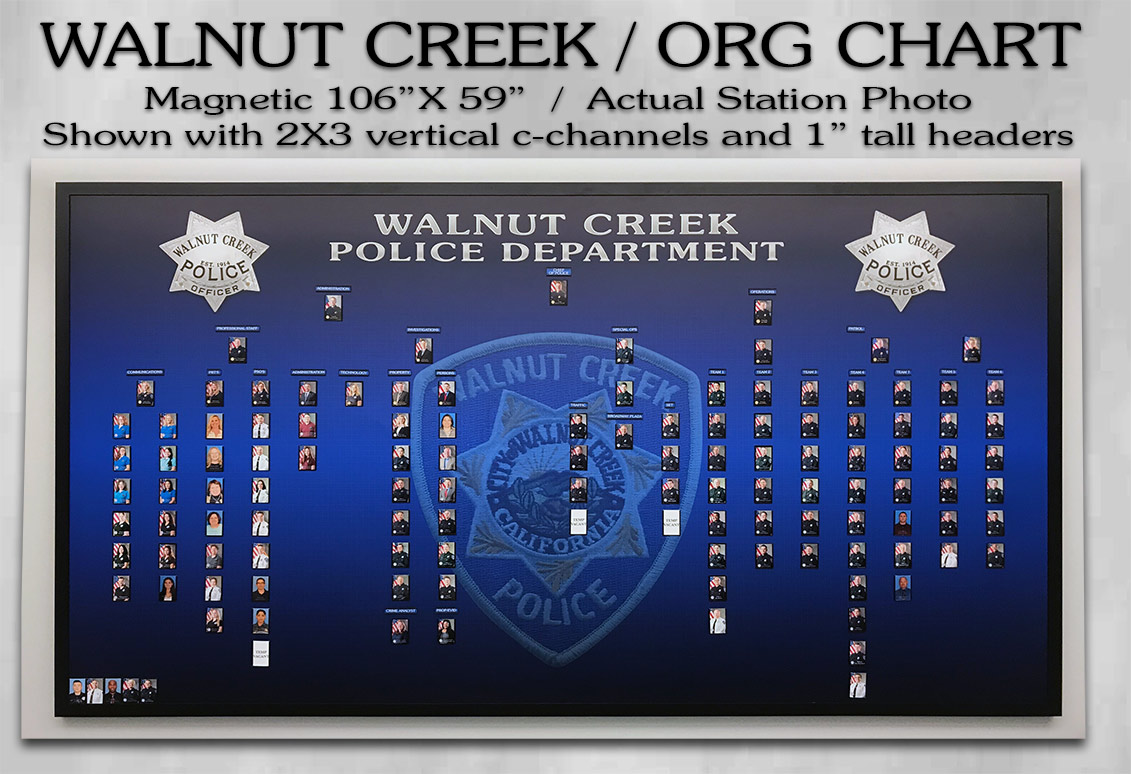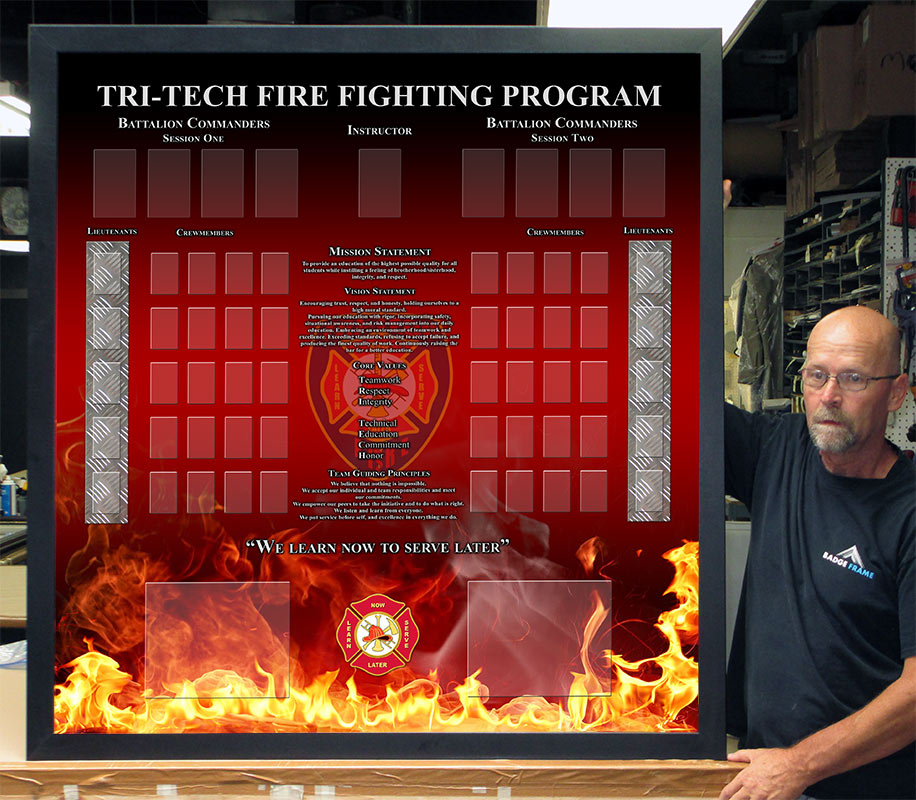 Fire Section
Academy Section

Fire Section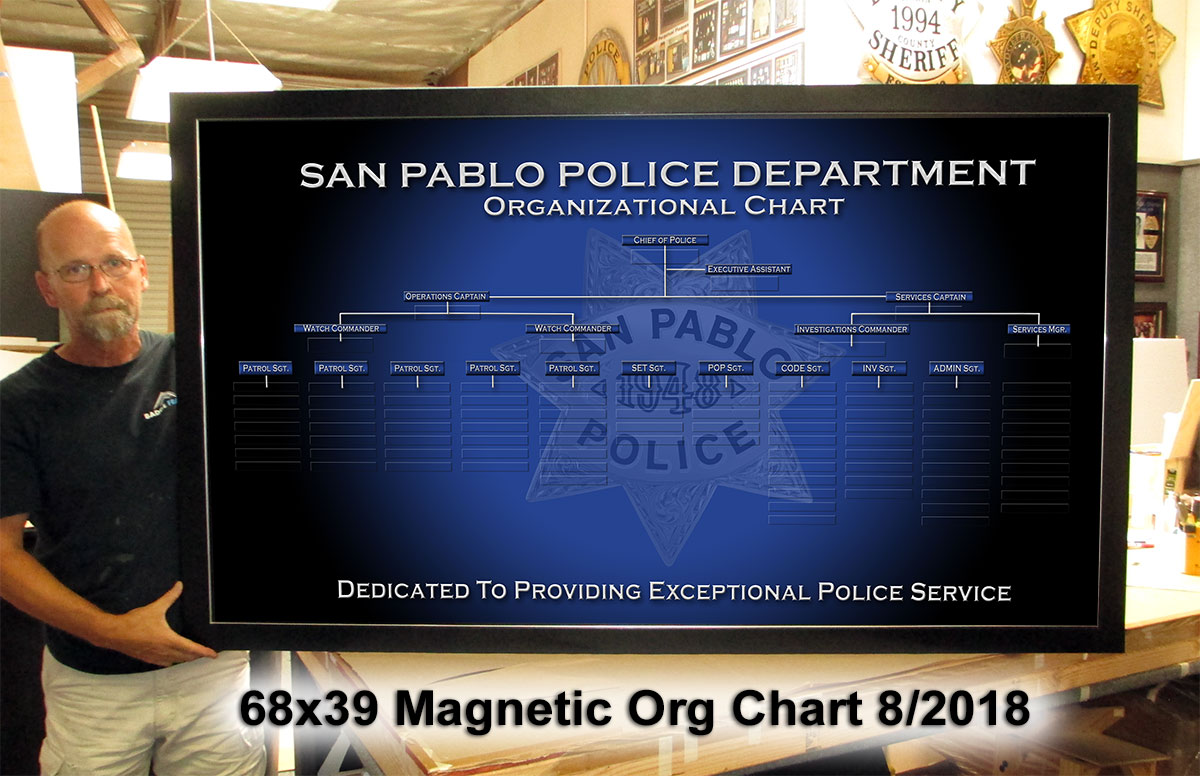 San Pablo PD Section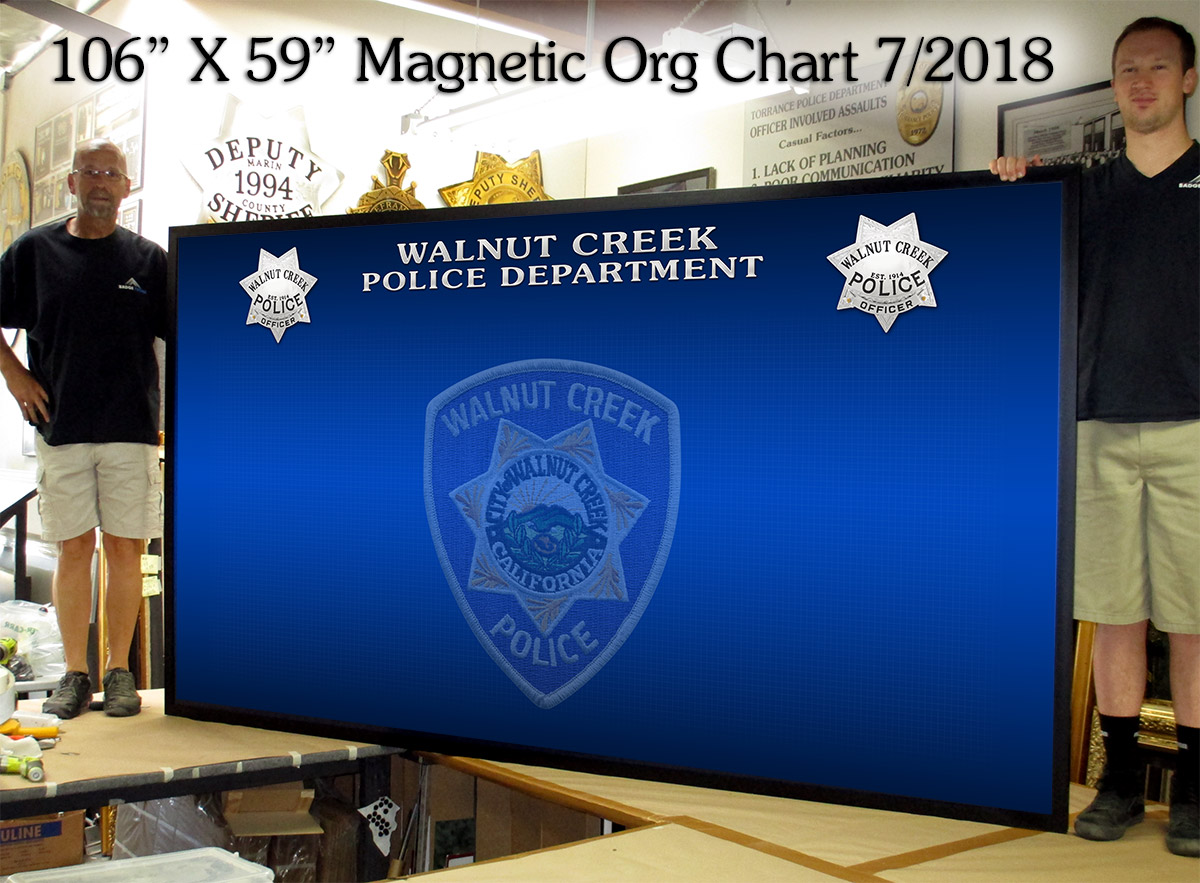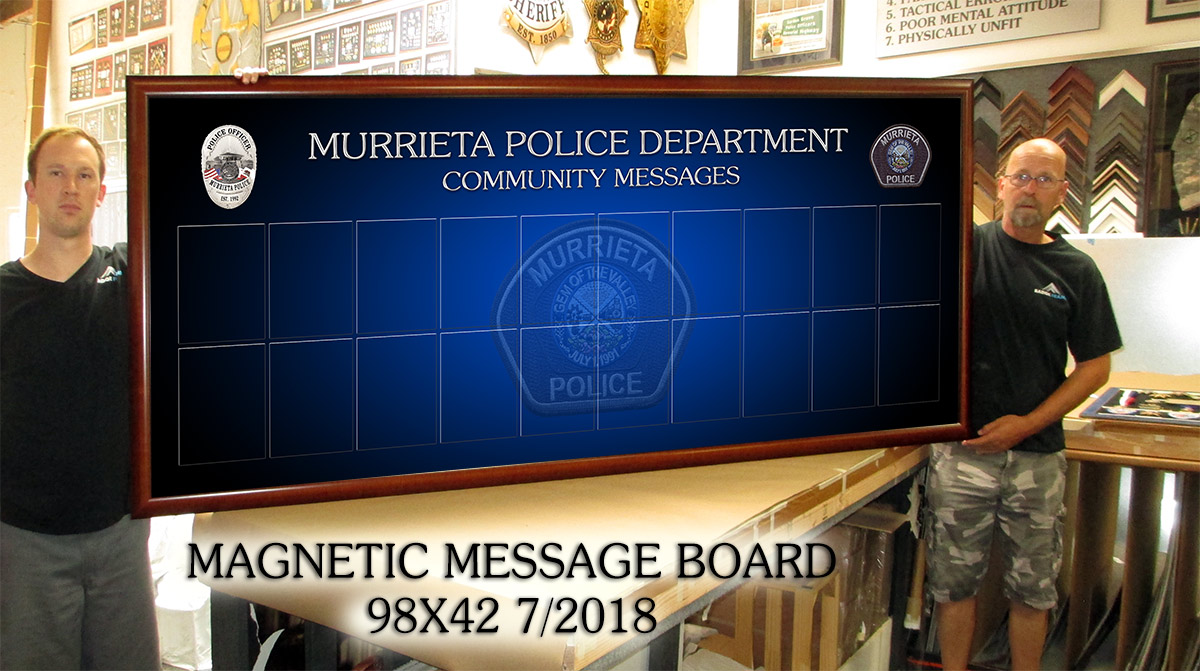 Murrieta PD Section
Murrieta PD Section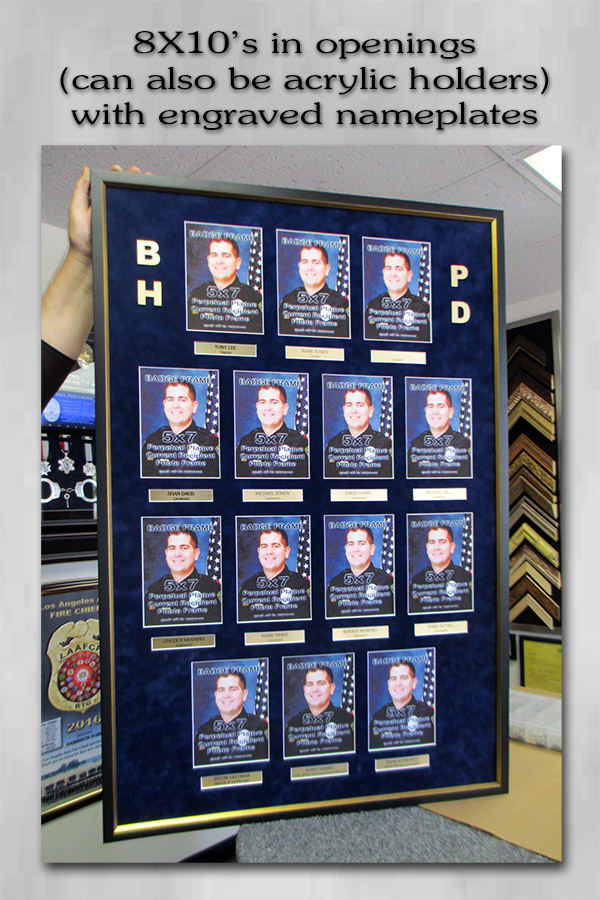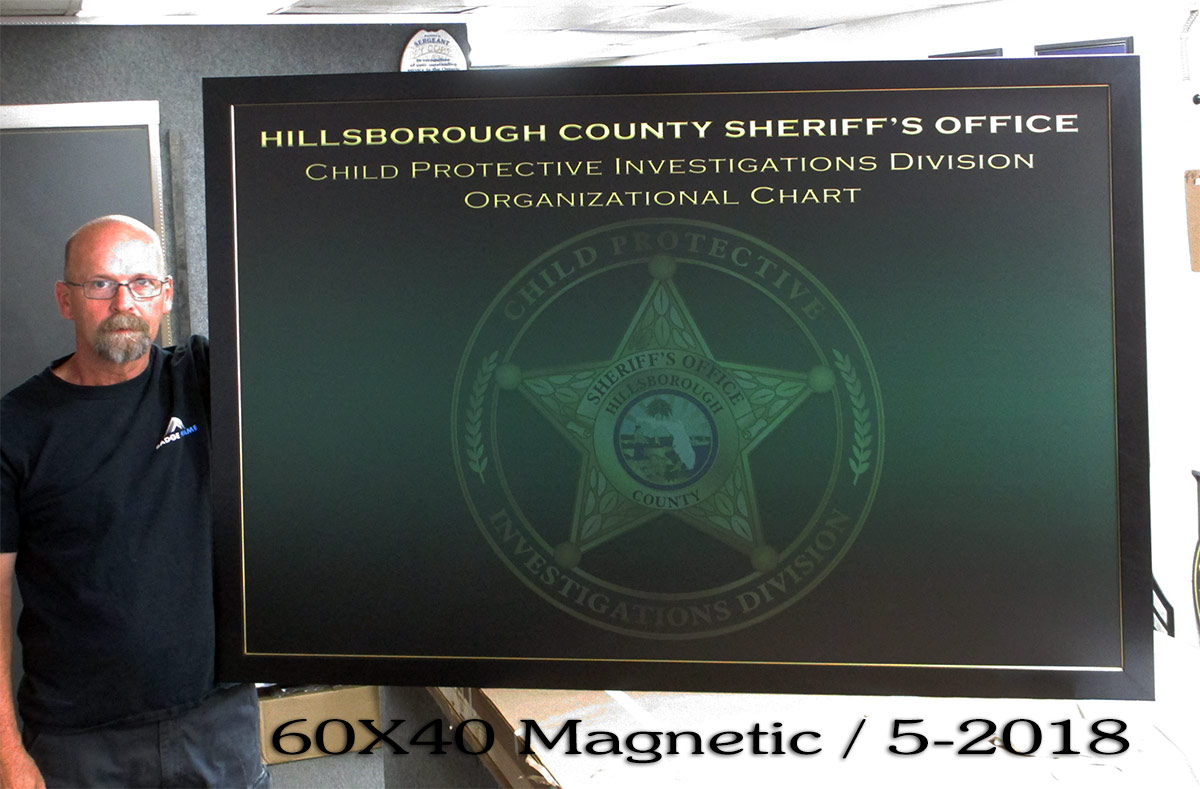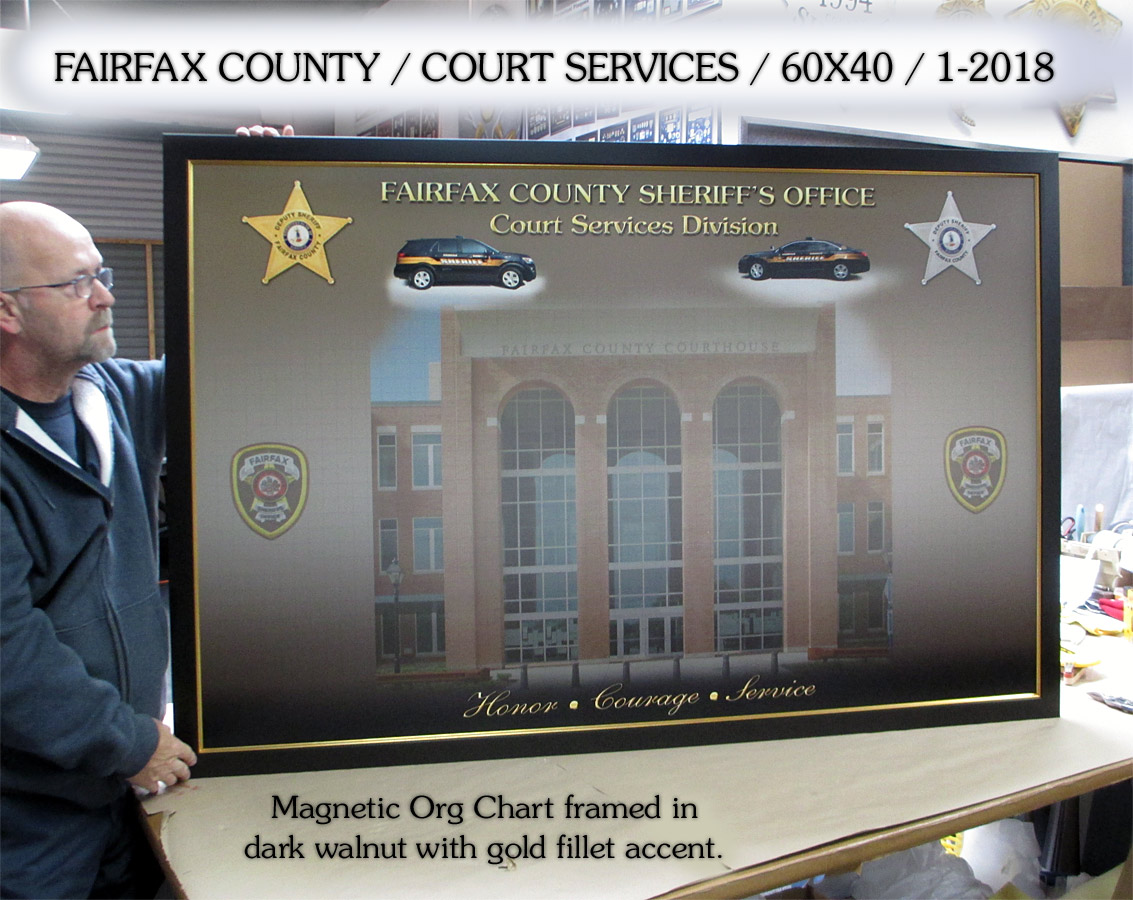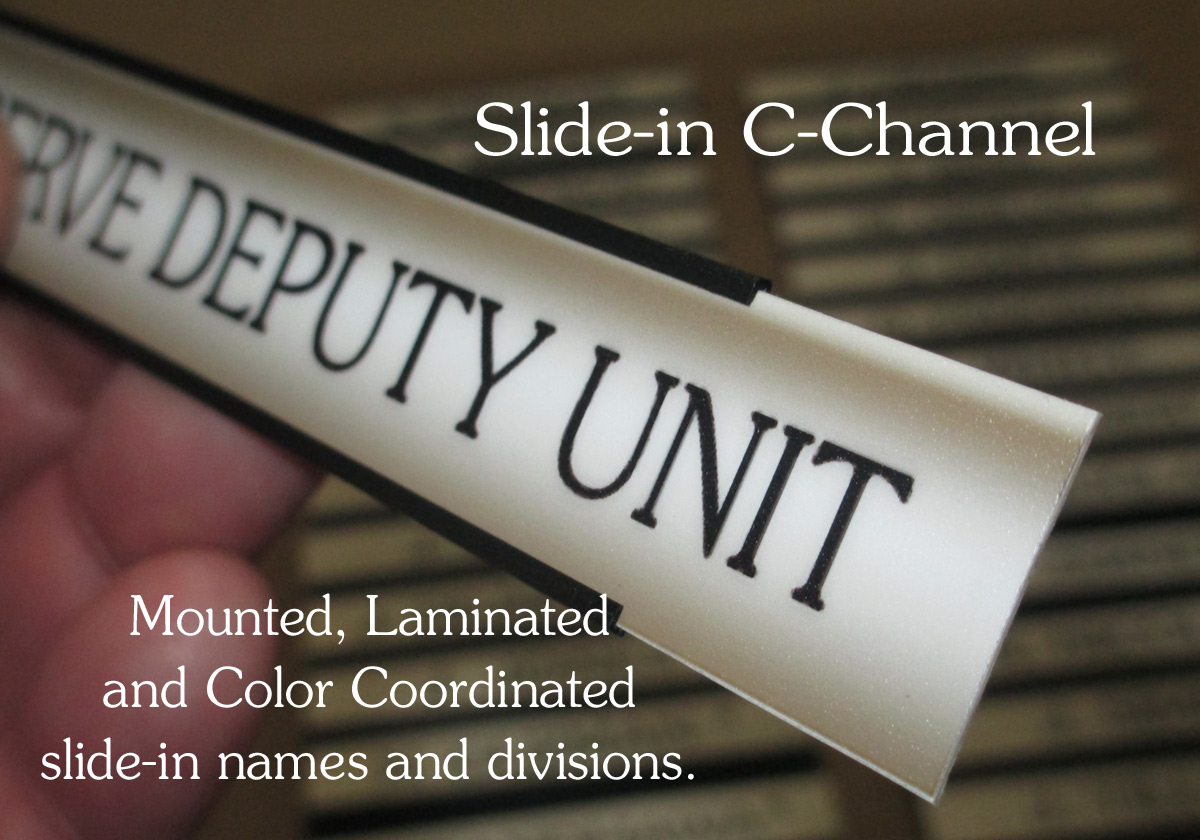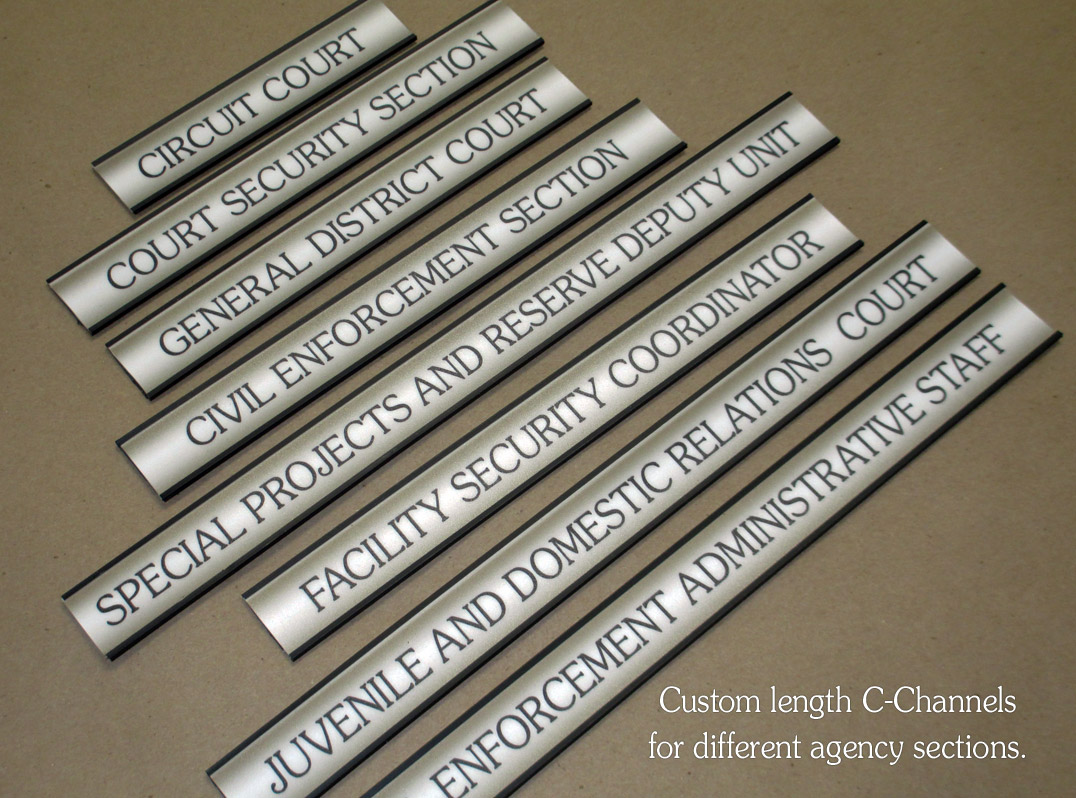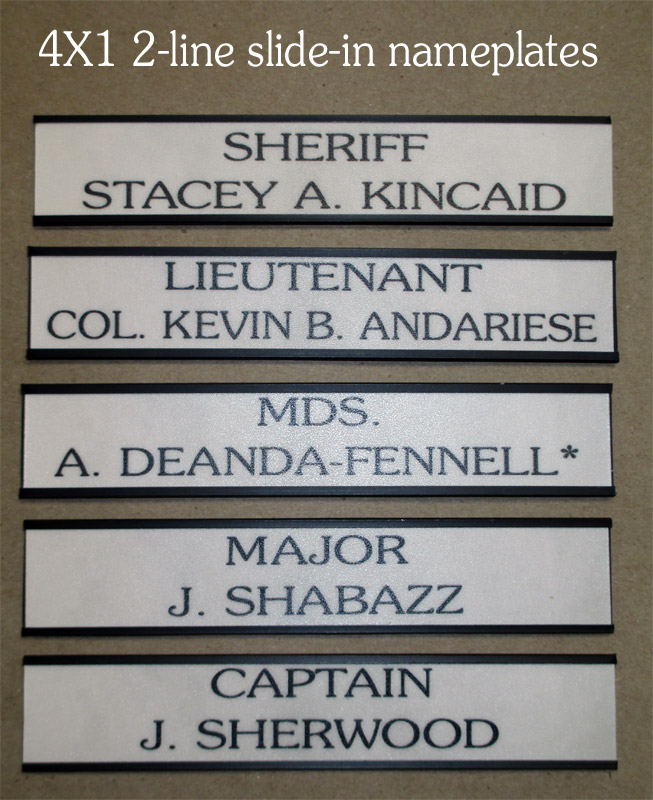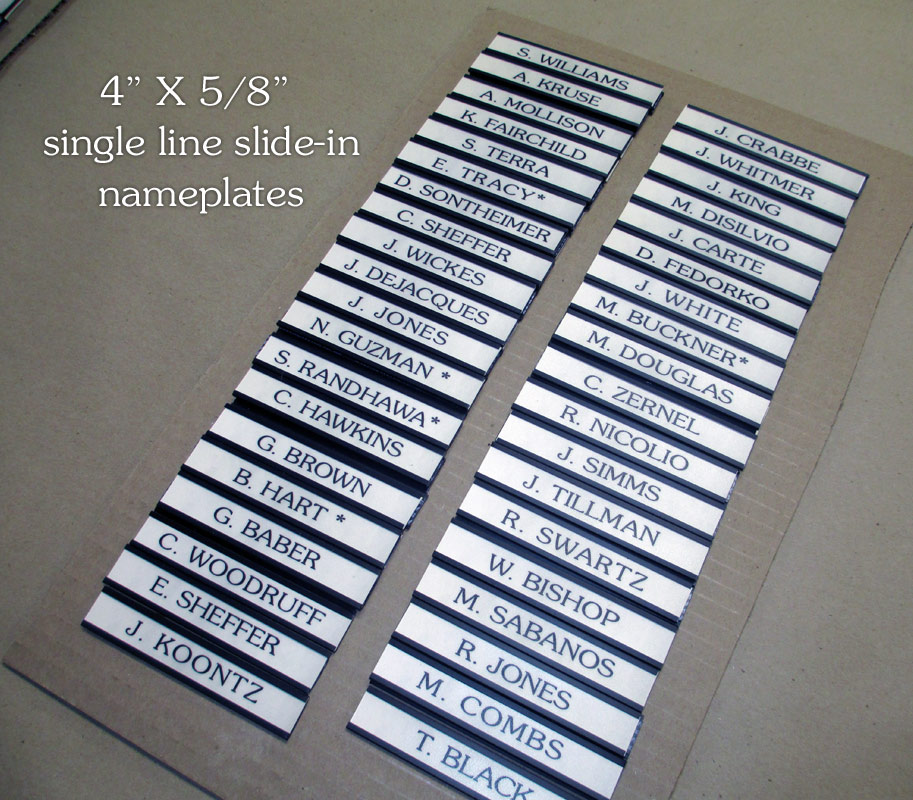 Sheriff's Section
Magnetic Message Board - Holds 21 8.5X11 pieces.
Papers are held on with magnets.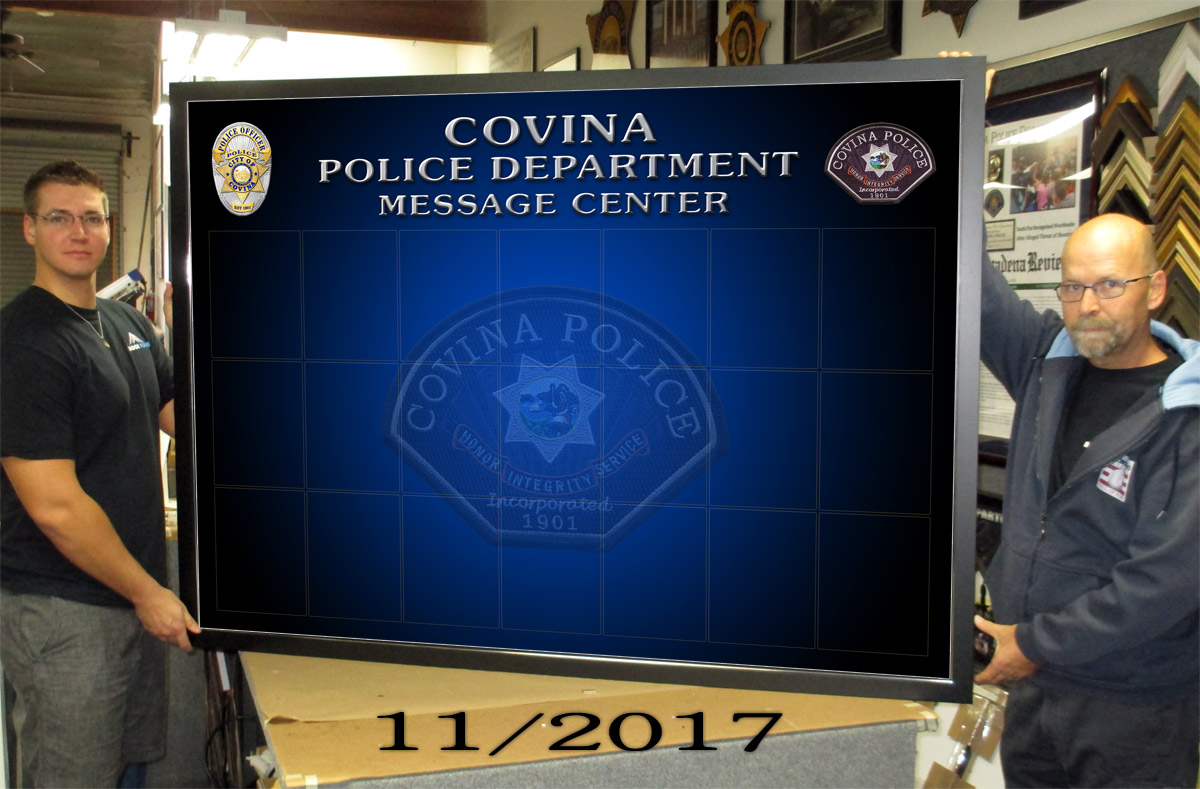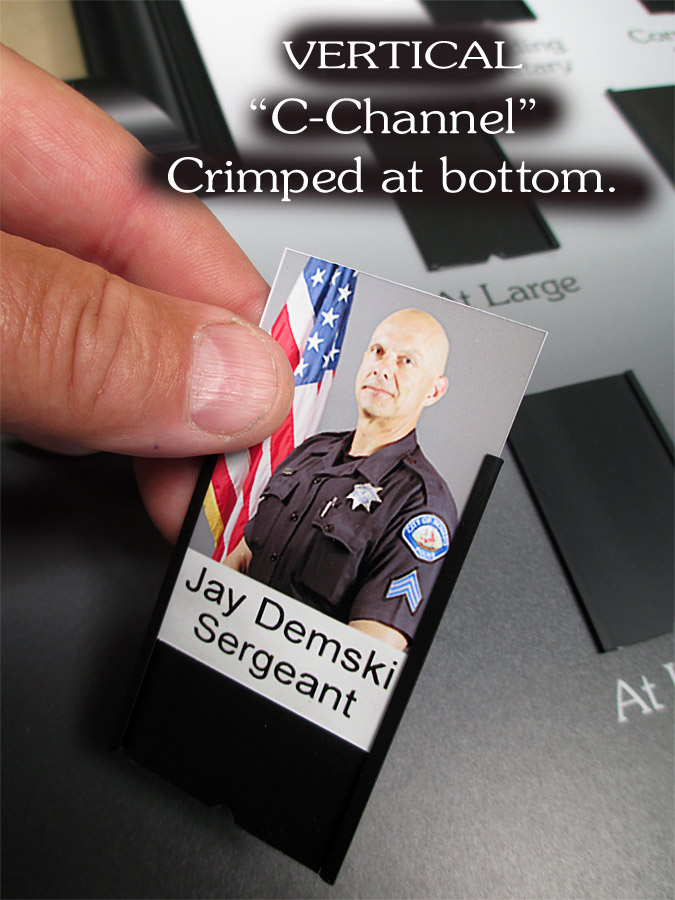 C-Channel Section
Vertical C-Channels can have either a magnetic or an adhesive back.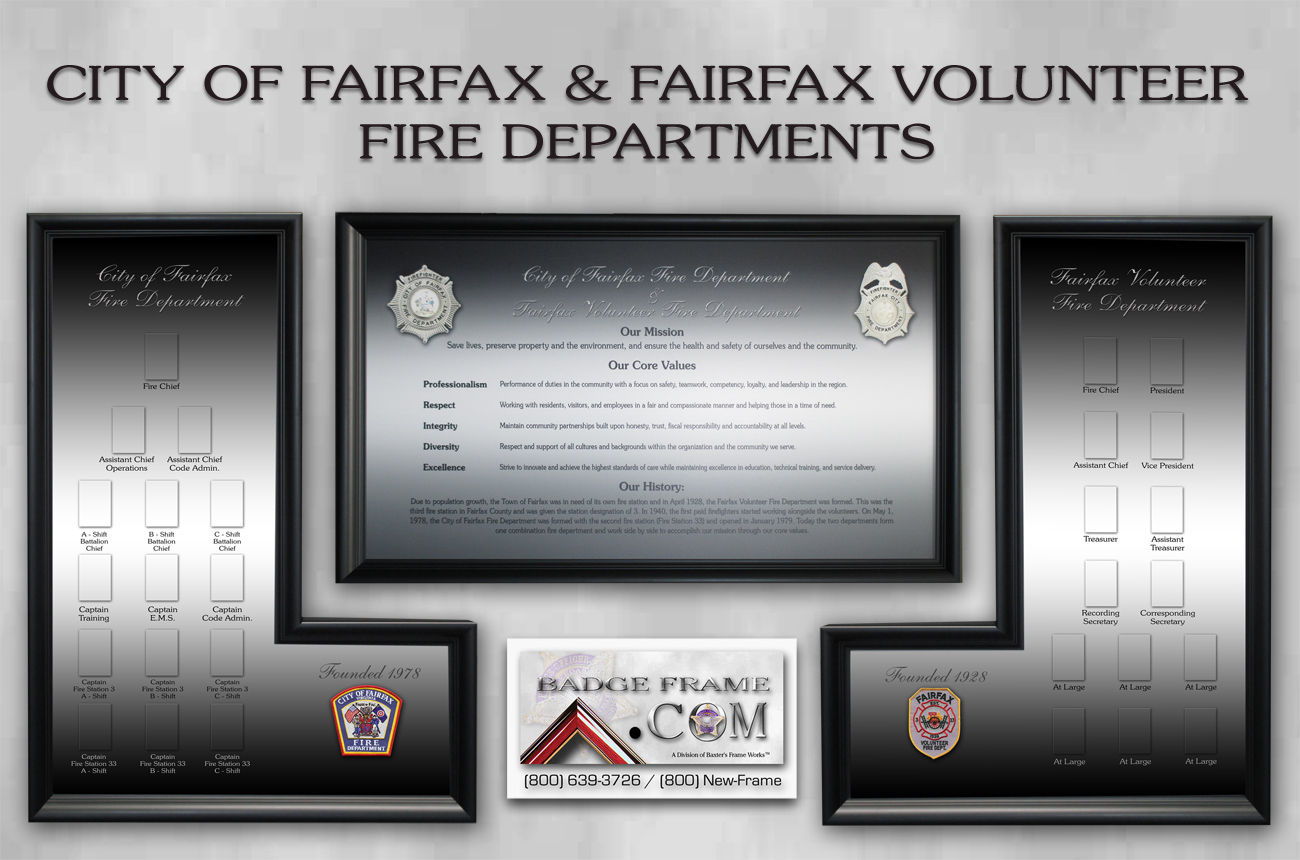 Org Chart Section
Fire Section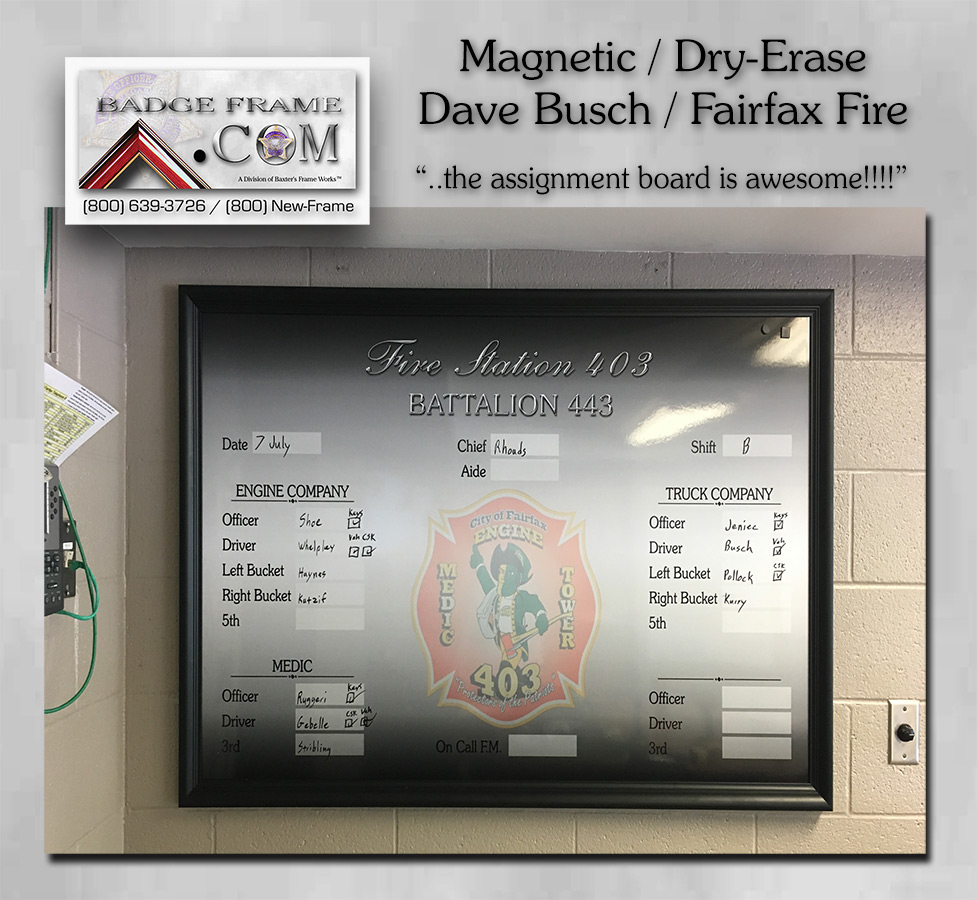 San Leandro PD Section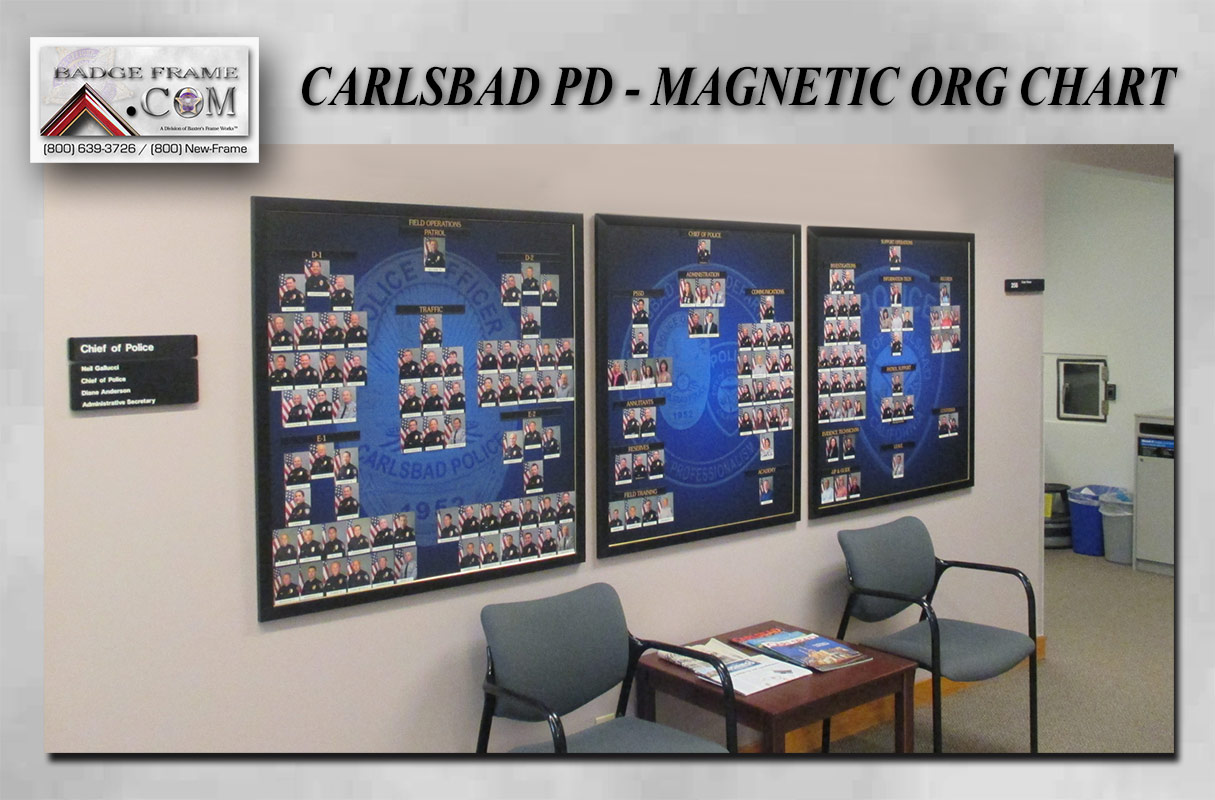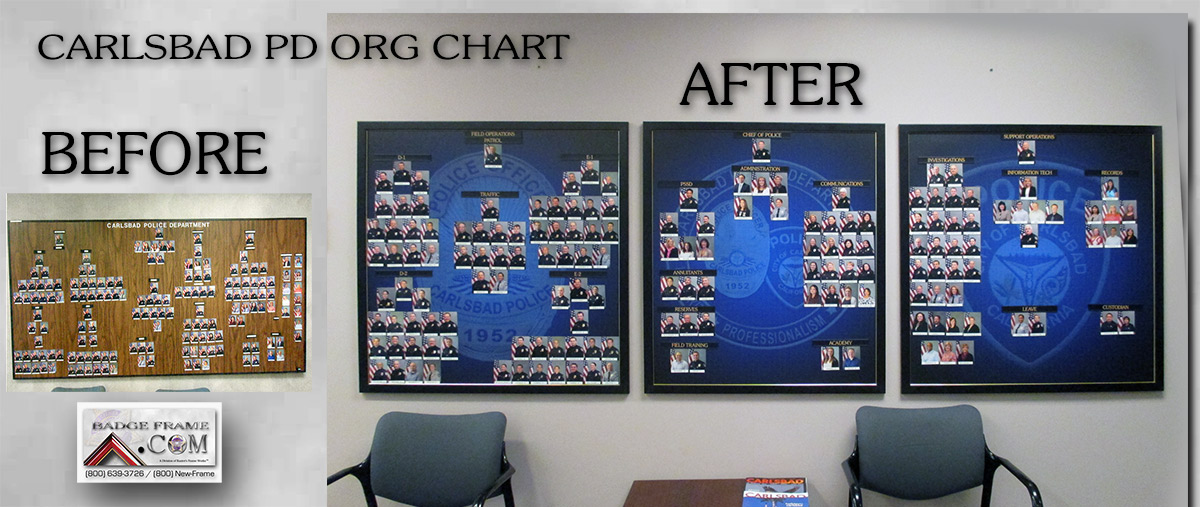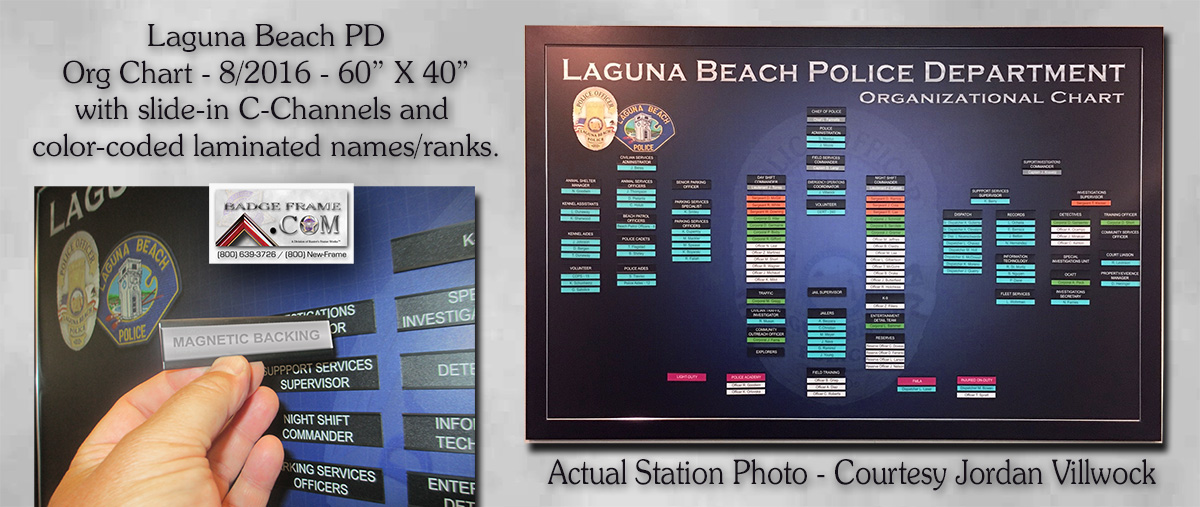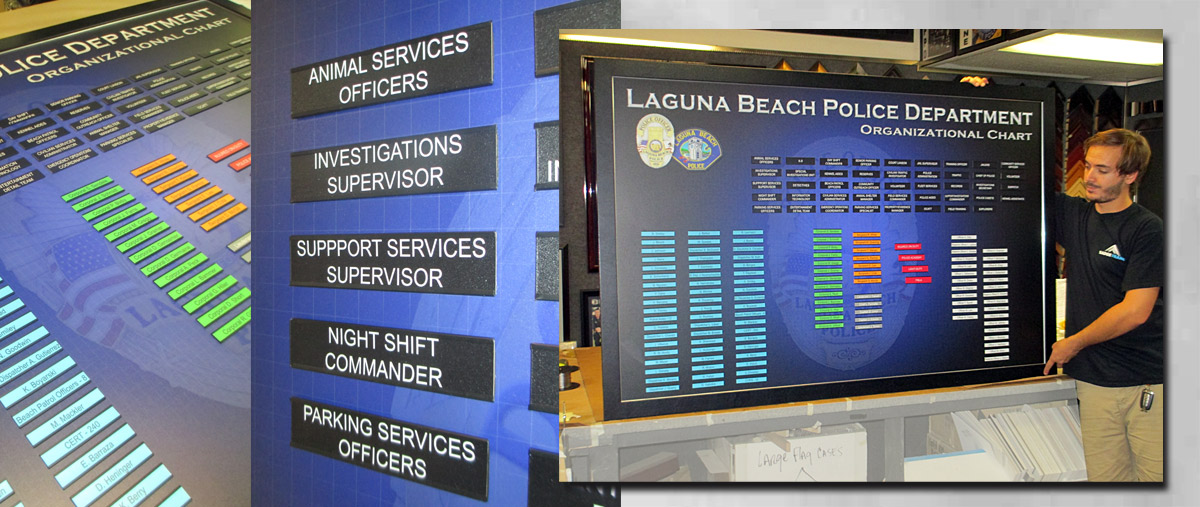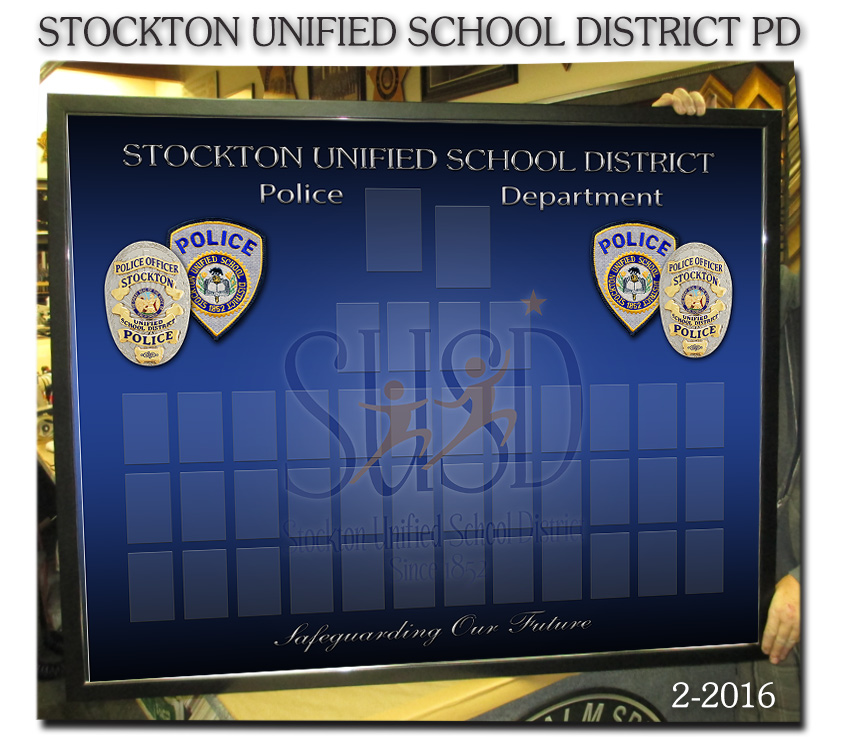 Joint Collaboration with Cindy Quade / Graphic Designer /Team Lead / AIR-4.11 Support
Versions show 60" X 40" magnetic version with new laser cut employee "panels" and another version with
C-Channels that will allow the printed cards to slide-in to the holders. 1/2016 Click on images to enlarge.
with movable panels with C-Channels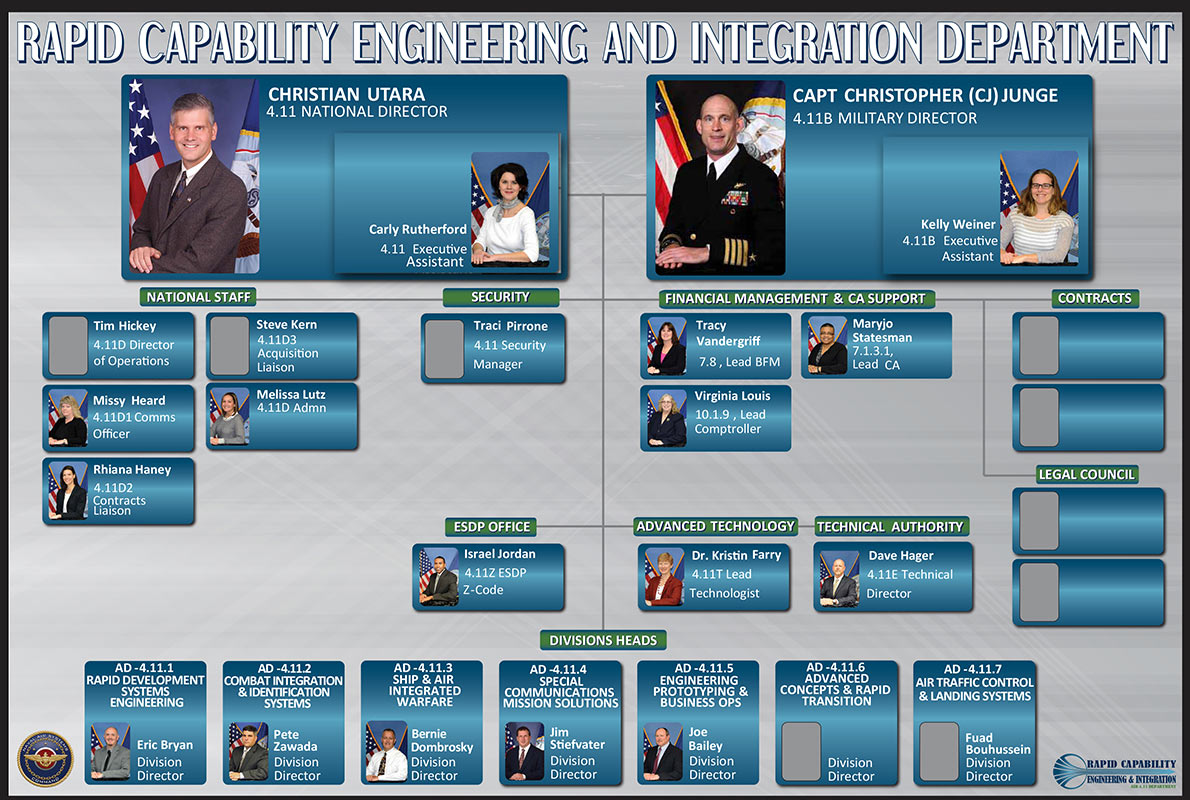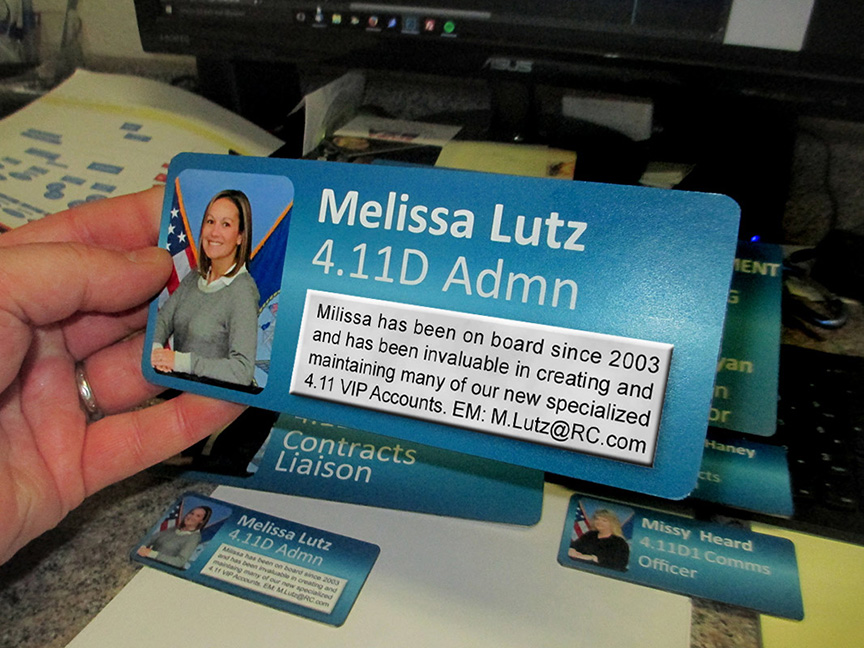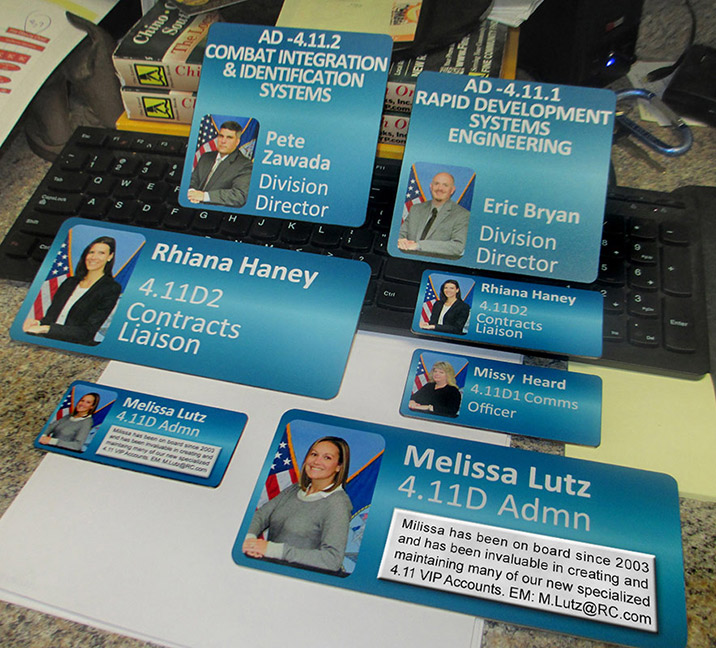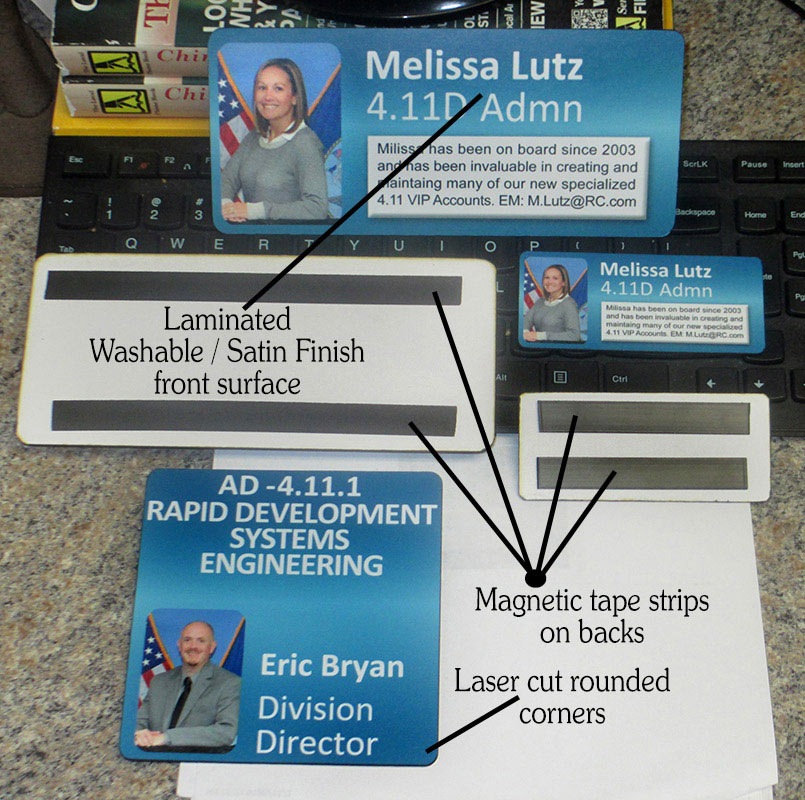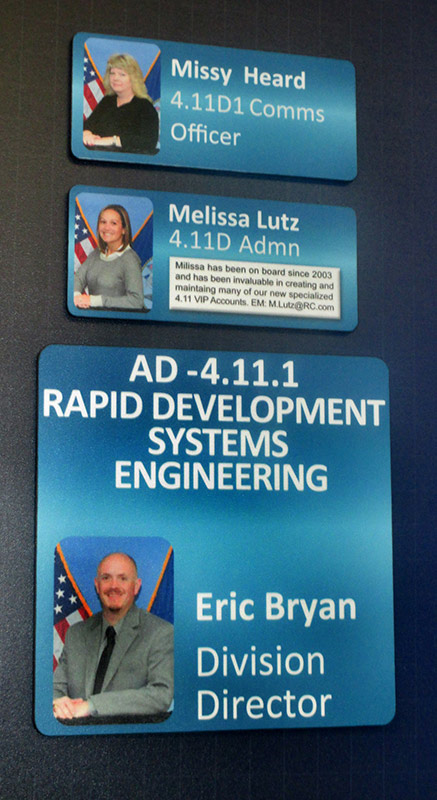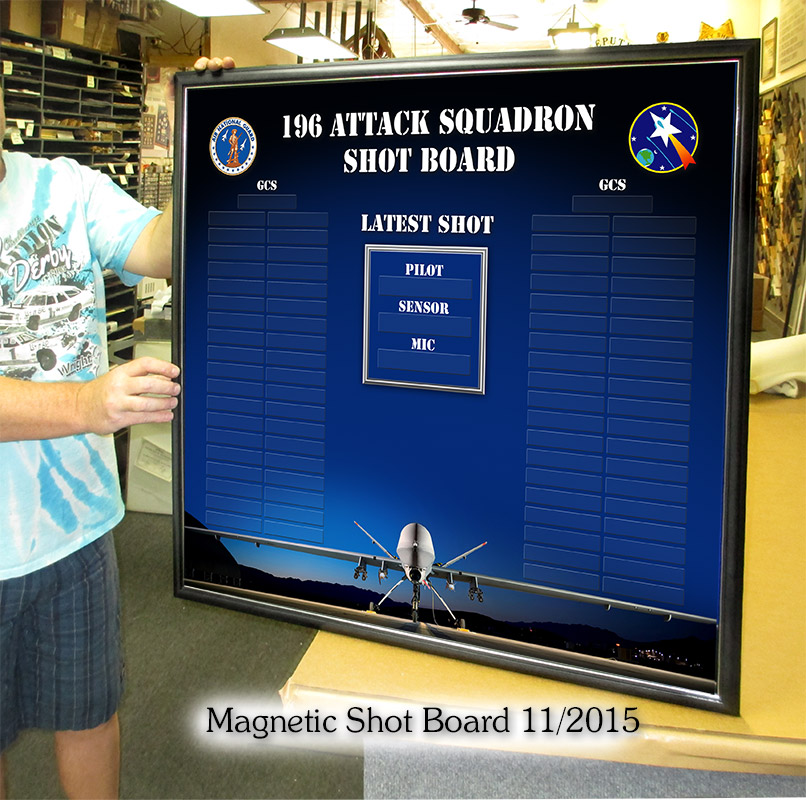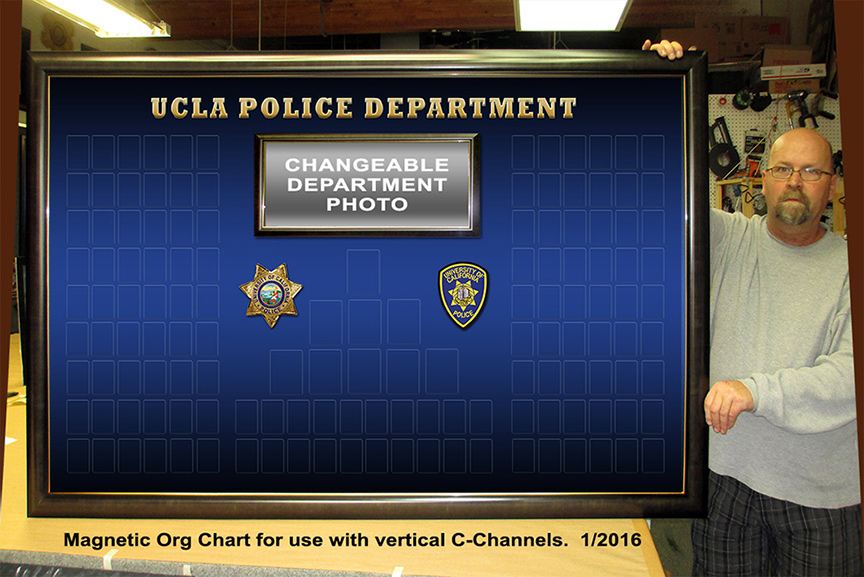 Air Operations Section
University PD Section

Daly City PD 3 section org chart framed in 2" black satin with silver fillet accent. 11/15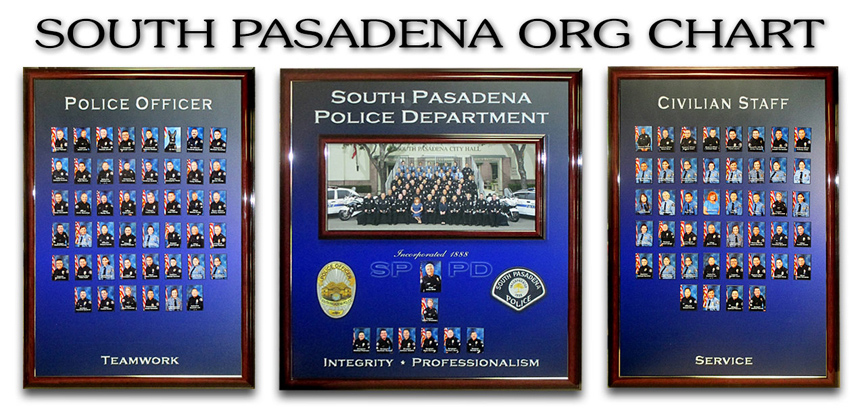 Cathedral City's Org Chart with Captain Earl Moss...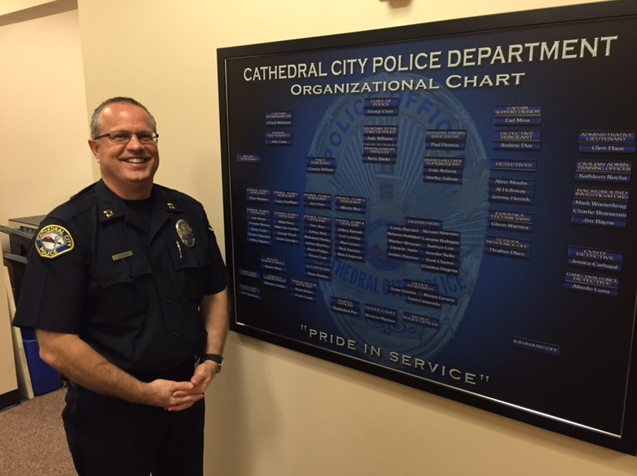 Earl has been updating and re-organizing their org chart since April of 2013.
This magnetic chart incorporates magnetic C-Channels with slide-in names and positions.
Thanks for a great photo Captain!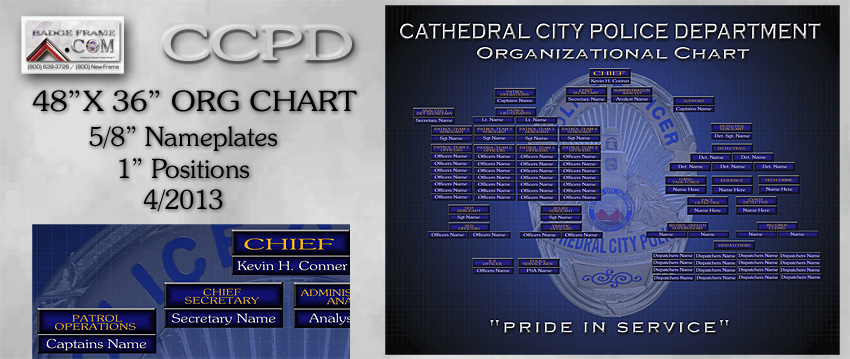 larger image here
Magnetic Org Chart Design Proof for UCLA 10/2015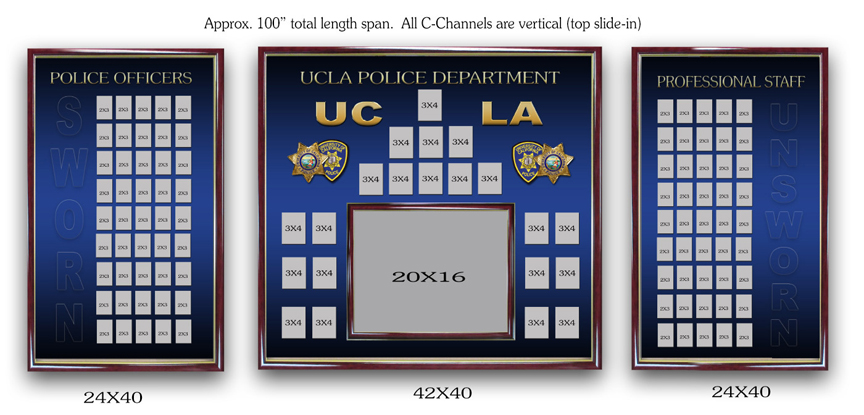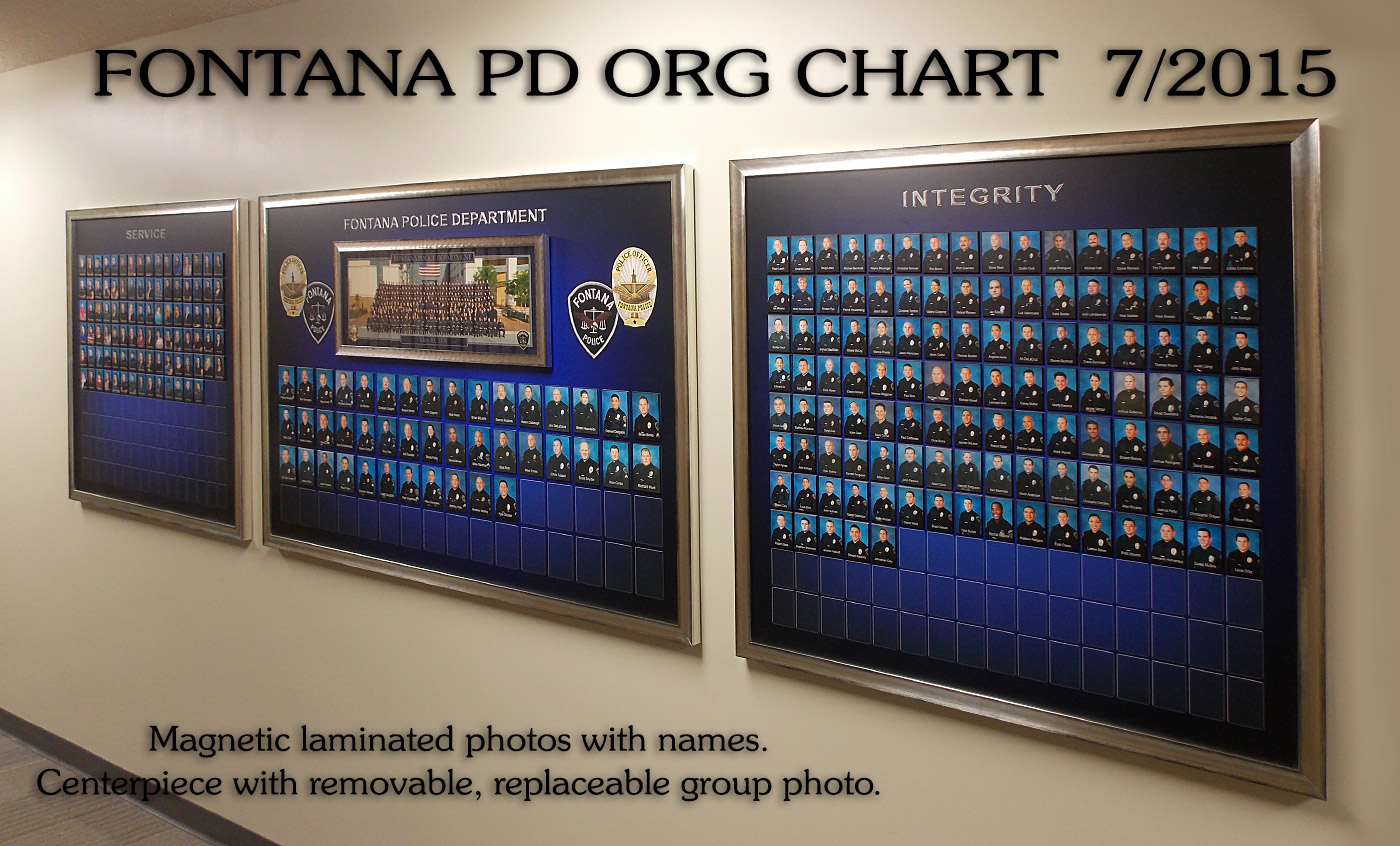 Fontana PD Section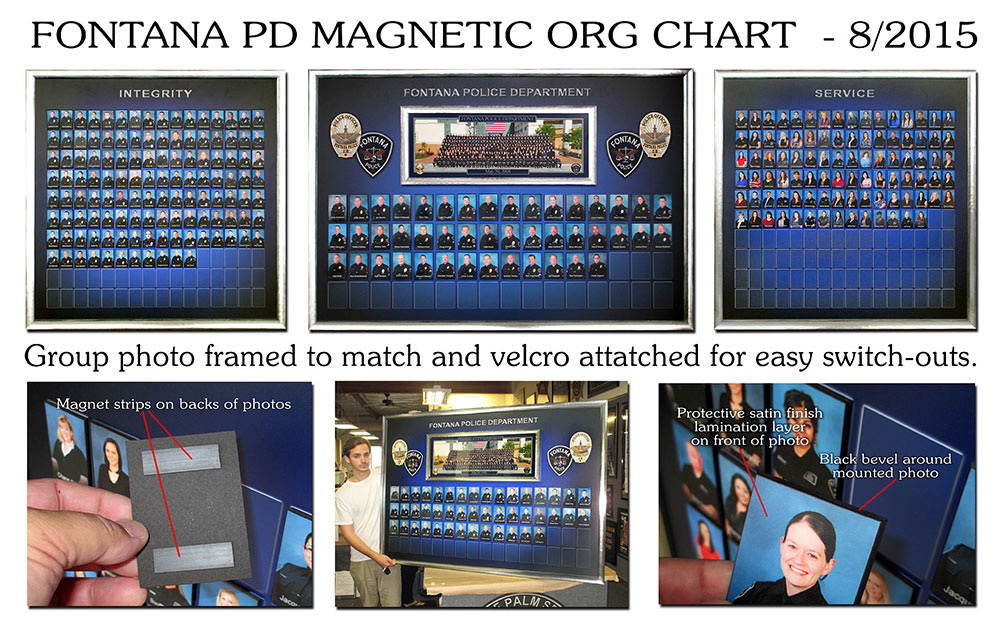 Fontana PD Section here
Larger Image here
X-tra large view of above graphic here
San Leandro Organizational Chart with added Explorers and Volunteers Panels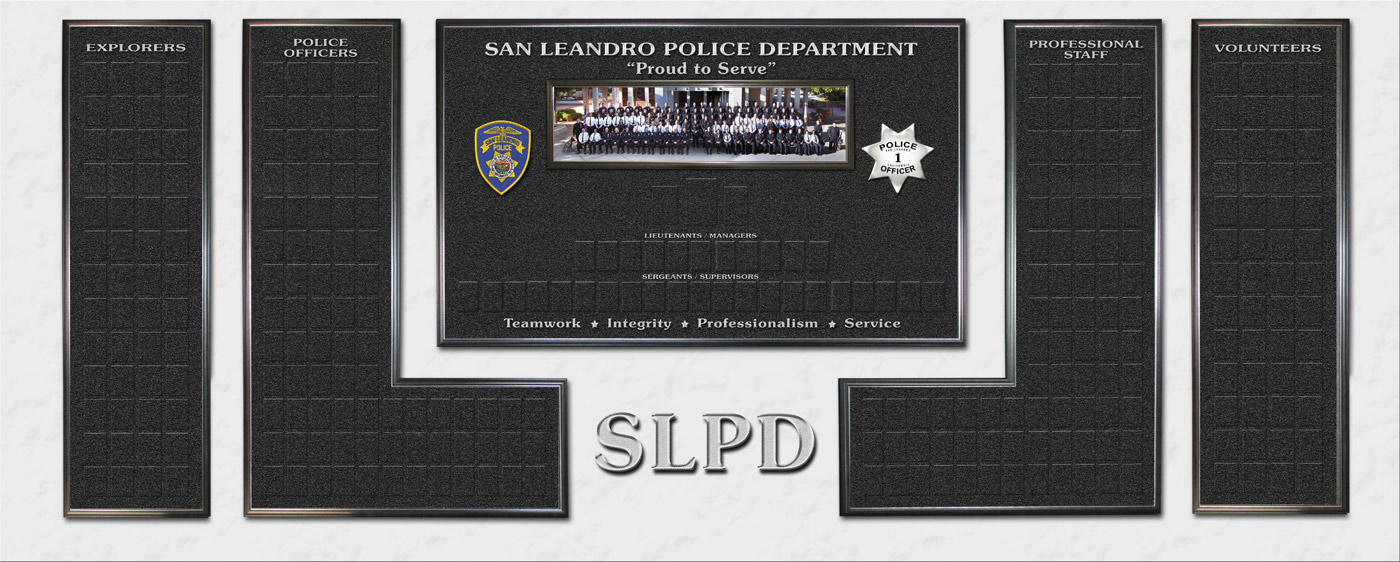 San Leandro PD Section here
This Morris County Sheriff Org Chart was unique for a few different reasons.
First, the C-Channels are adhered to a non-magnetic backboard. This allowed
for the ranks and positions to have the nice connecting lines denoting structure.
We also incorporated a textured black metal frame that helped with supporting
the weight . Awesome presentation for John Waldron / MCSO 5-2015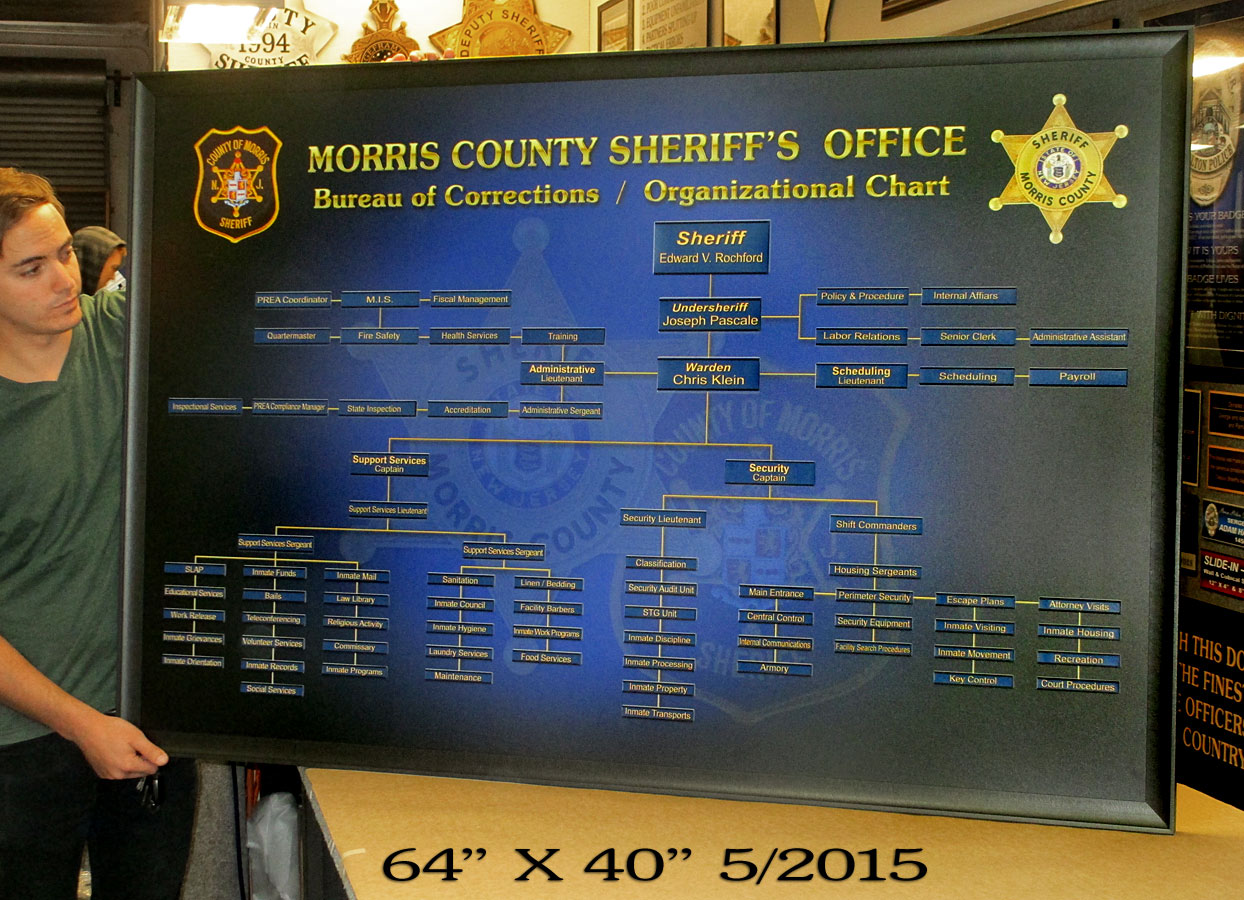 MORRIS COUNTY SHERIFF ORG CHART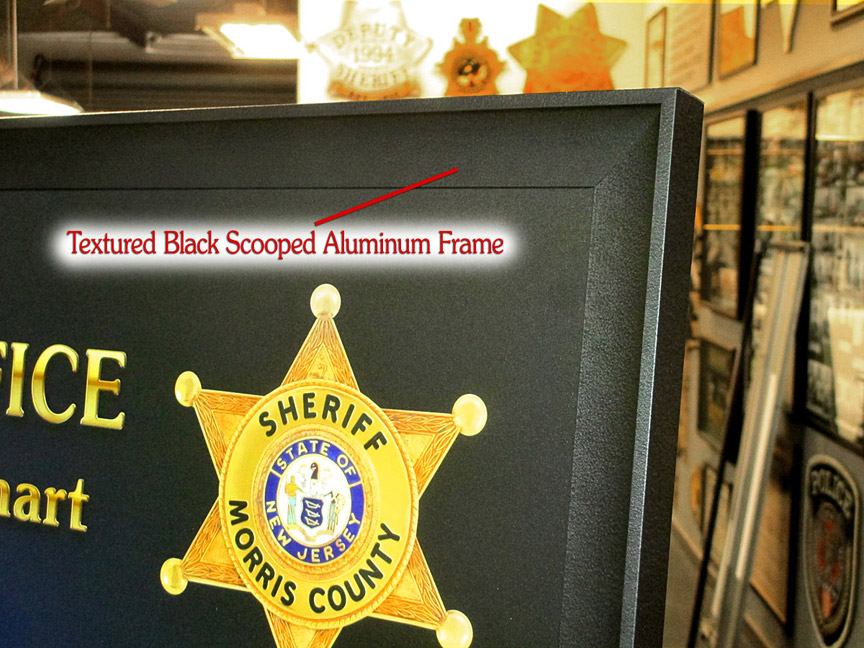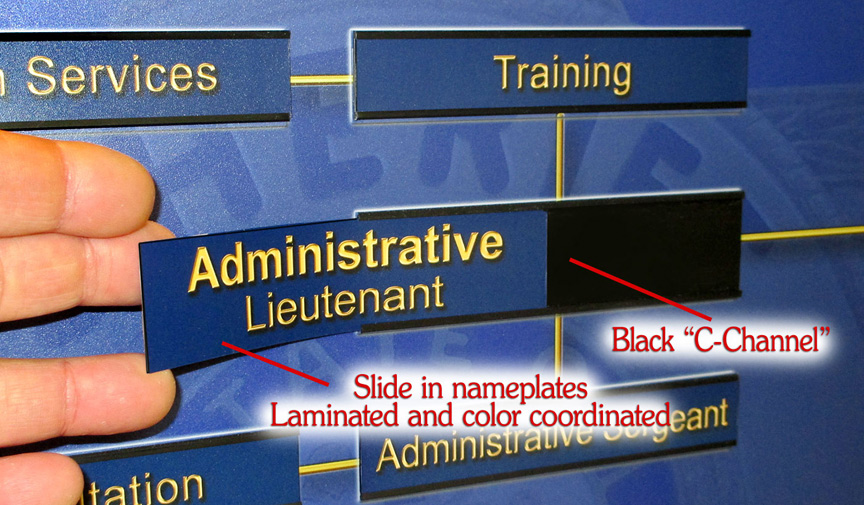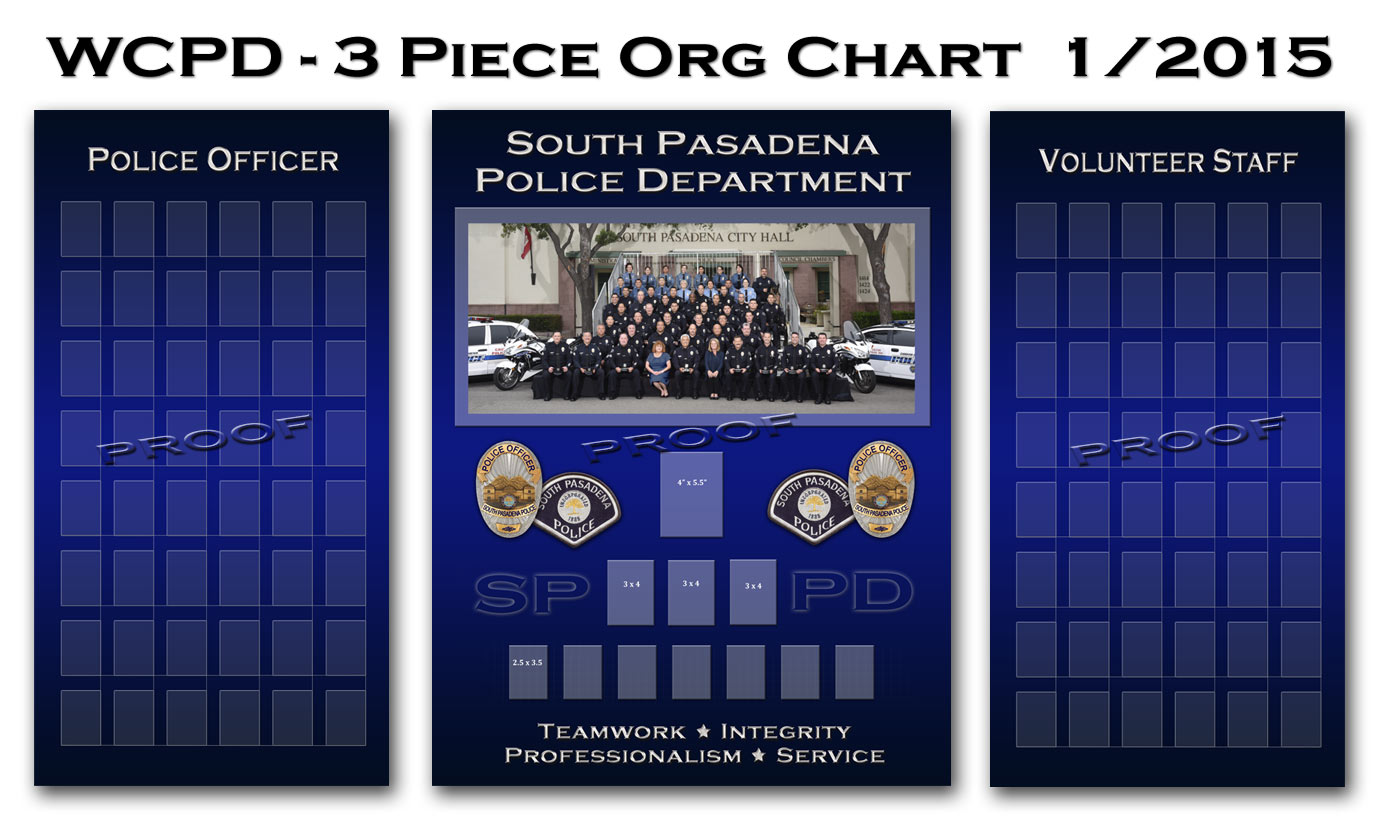 Chief's special message board. Magnetic with slight texture.
Slide-in Magnetic C-Channel headers 6" X 1" 1/2014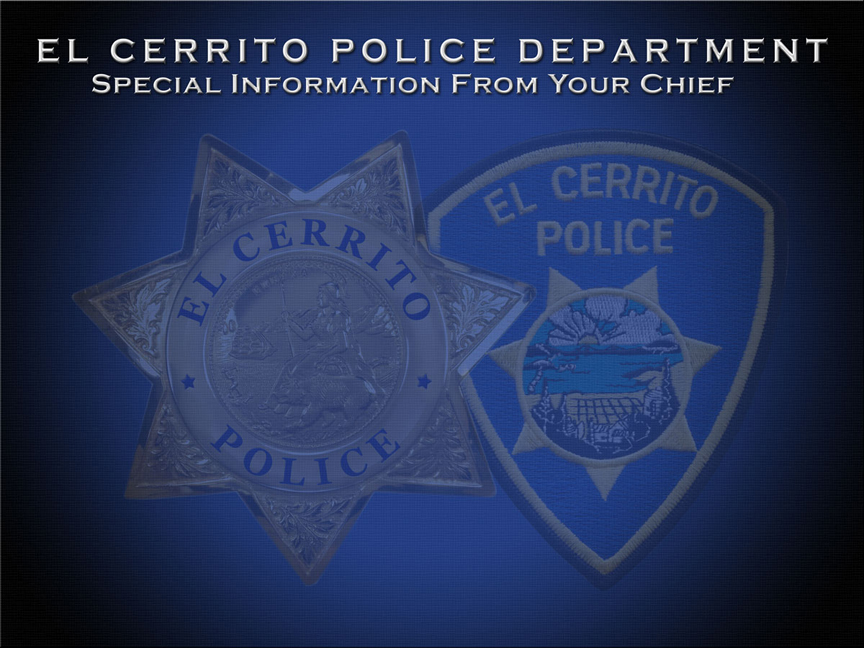 Chino Valley Medical Center Governing Board Presentation.
6 changeable frames velcro attached to a photographic laminated background.  11/2014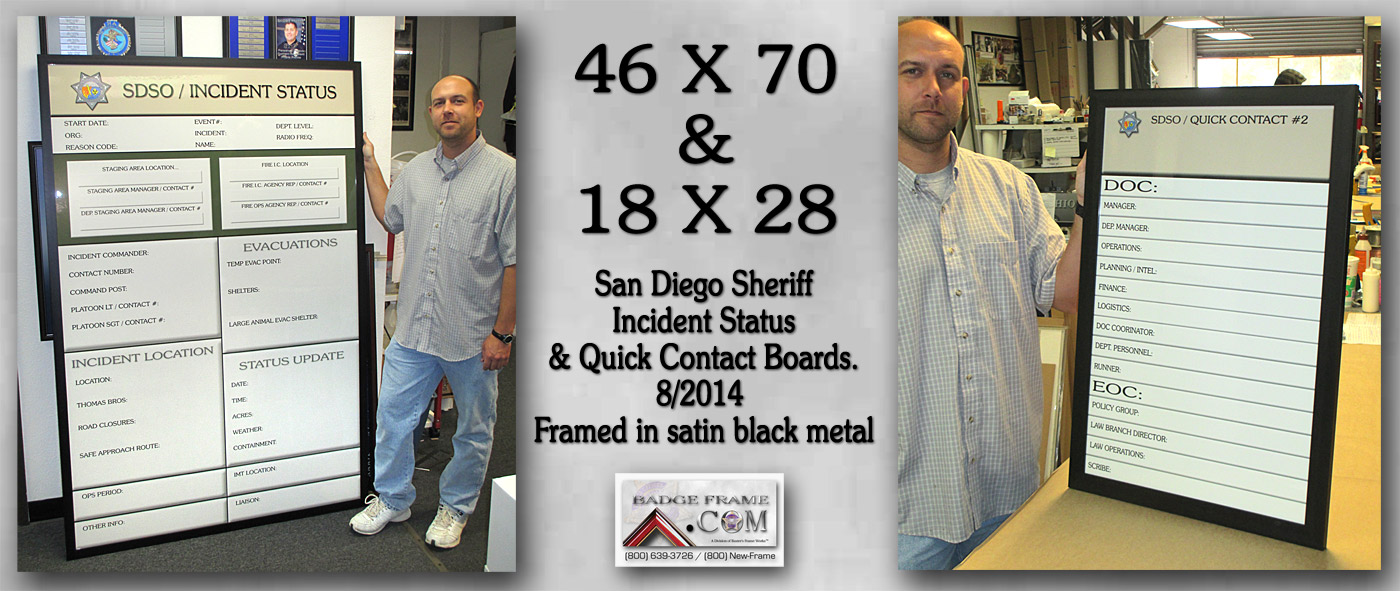 Sheriff Section
Dry Erase Section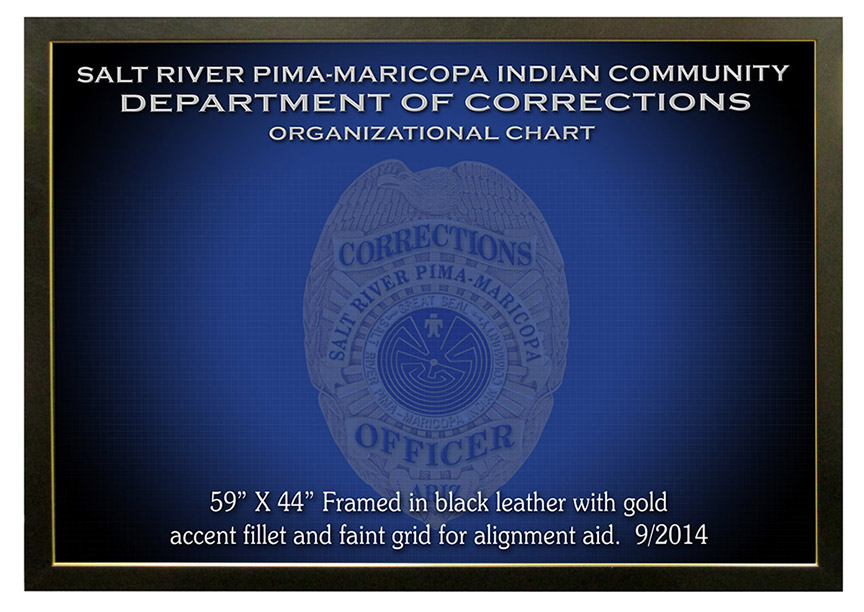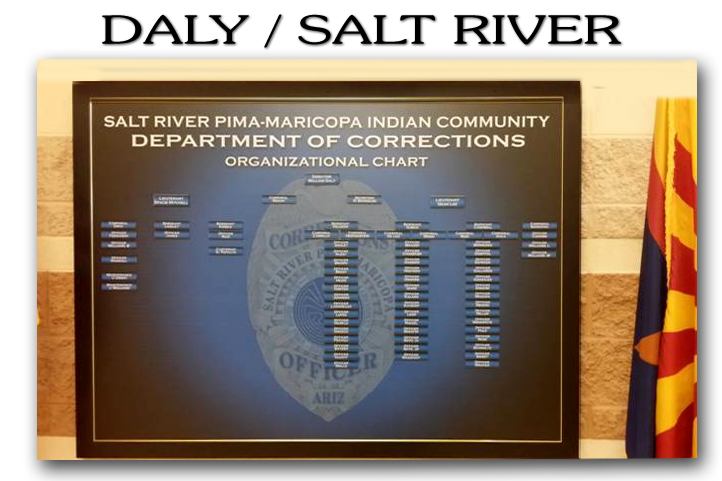 Click on images to enlarge...
      


S H O W S T O P P E R....
Badge Frame and San Leandro PD have raised the mark with this outstanding magnetic presentation.
Removable framed group photo to be updated as needed and 8" individual metal letters between the bottom space.
I.D. cards were custom made and laminated. Center piece 66" X 40".





Magnetic, pocket laminated, custom sized I.D. cards for San Leandro
PD... Click to enlarge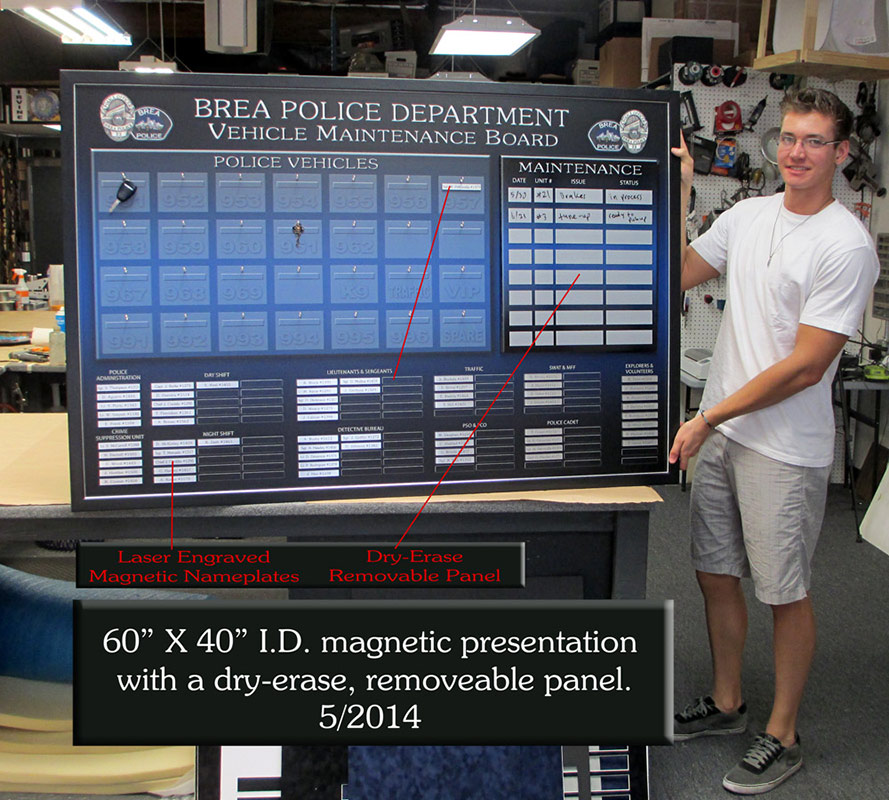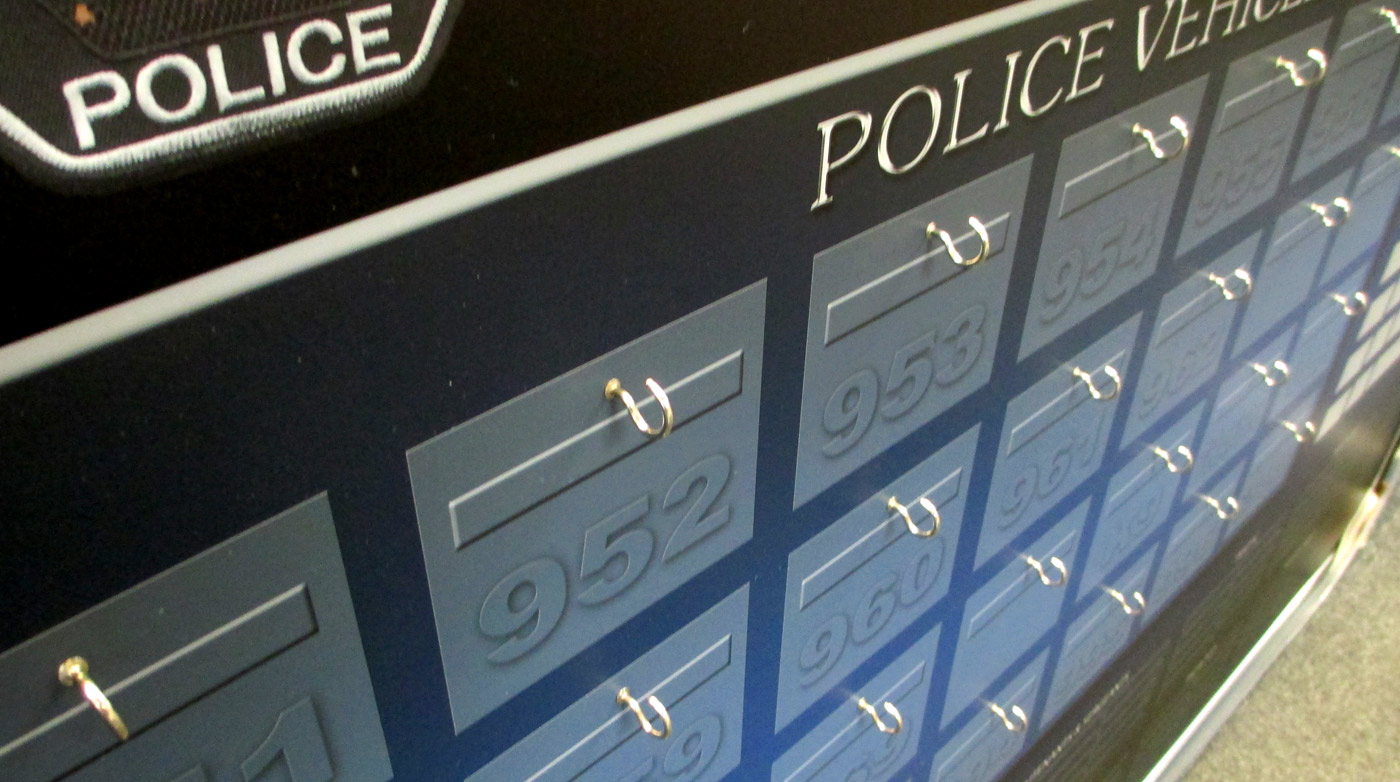 Actual Brea PD facility photo of board in action.
Note engraved plates are moved from bottom to top when vehicles are being used.
Click to enlarge...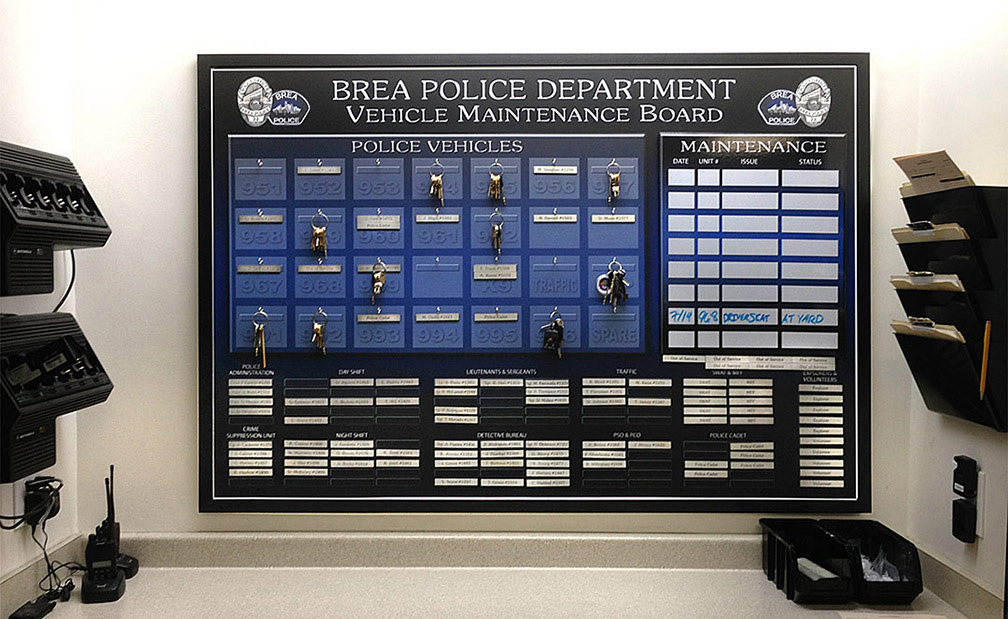 Peace in Christ Laminated washable org chart with the C-Channels adhered to the
non-magnetic backboard. Slide in printed name are also laminated. 7/2014
Magnetic / Laminated Service Area Map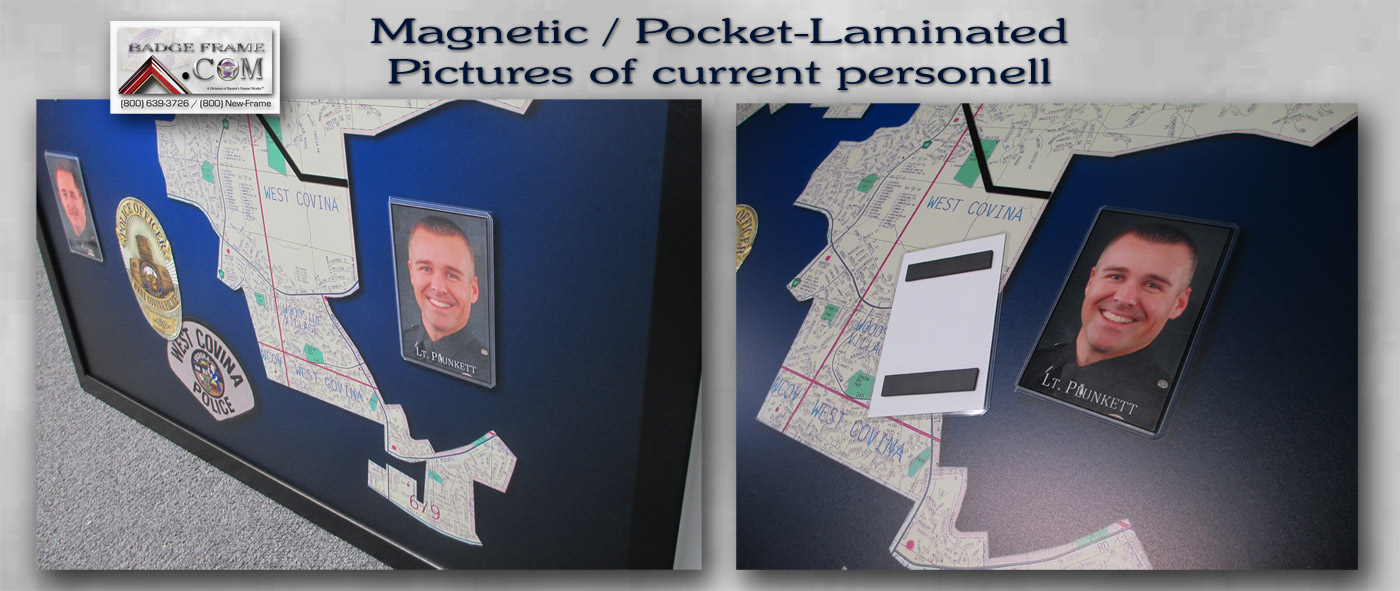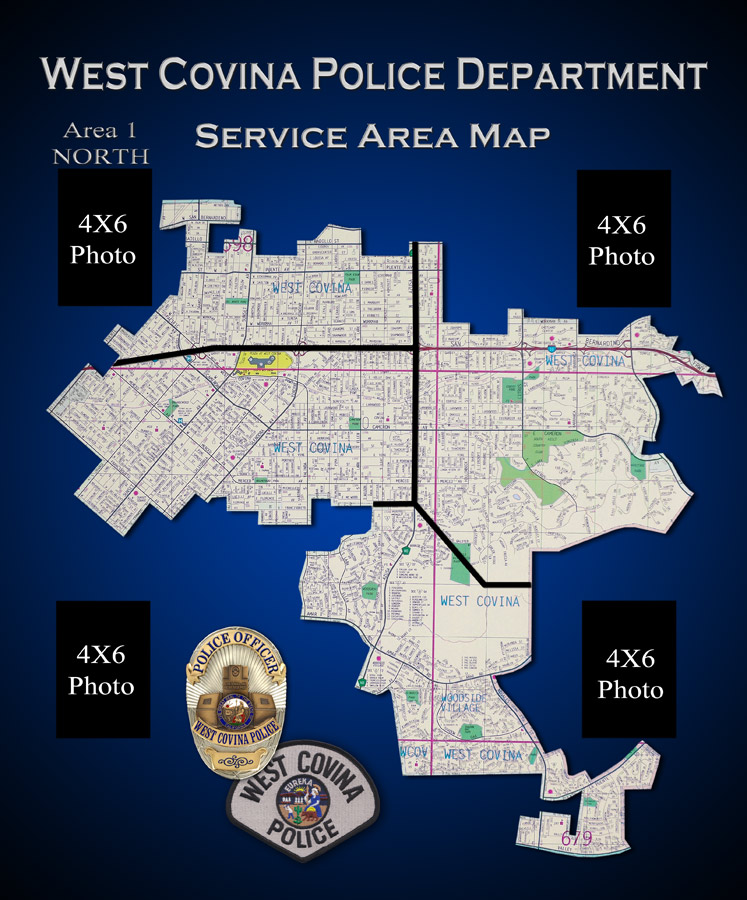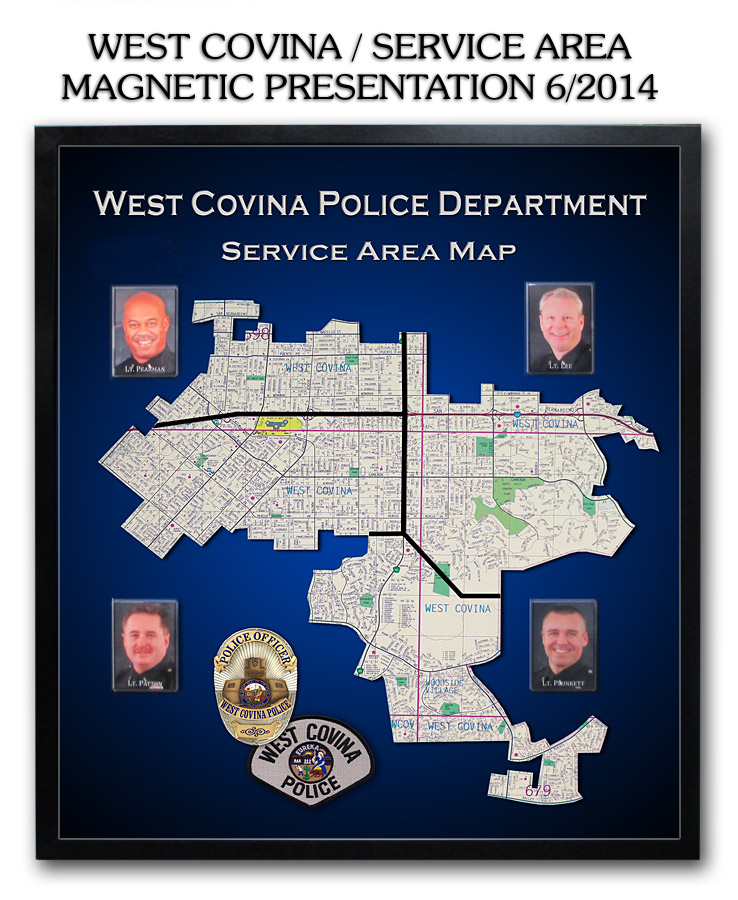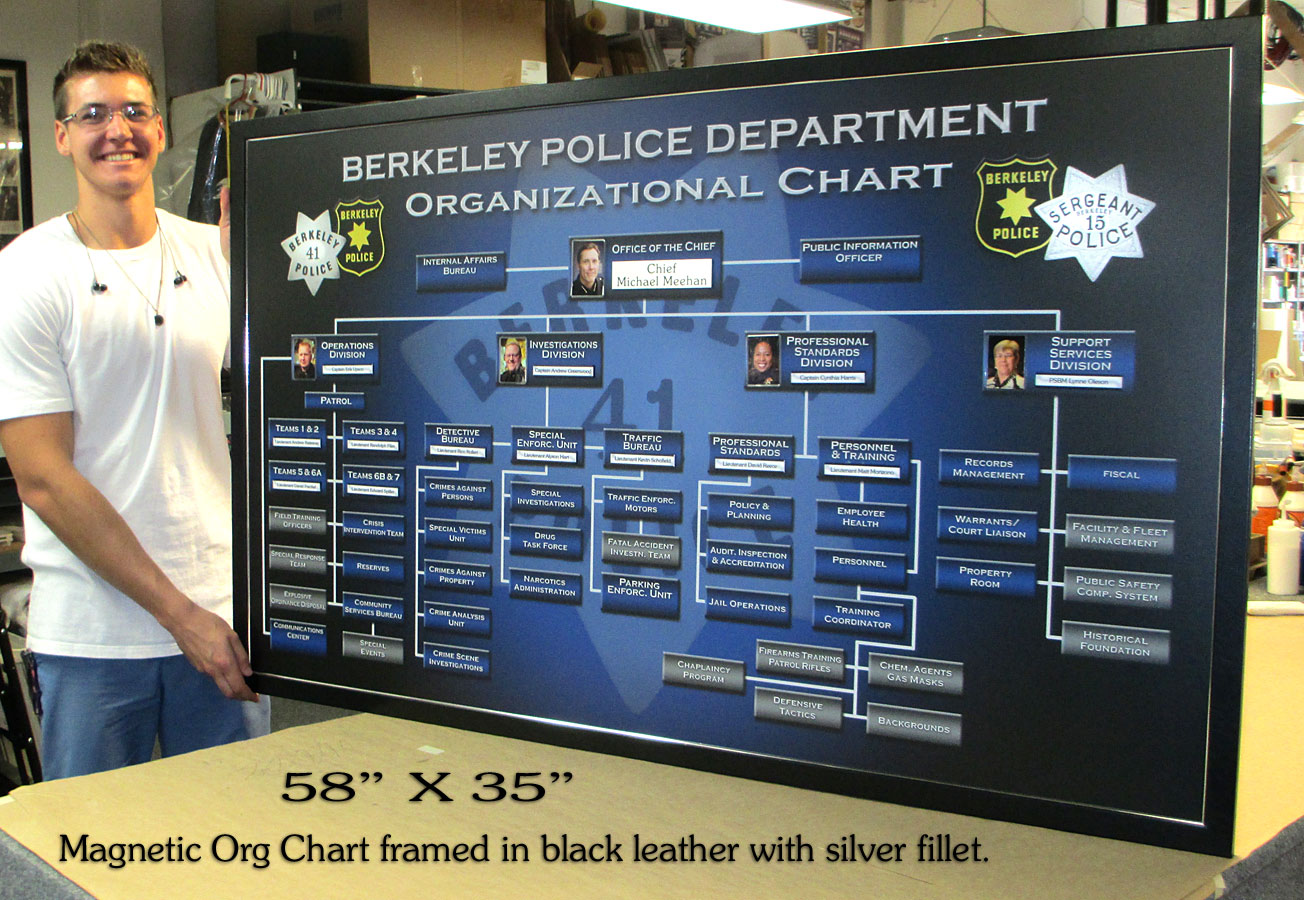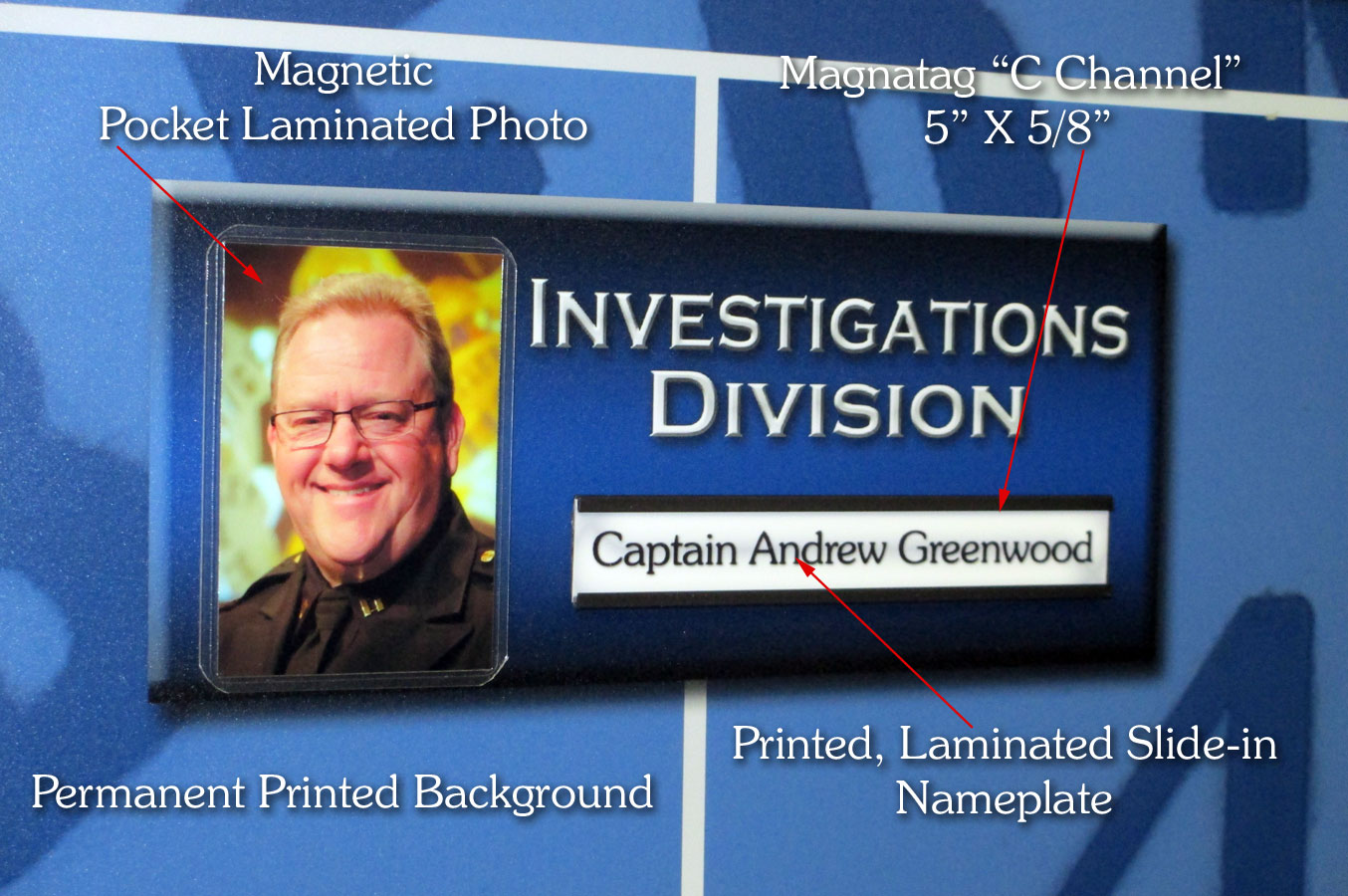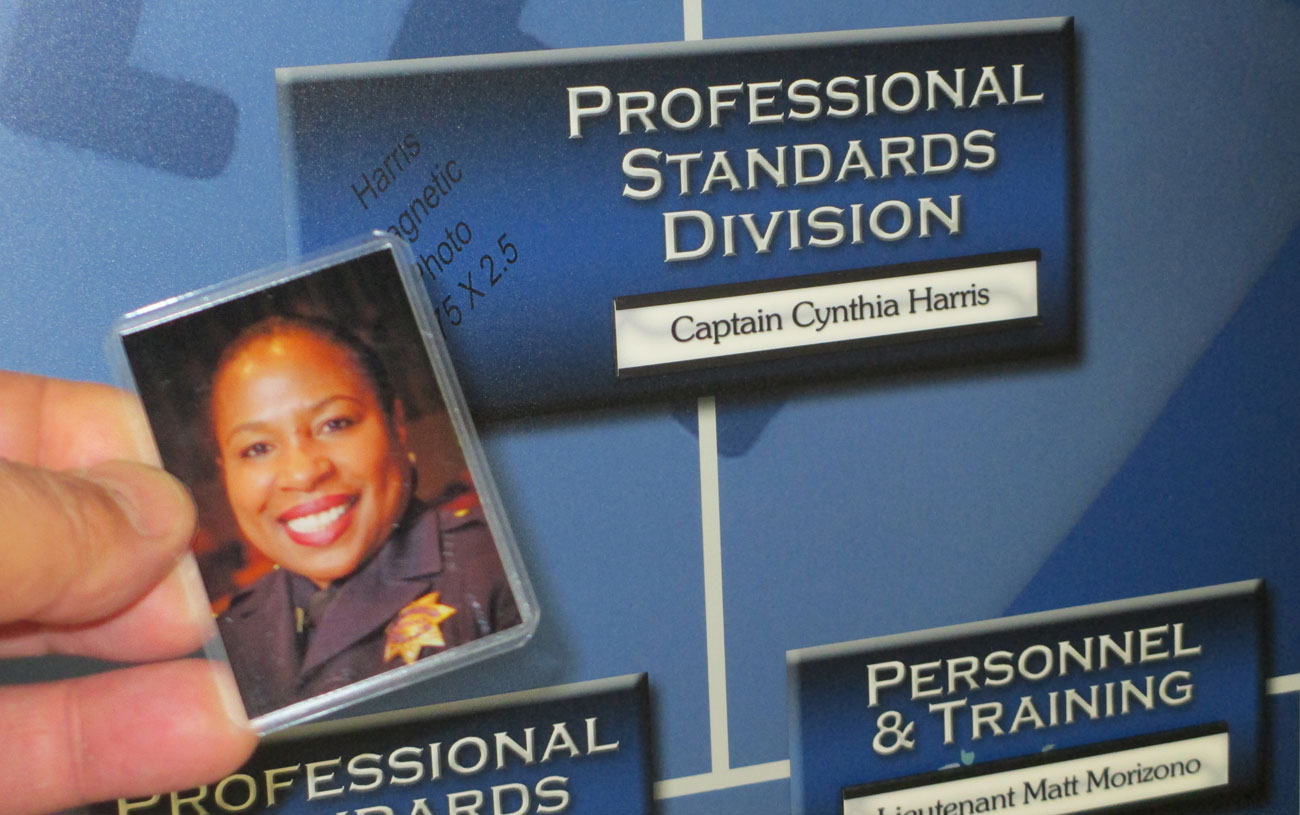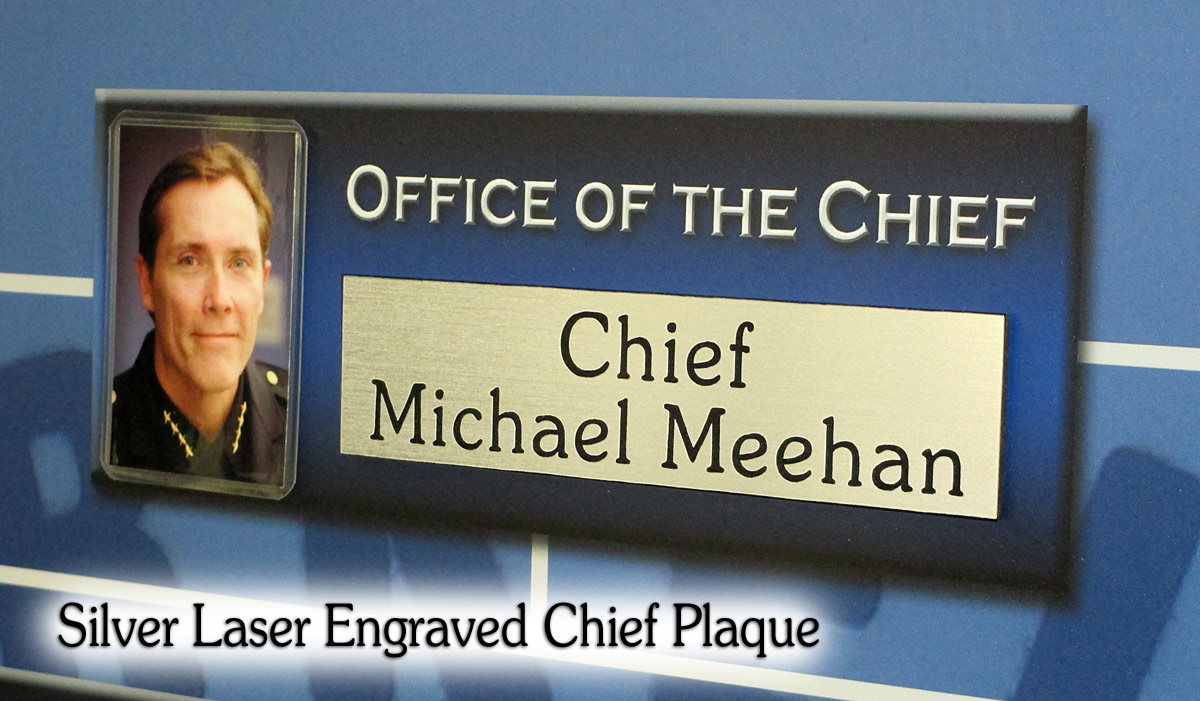 San Pablo PD. Sergeants and above = 5" X 1". Officers 5" X 5/8".
click to enlarge...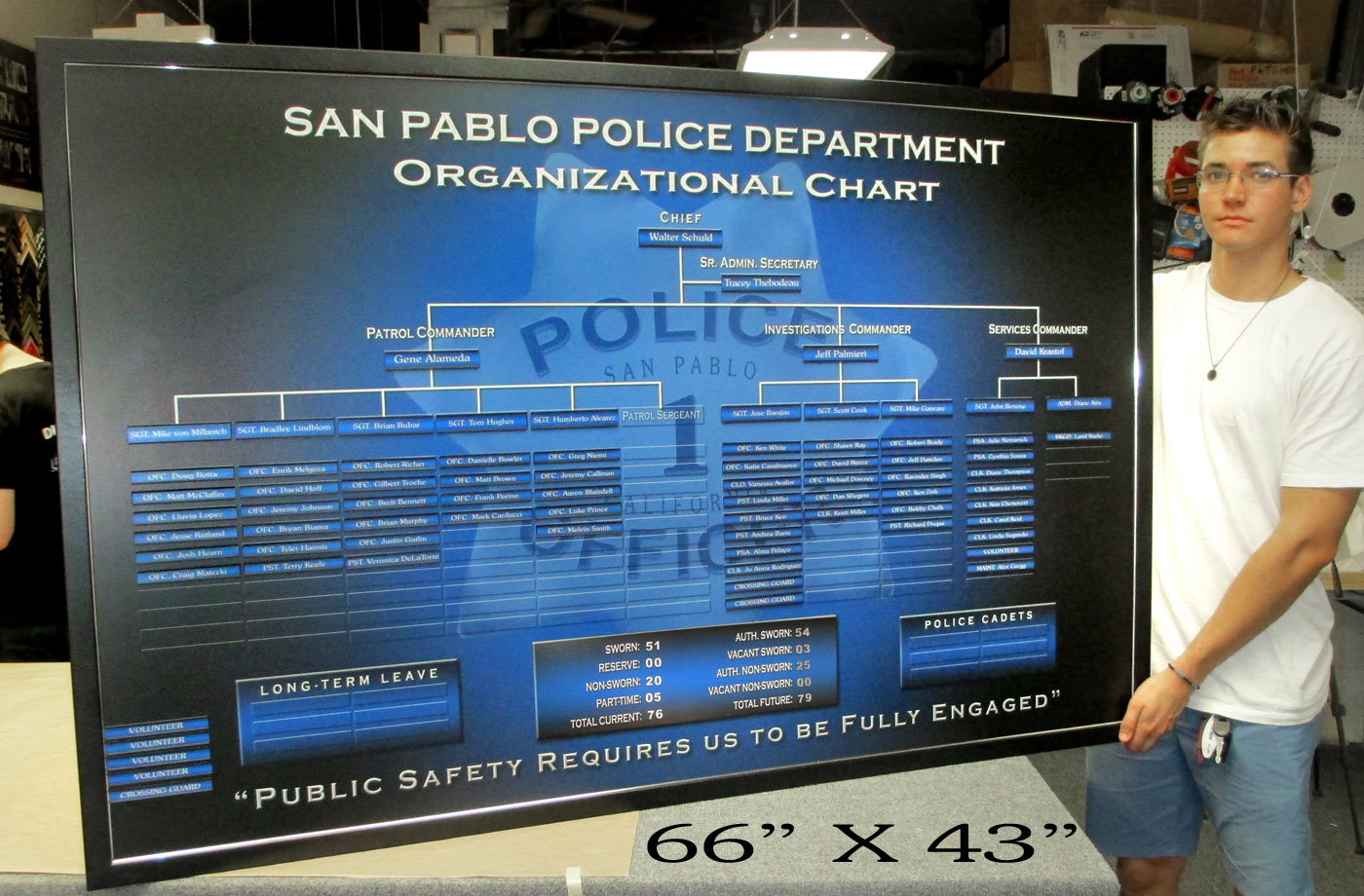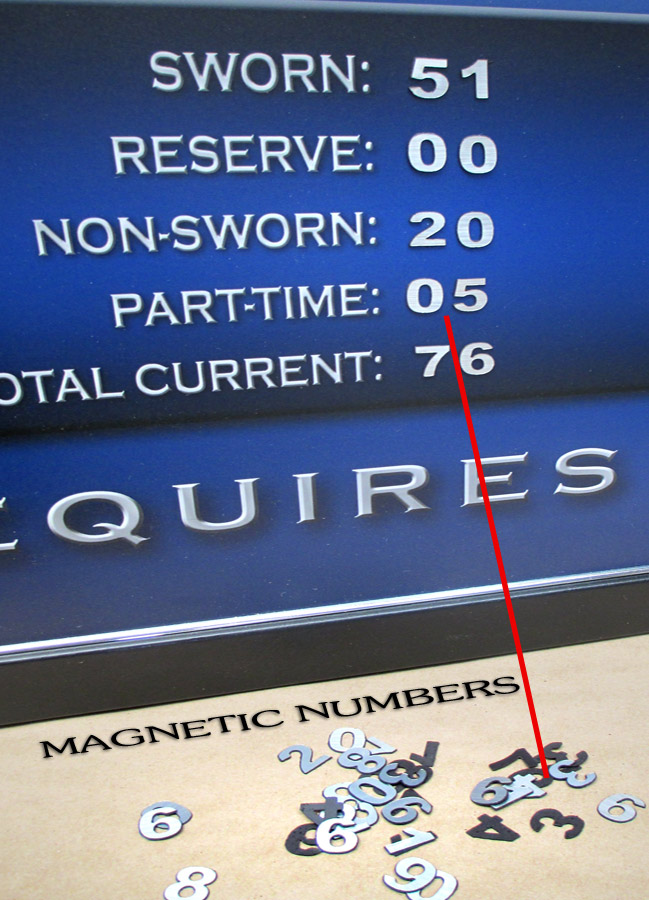 SAN PABLO PD - Magnetic Org Chart.
Framed in black leather with silver fillet accent. Printed and laminated matching slide-in names.
Magnatag "C" channel holders, laminated, washable backboard. 3/2014 for Mike Gancasz.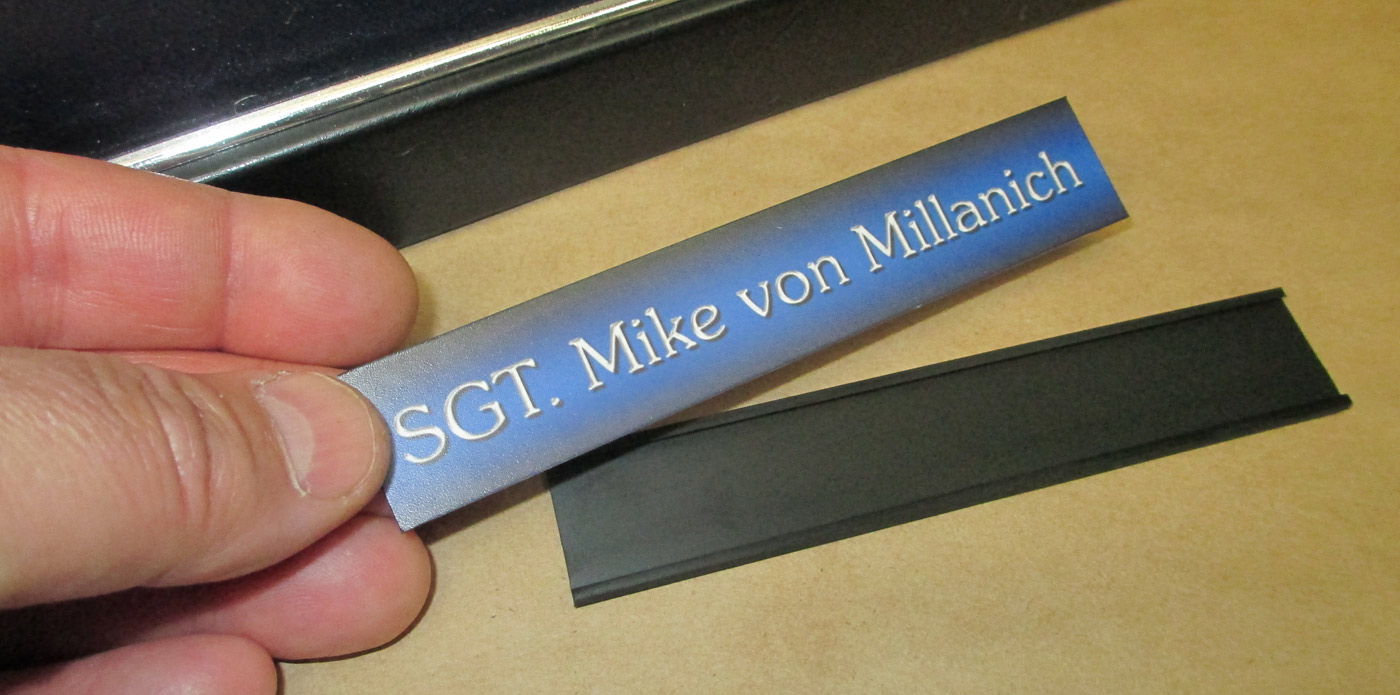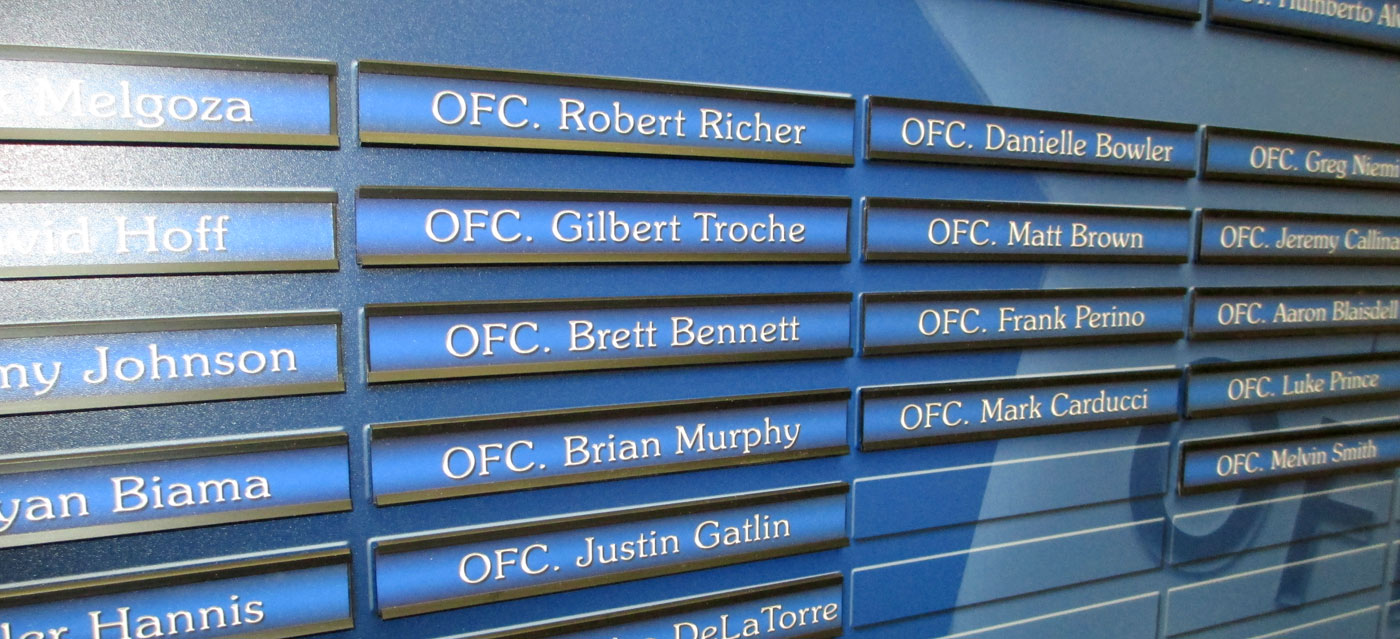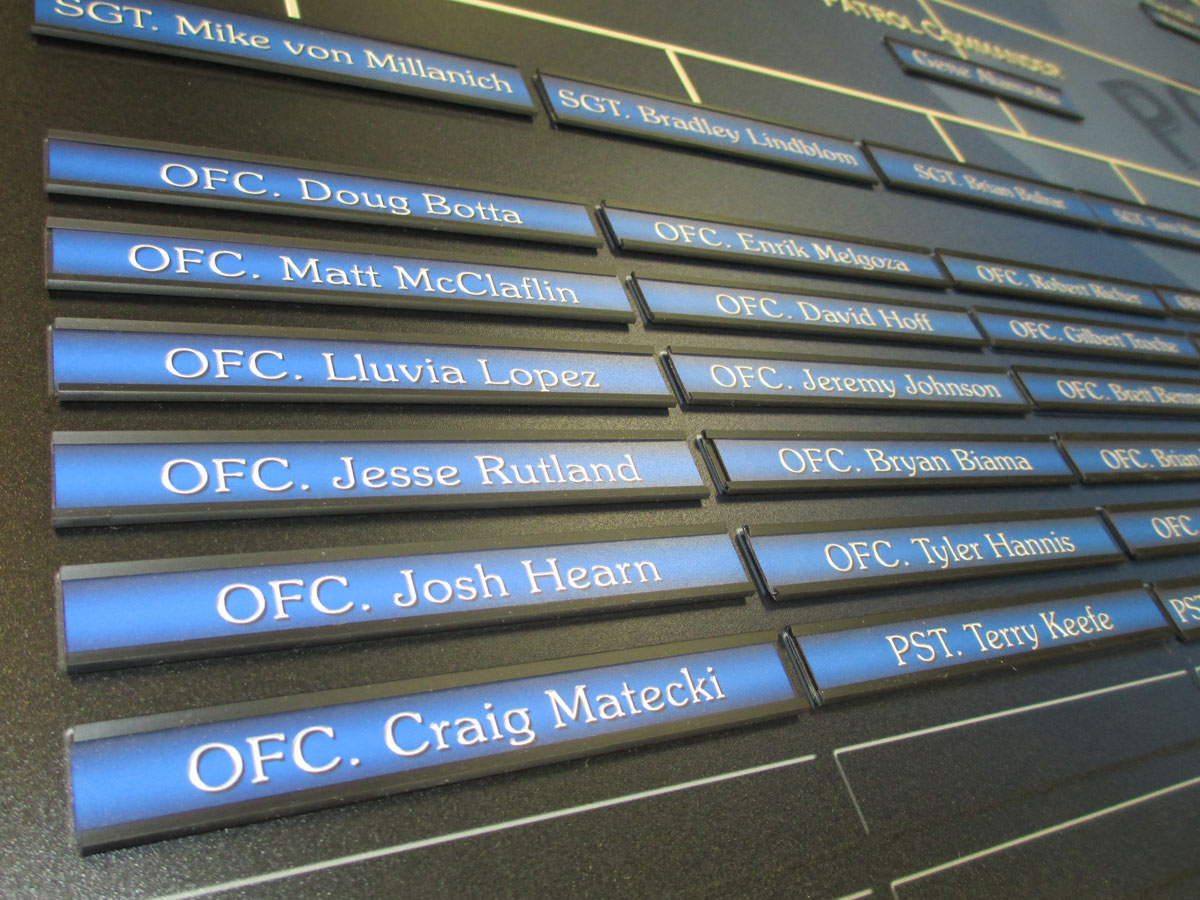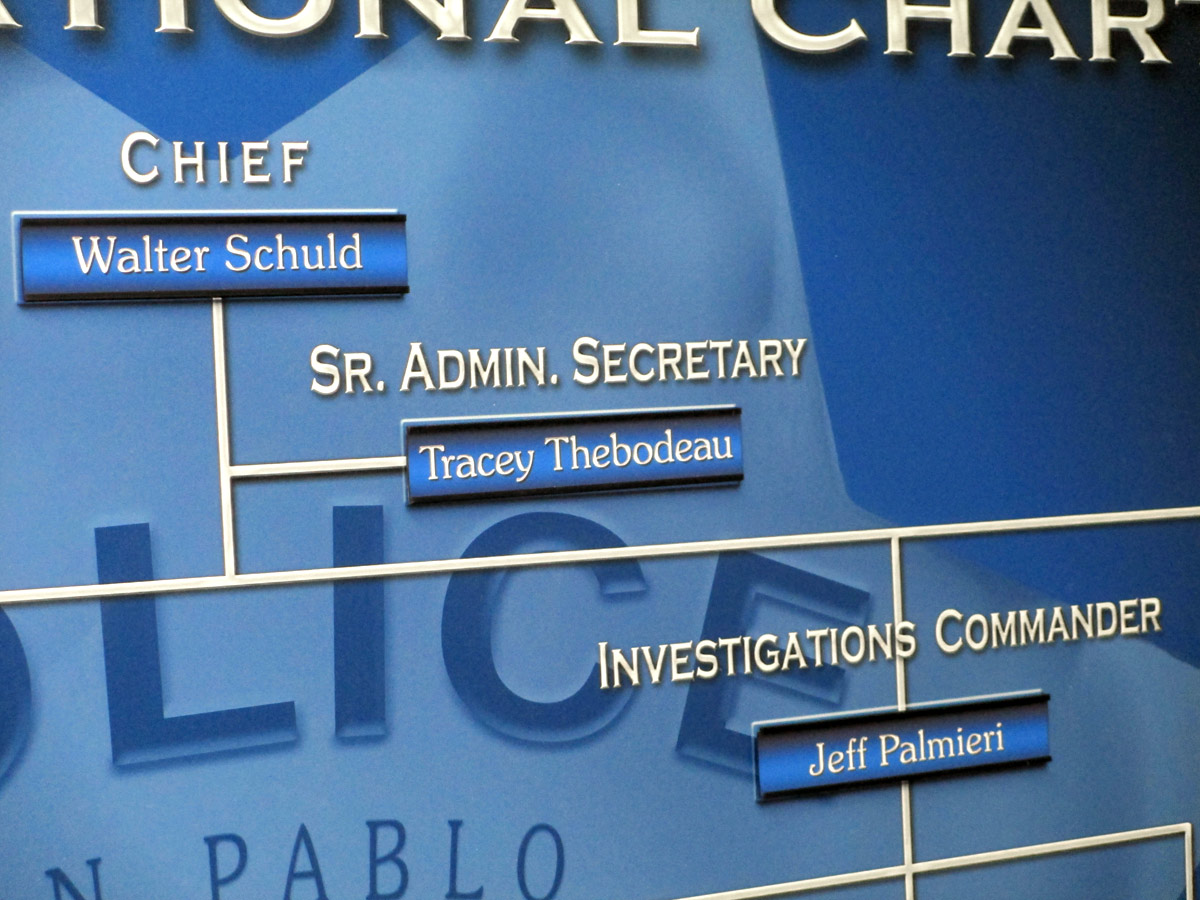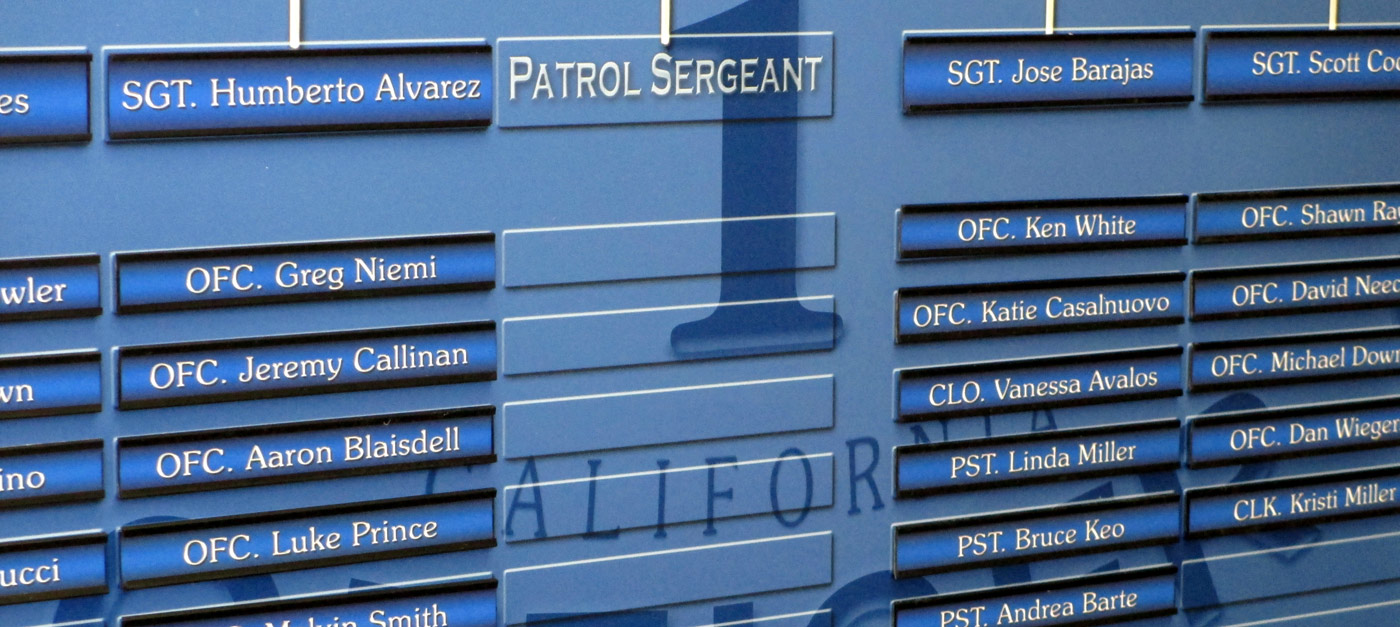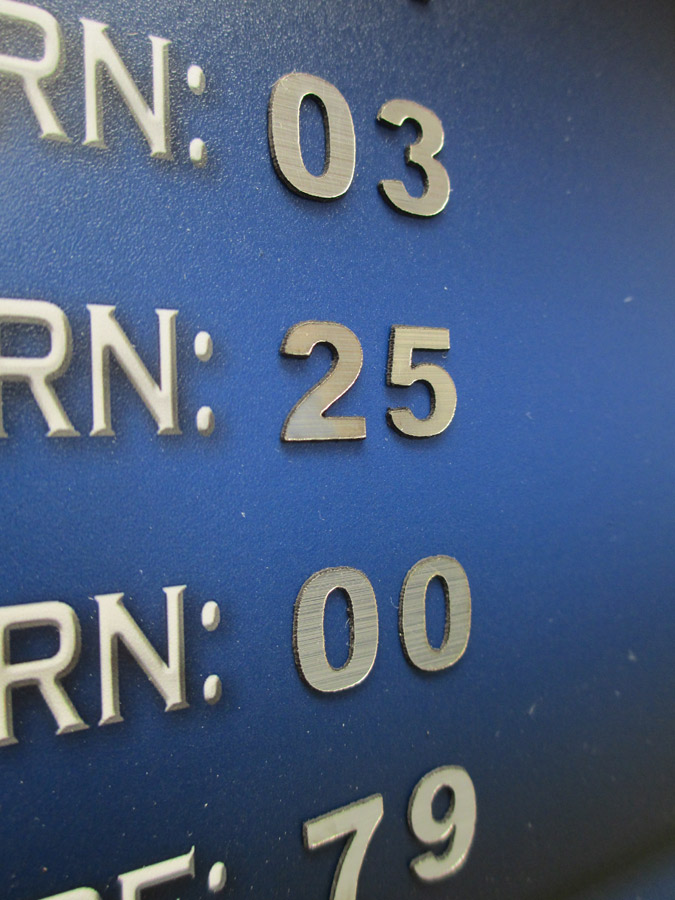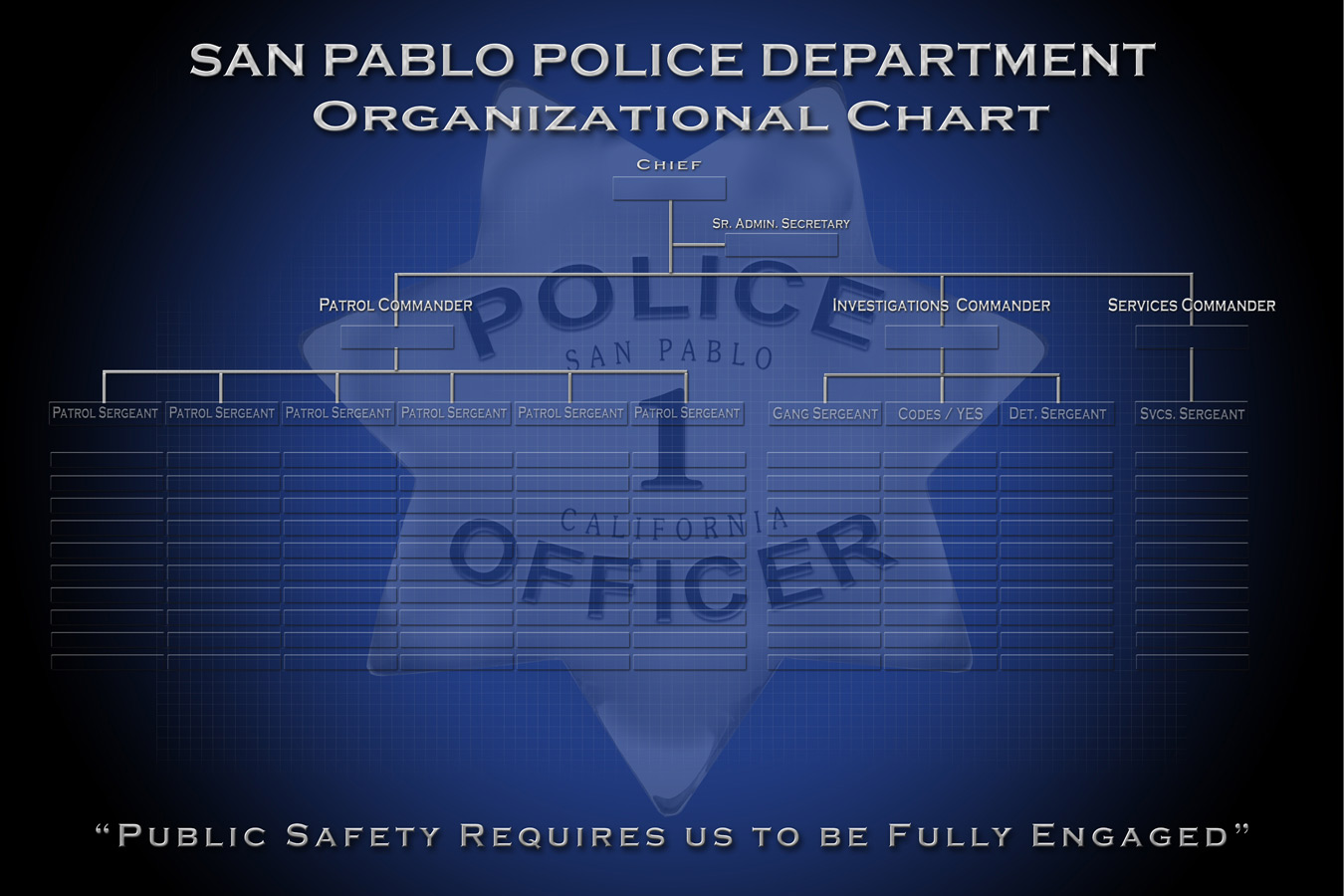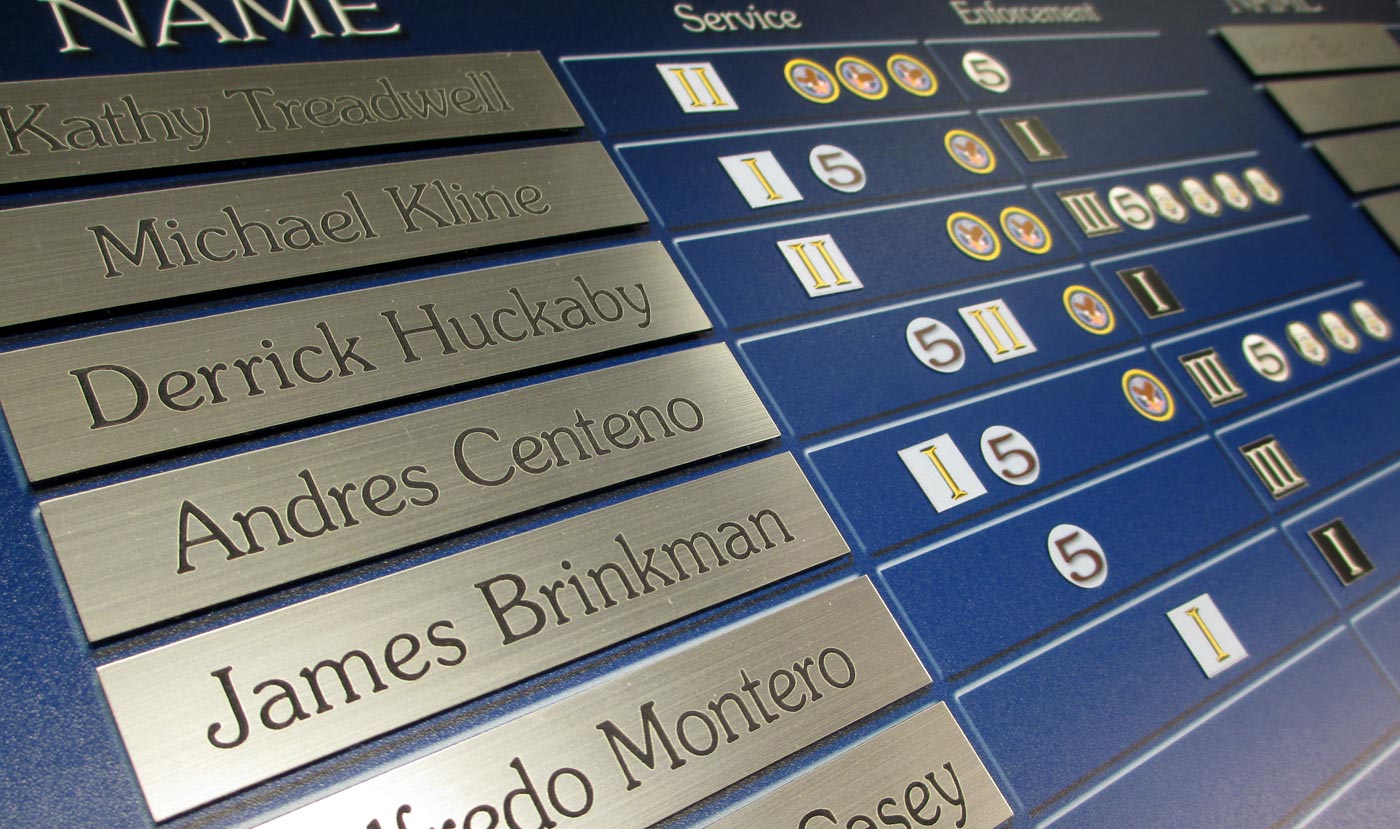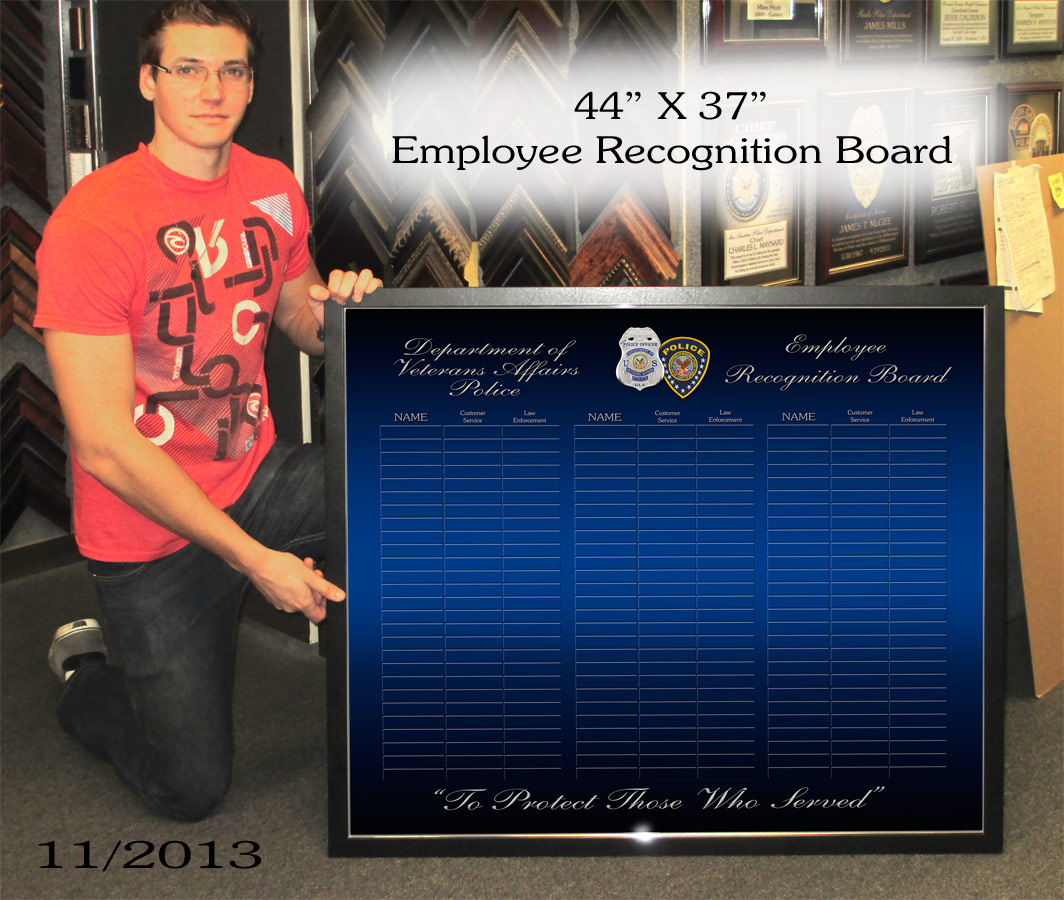 Department of Veteran's Affairs PD
Employee Recognition Presentation.
Interesting project incorporating magnetic, laser engraved nameplates with square and round printed magnets that symbolize different levels of achievement
in various areas.

Backboard was magnetic, printed with custom graphics,
laminated, and framed in black leather with a silver
accent fillet. 11/2013

Click image to the left
to see the different card configuration options...

You can print the image on
an 8.5" X 11" paper to see the sizes.

Any configuration or additional
info can be added.
Barcodes, scancodes or any
other scanable code can be
inserted.
See pricing page for pricing.

Brea PD / Black leather, silver fillet and custom graphics.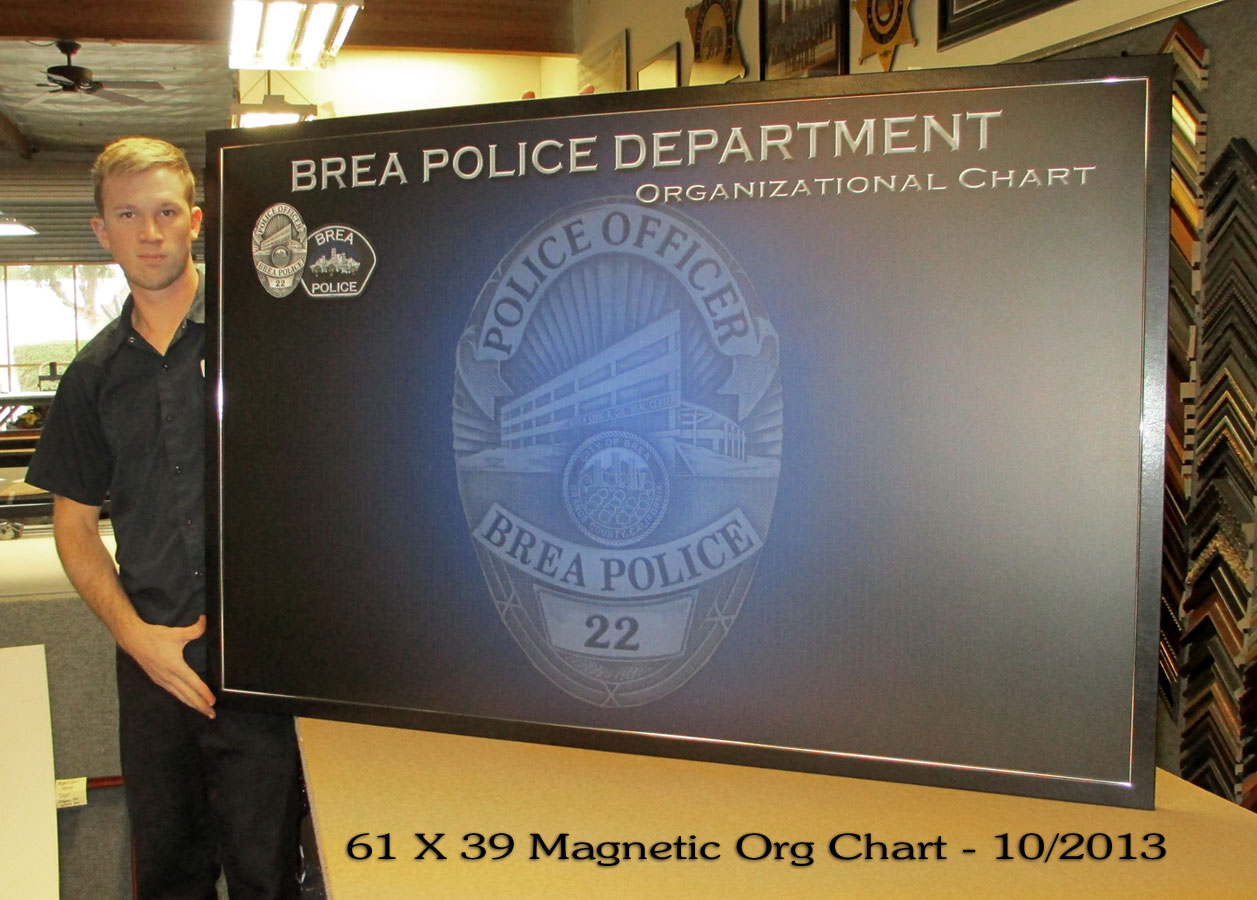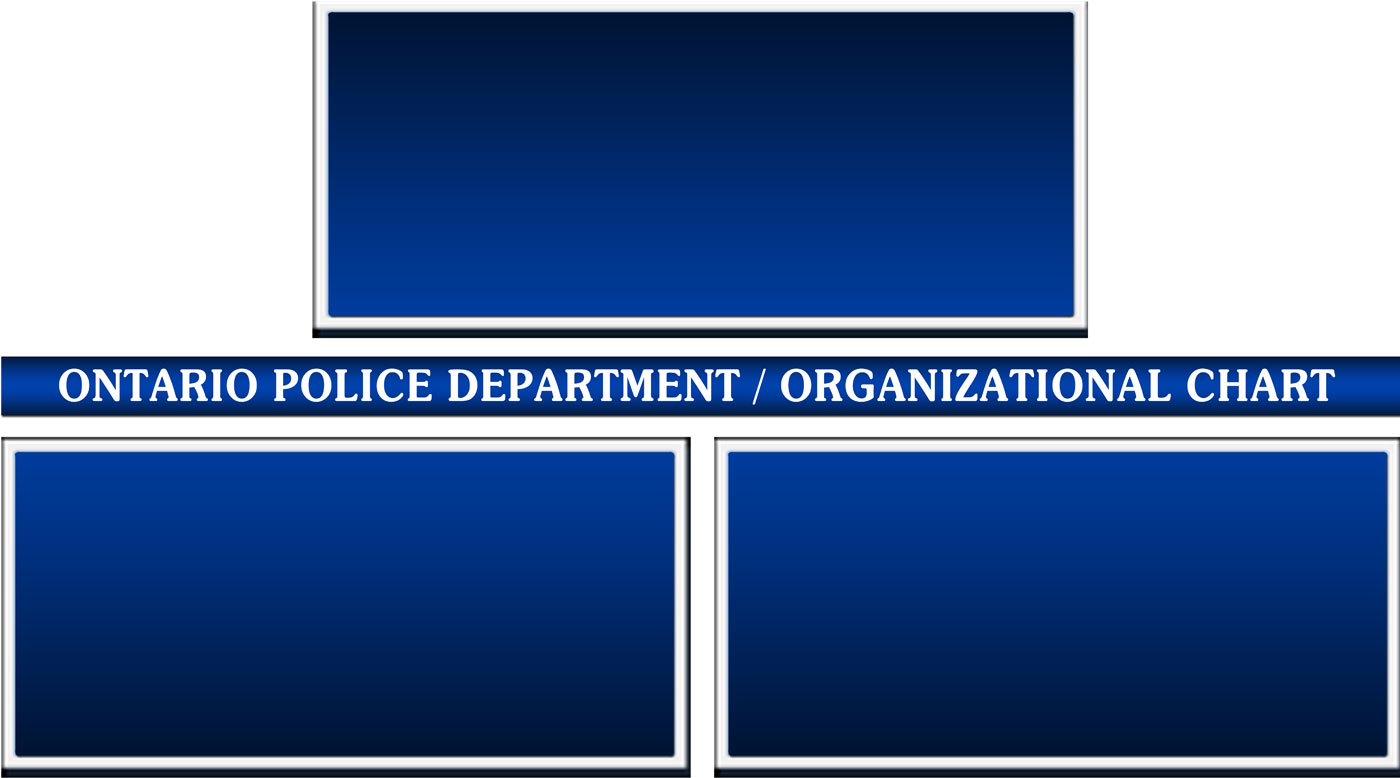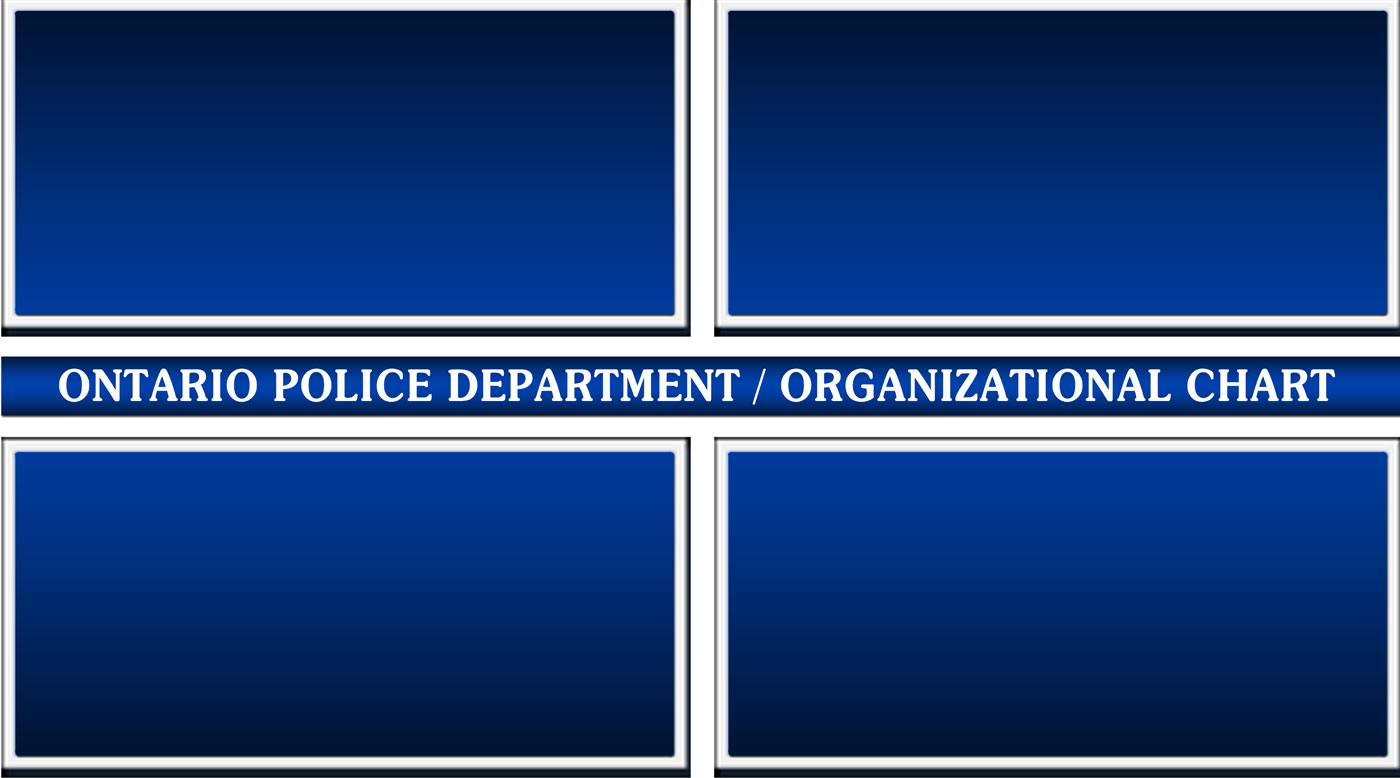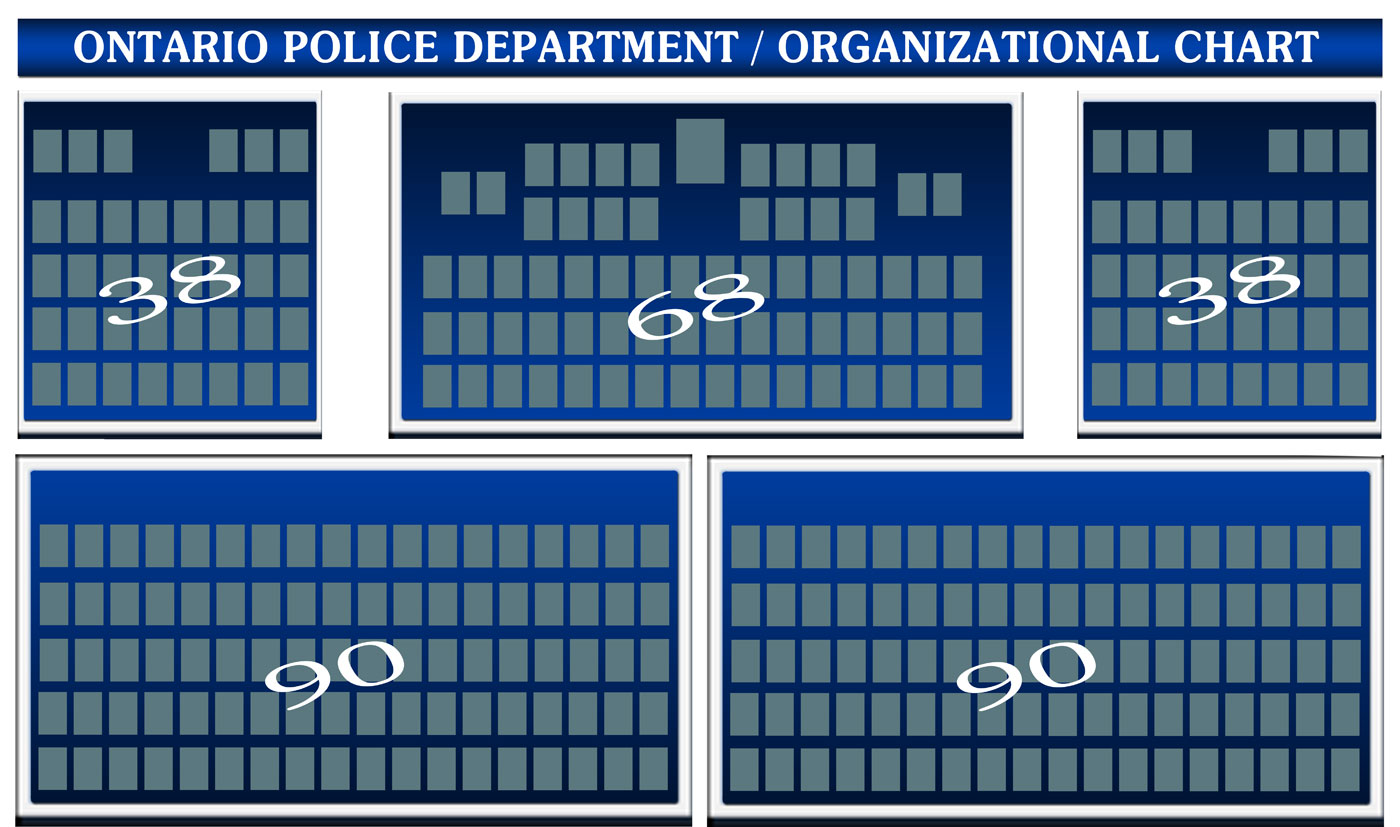 El Cerrito Magnetic Org Chart - Click to enlarge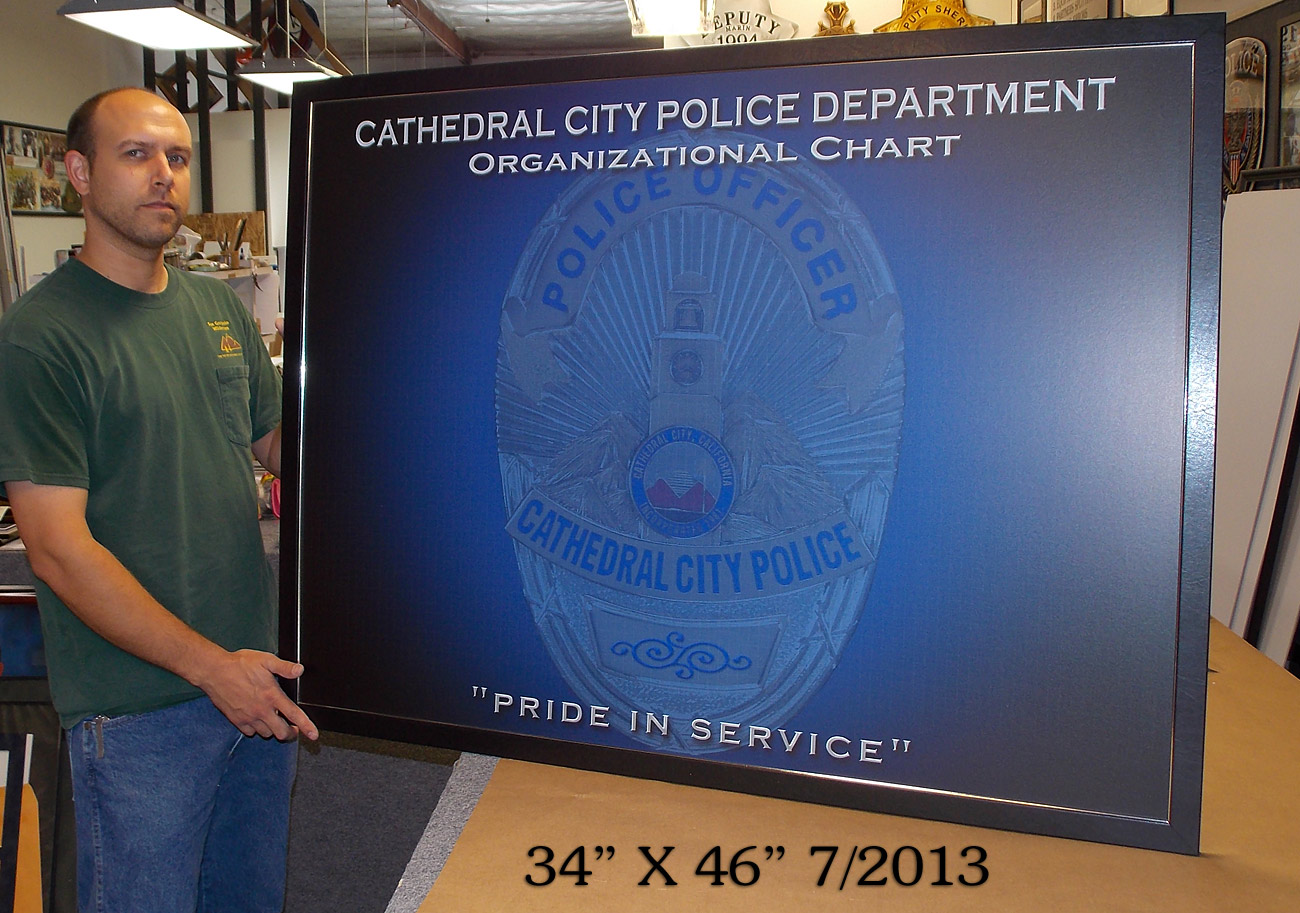 Westminster PD - Area Command Presentation - 8' wall span.
Note*** Original graphic concept - Actual presentation still to be posted.

Magnetic Officer nameplates are 1"X10" CLICK TO ENLARGE
"C Holders" / Magnetic with photoshopped nameplates...Click to enlarge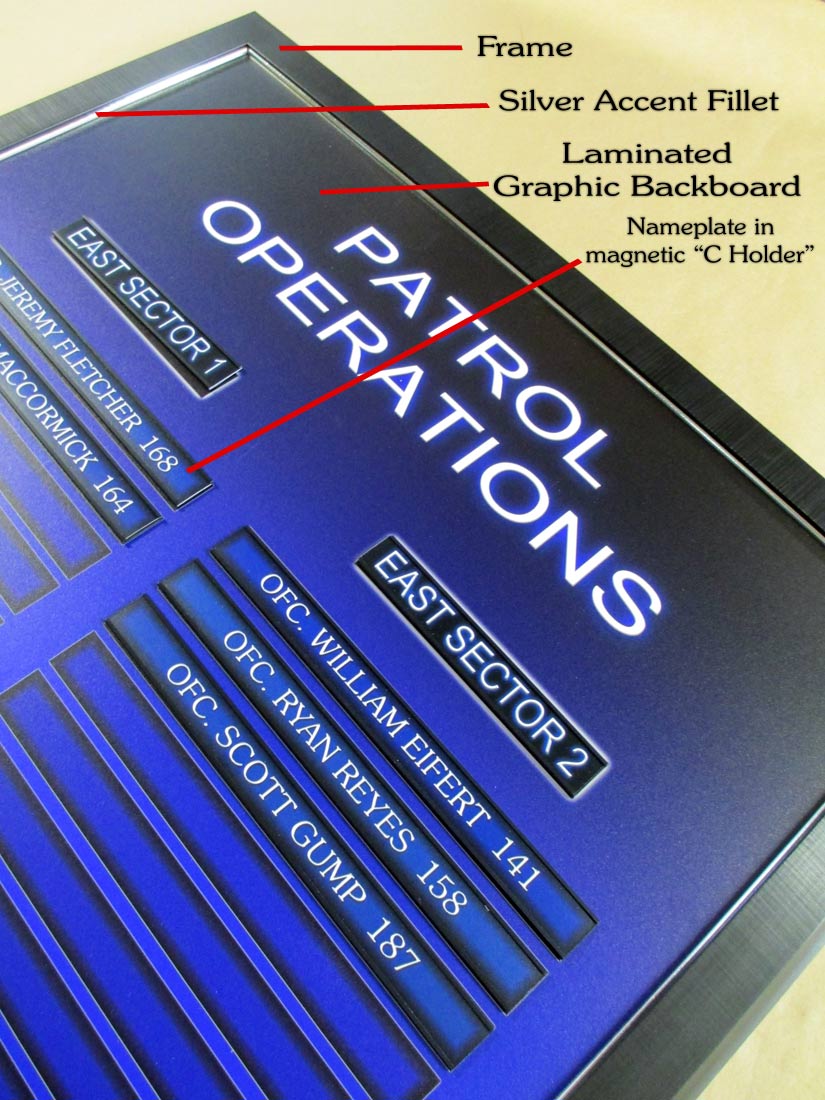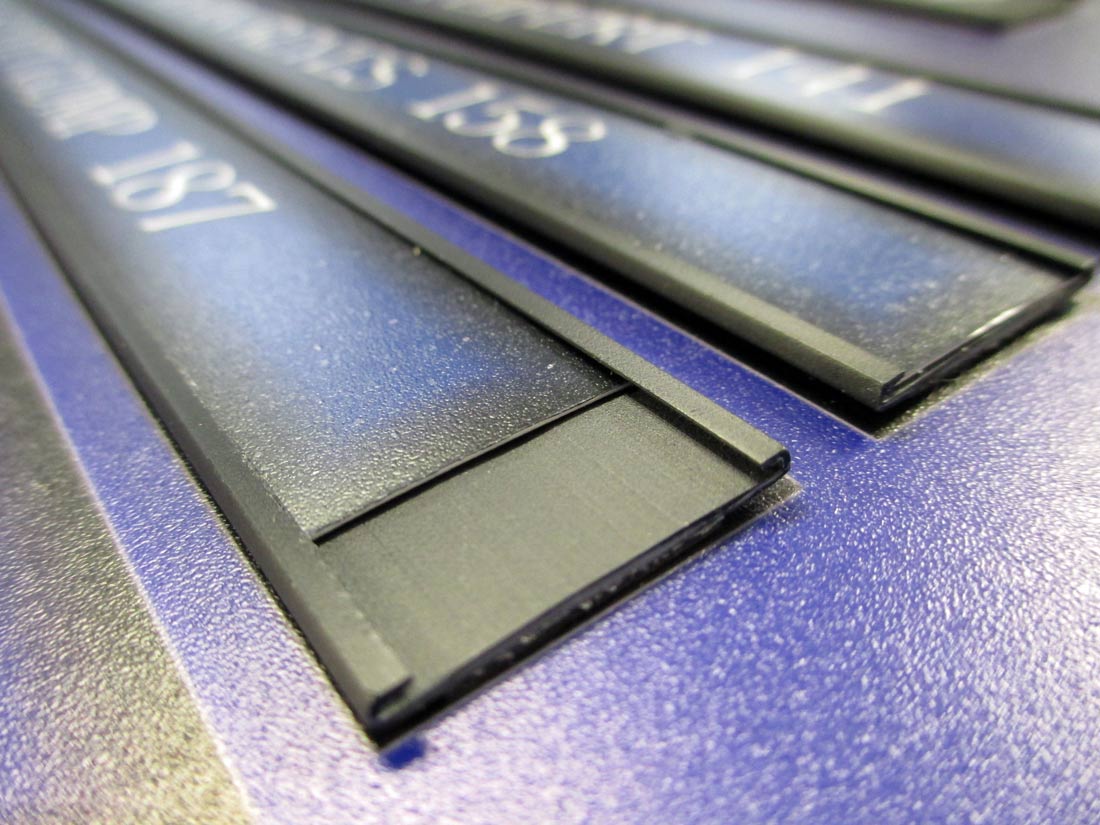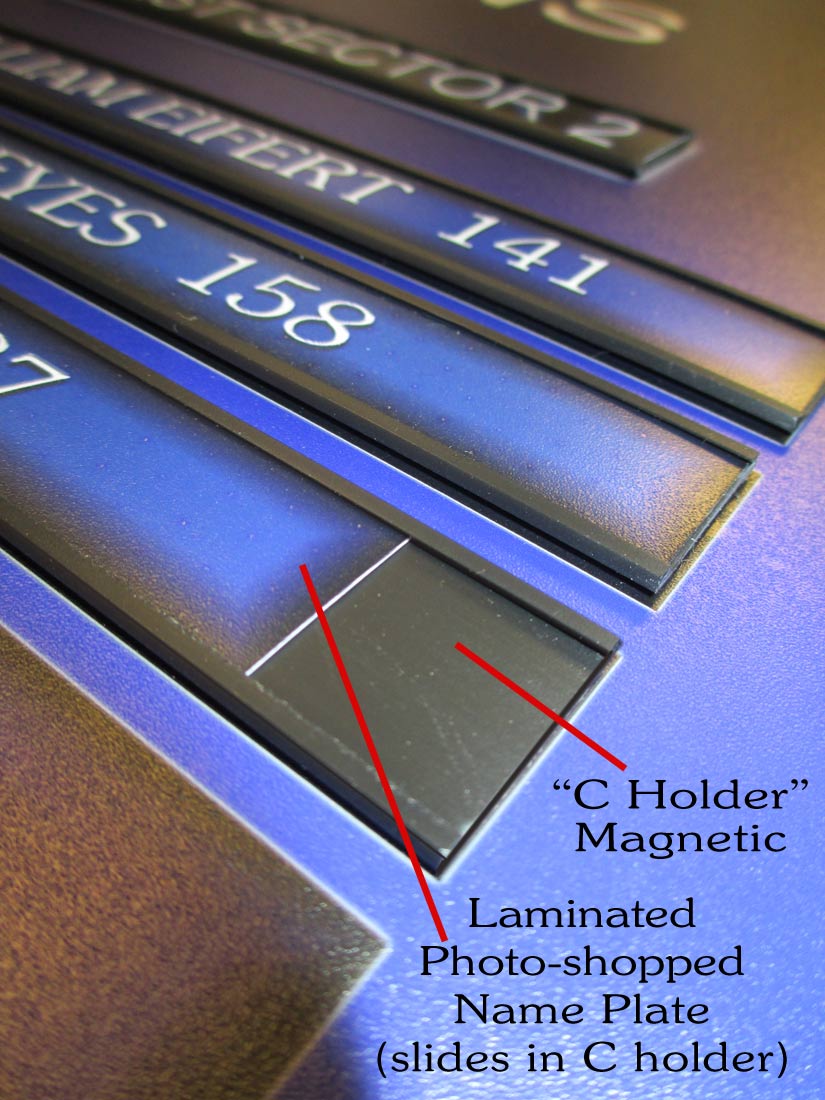 ---
The chart below for Pacific County Sheriff (Scott Johnson) is unique in that we are printing the slide in names and positions for him.
This allows the labels to be printed on high quality photo paper with incorporating the chrome and gold lettering, shadowing etc.
The set-up below shows the positions at 1" X 4" and the personnel names at 3/4" X 4". The positions will be gold and black
while the personnel will be chrome and black. Scott ordered his own Magnatag Holders and will use our inserts.
see larger image here

Layout showing design with nameplates and positions.
See ACTUAL SIZE cross-section image here
These were the nameplates and positions used on the above chart. These slide into the C-Channel magnetis holders.
Click to Enlarge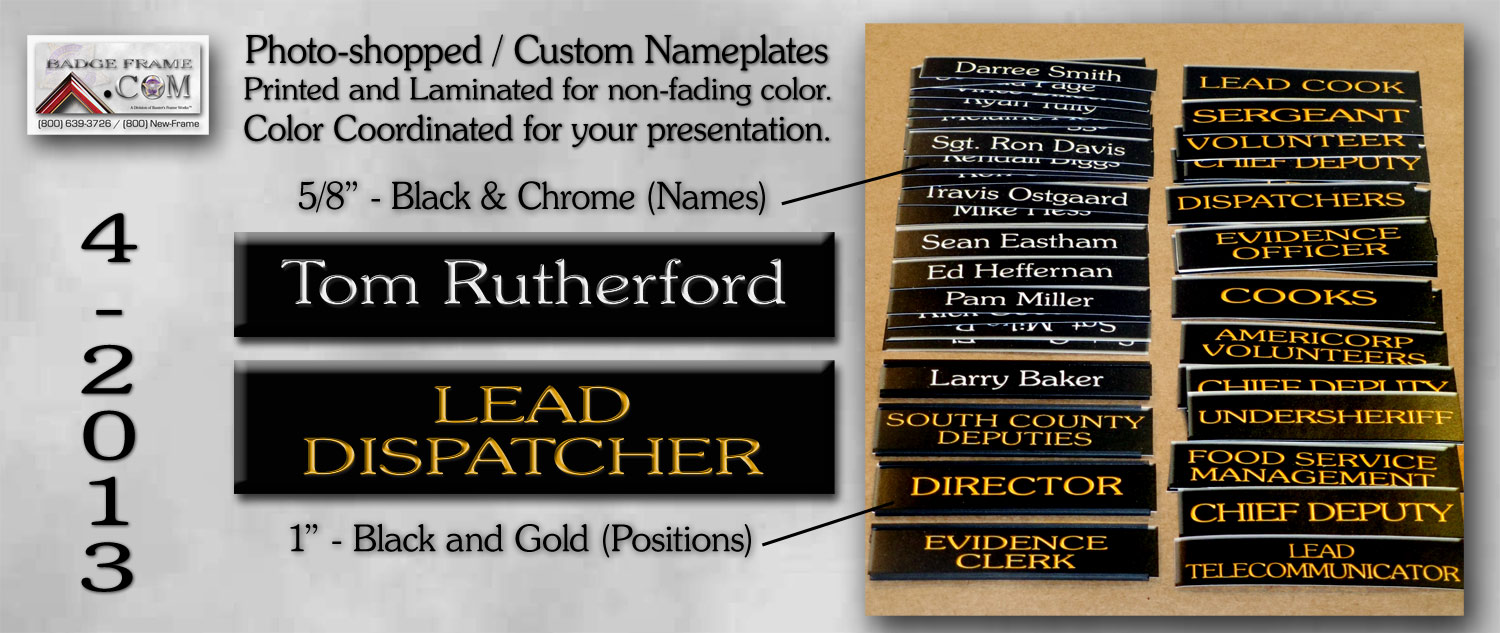 These were also considered and were thought to "blend in" too much.
click to enlarge

---
The below is our "Generic Presentation" It is what the majority of you have requested.
This style features a very faint
"GRID"
that allows your
MAGNATAG COLOR-CODED NAME/PLACEHOLDERS
to be
aligned and stay straight. This design shows a police blue to black gradient,
CHROMED LETTERING
, a badge & patch combo
graphic, a large latent badge image and a department slogan.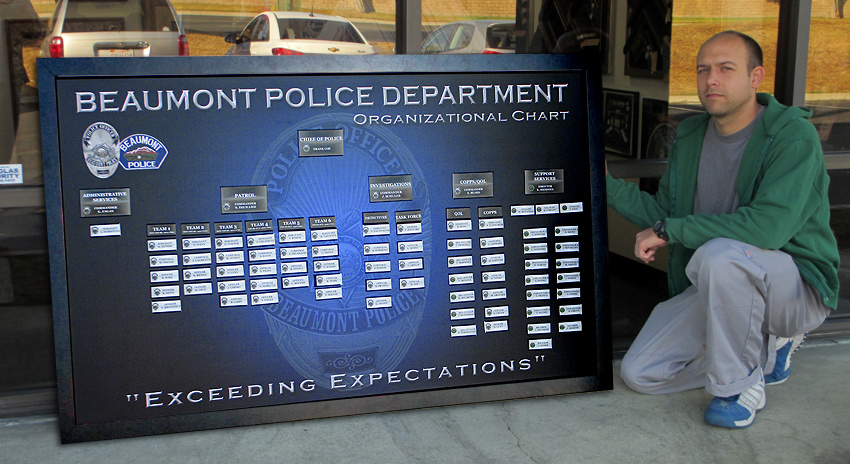 larger image here
See with Z-Bar for front frame
36" X 58" Presentation before self-positioned magnetic holders.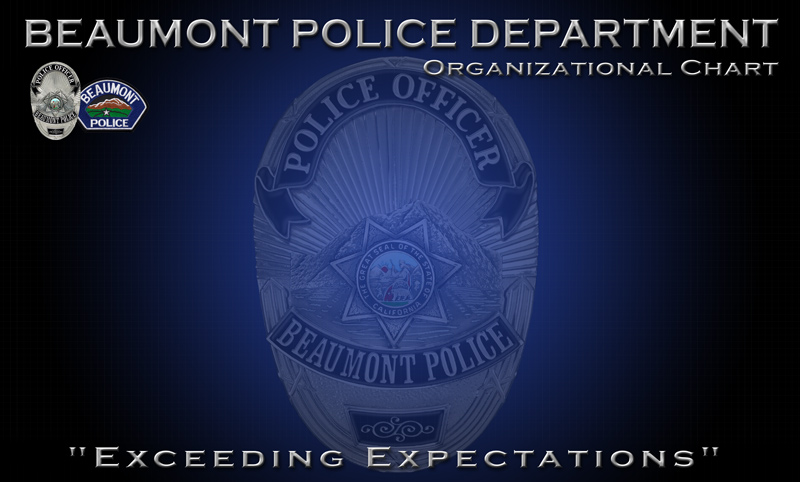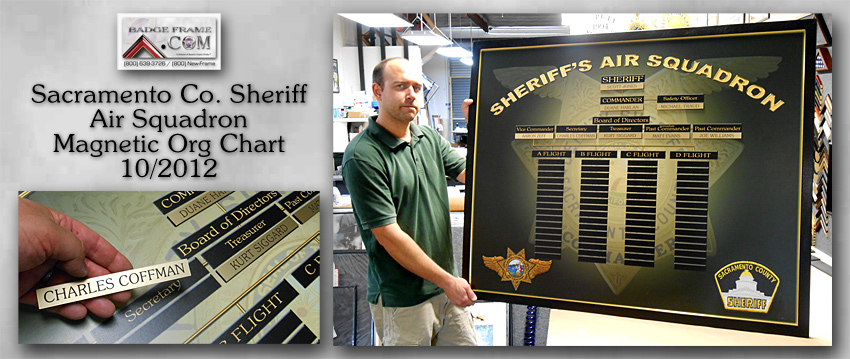 larger image here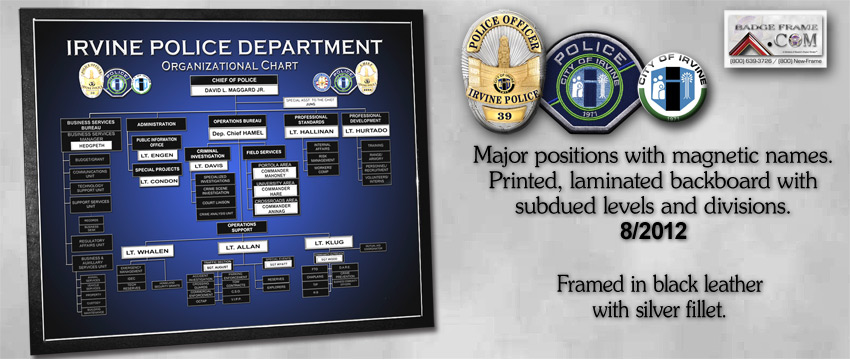 larger image here
larger image here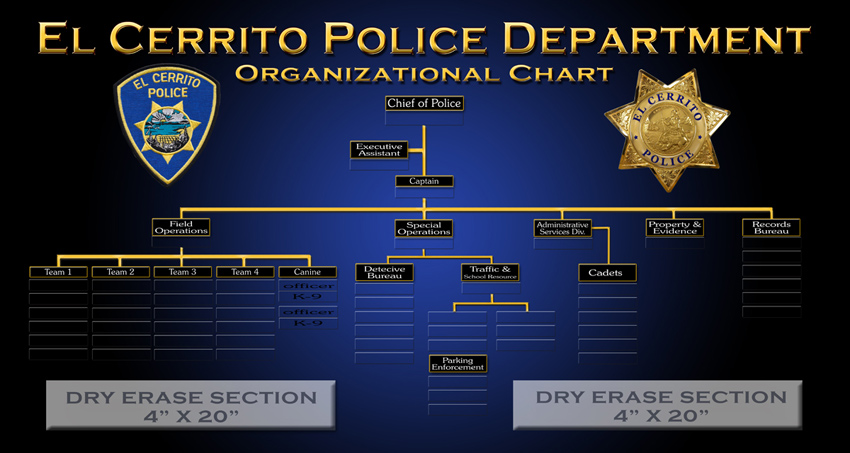 34 X 60 with printed main headers and dry erase sections.
see design 1
see design 2
see design 3
see full size graphic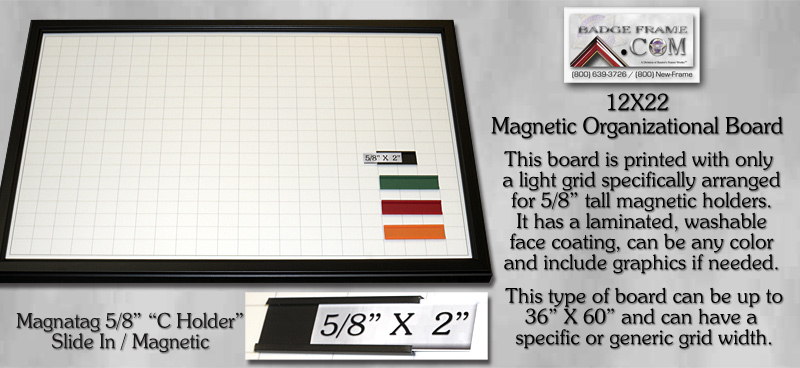 The options below show magnetic presentations with various amounts of permanently printed graphics.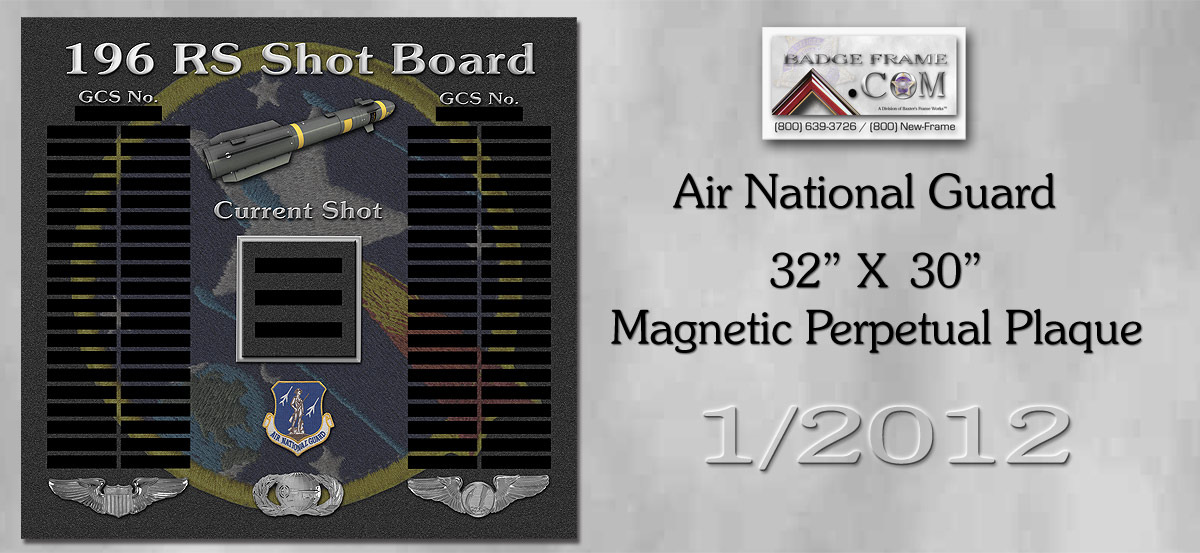 See larger image here
This presentation was made before the possibility of magnetizing. As of now (1/2012) we can create boards like this
that utilize magnetic holders etc. The cards below are velcroed to the board, but now could have magnetic holders.
Also, notice that just the top portion has wording and graphics. The rest just has a horizontal grid allowing easier alignment.
See this 42" X 70" board without cards or headers
here
.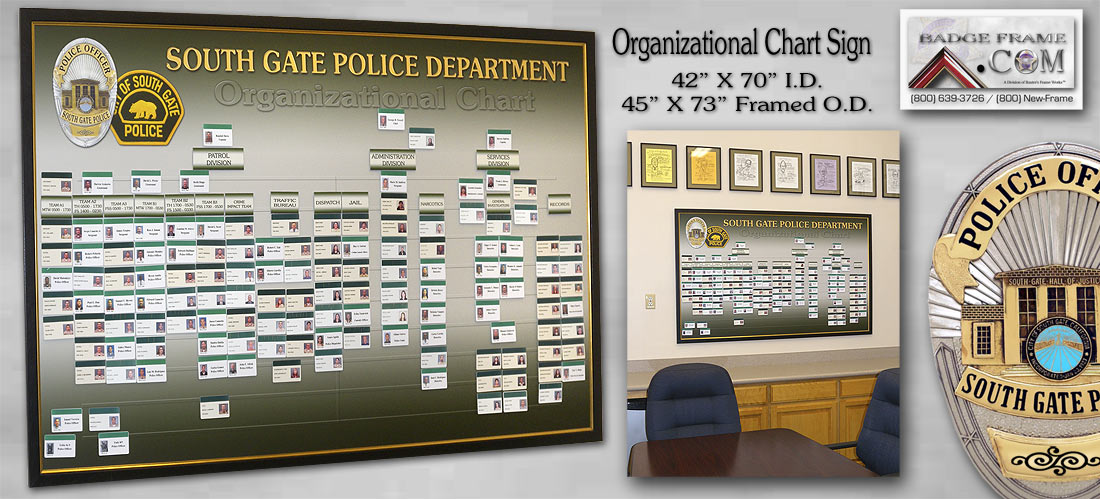 see larger image here
same room as above in SGPD before Organizational Chart...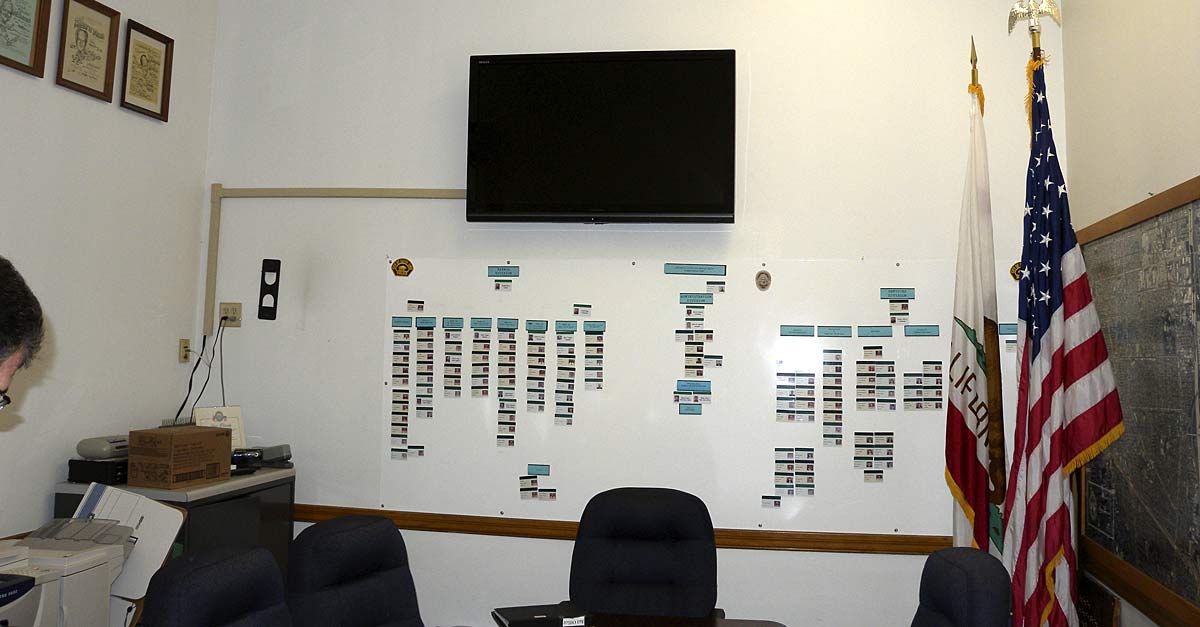 Initial wall layout graphic. Presentation consists of 3 separate magnetic boards
with individual photo IDs that are pocket laminated (like your current ID cards) and have
magnets on the back for easy placement. Click to enlarge.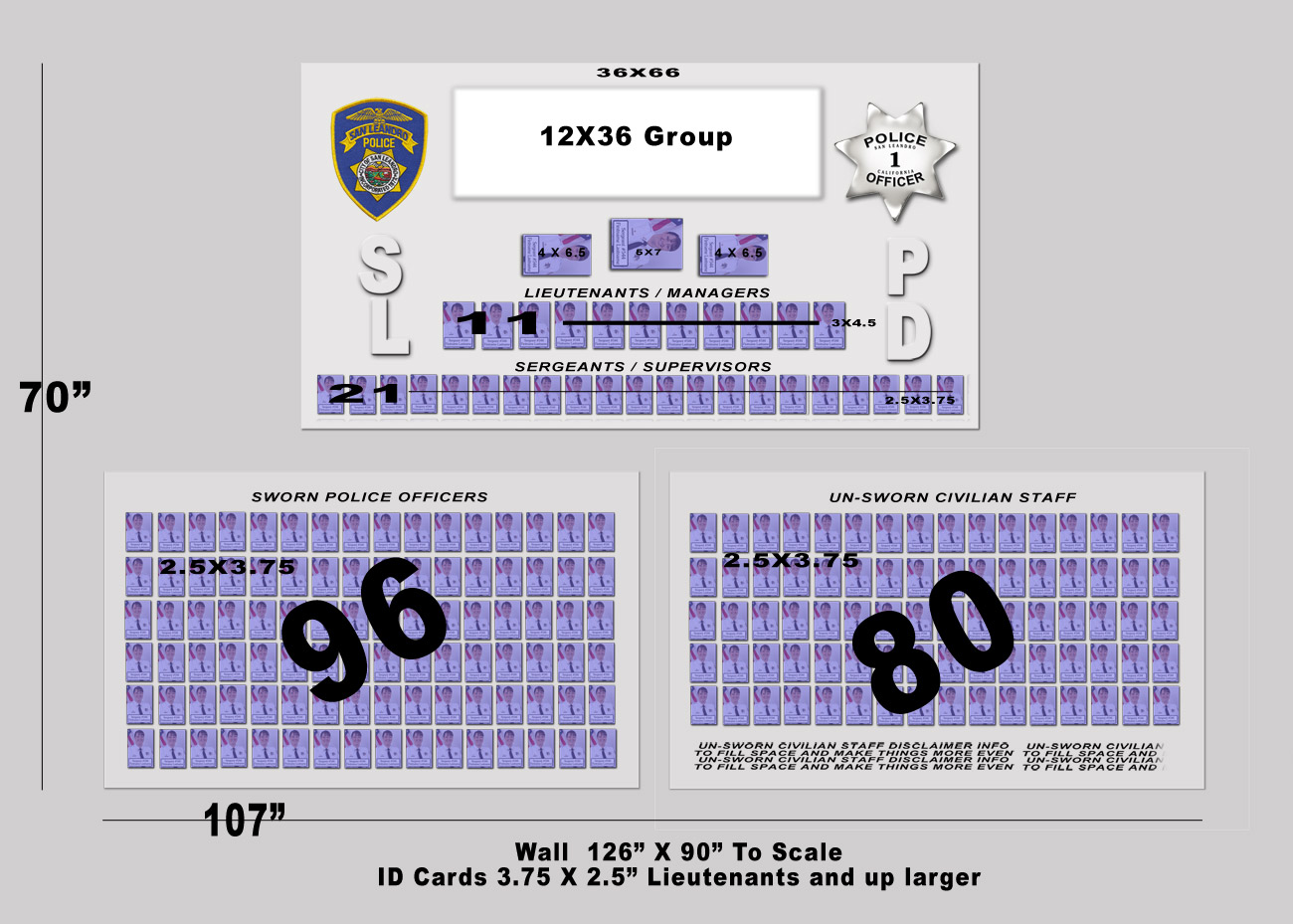 Nameplates / Laser Engraved...

Graphic showing front and back of nameplate or plaque.
These can be gold or silver with black lettering and pieces are sized correctly for your project.
Pricing is approximately $7 each at 3/4" X 4"
A C R Y L I C P R O T E C T I V E F R O N T...
This is an additional charge but does help keep the names in place
and keeps practical jokers from moving names around.
Click on images to enlarge...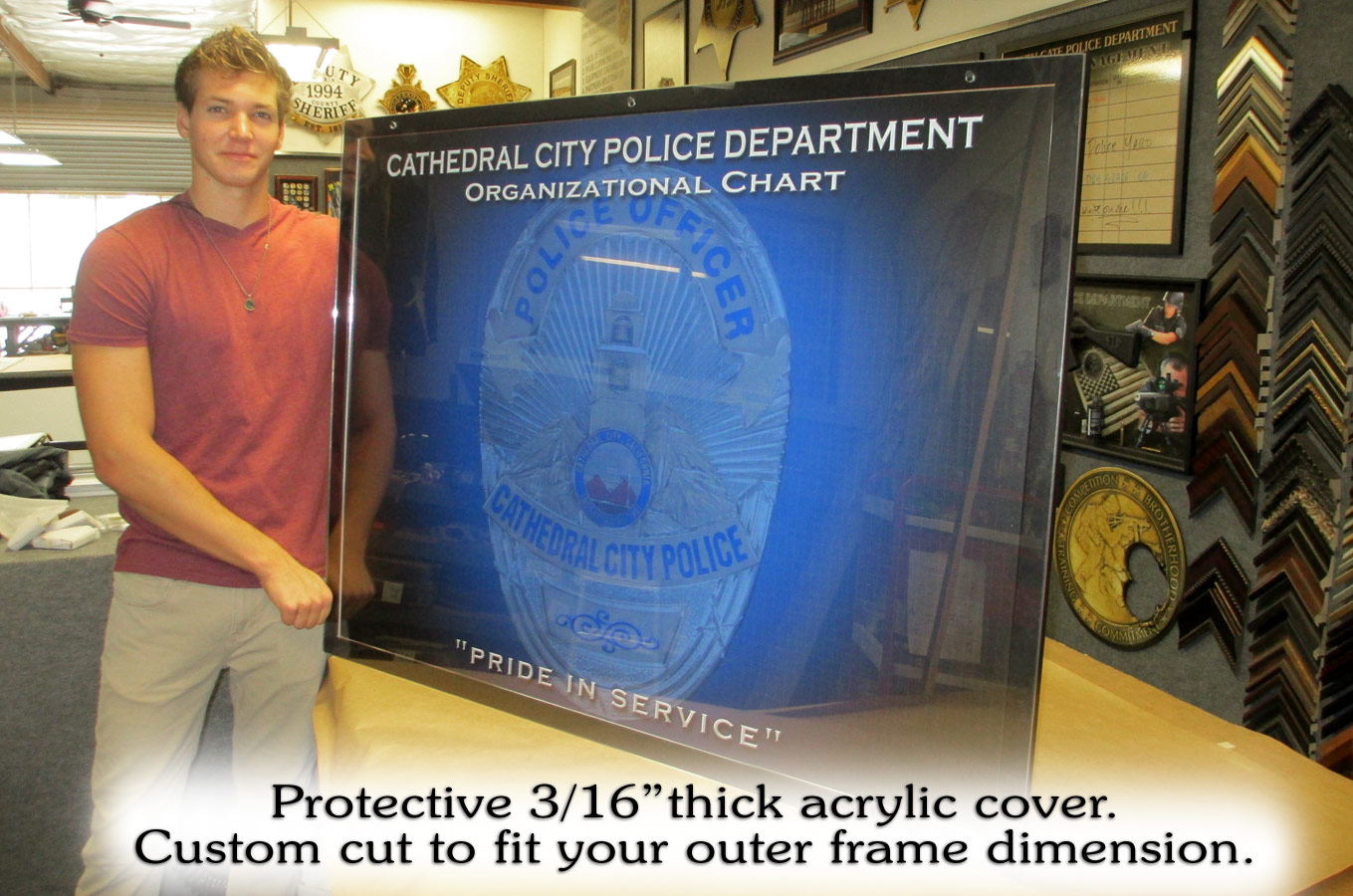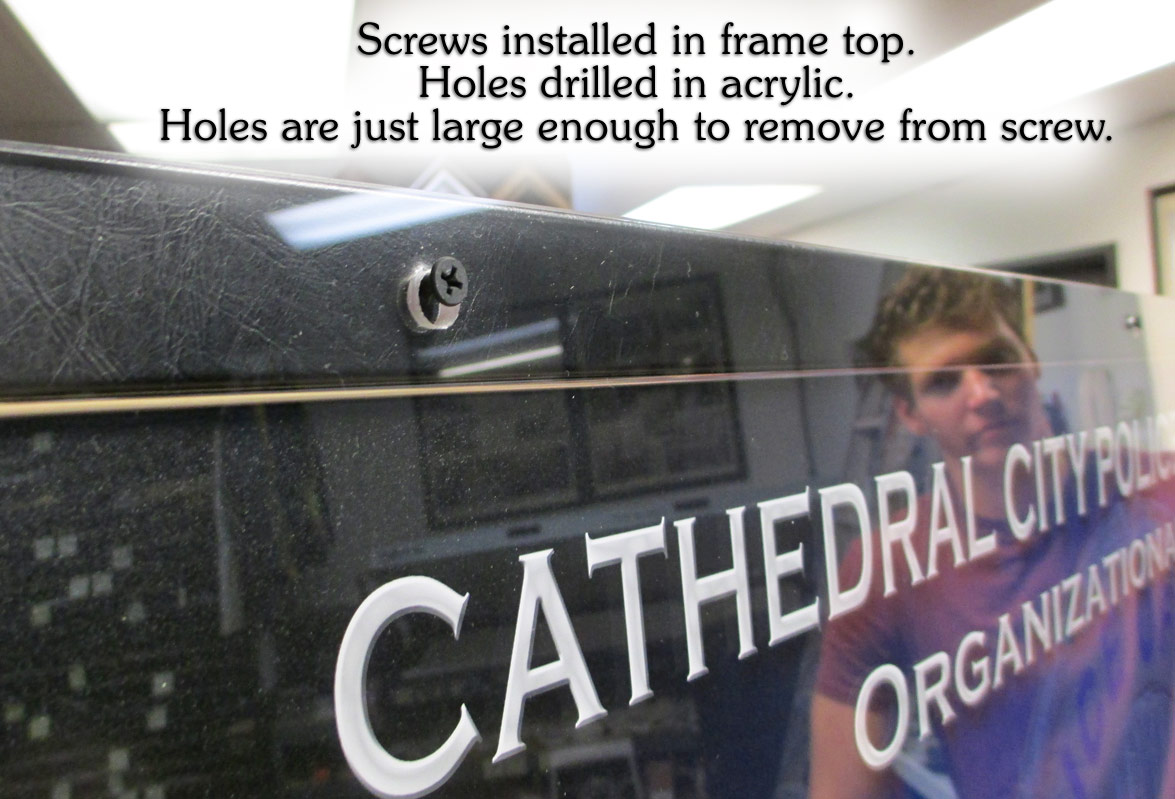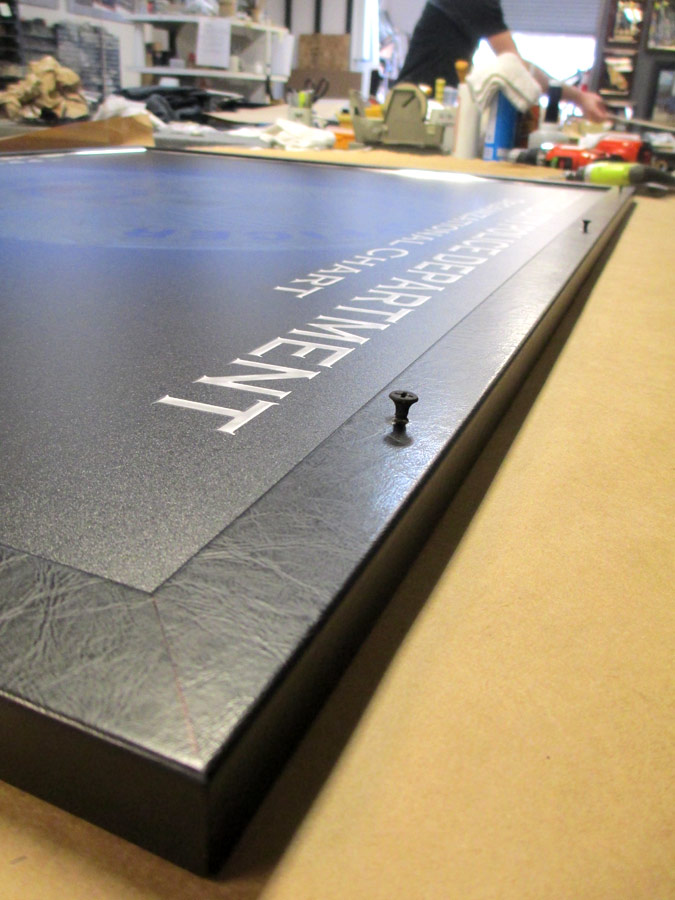 Add-on Panel Strip....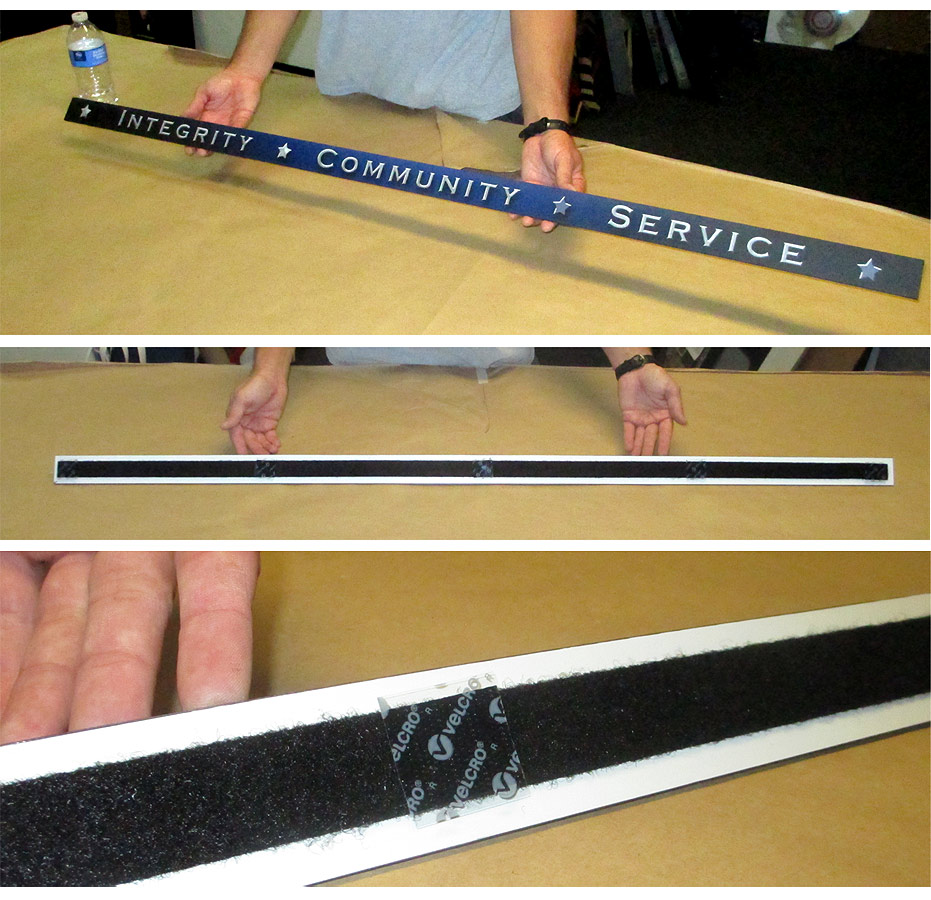 We offer these plaques with two different types of outer frames...
STANDARD FRAME VERSION - Shallow frame without depth. Everything is "up front".
SHADOWBOX VERSION - Lined sides creating a recessed, dimensional look.
You can click the links to see the differences. You can also have a removable - interchangeable CENTER FRAME or just a graphic related to the plaque.

Other Accessory Items for your Magnetic Boards...
Click on items to go the applicable site(s). Use your back button to return here.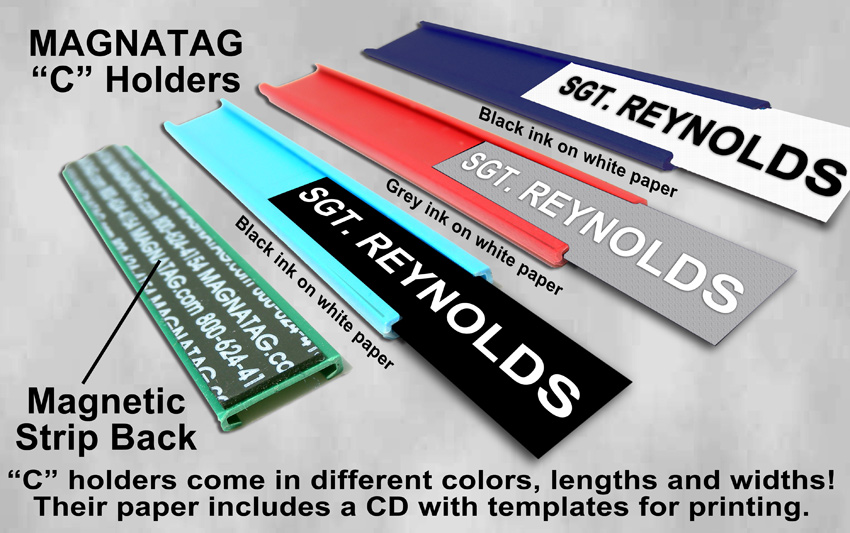 2-Sided FlipOver
®
Write-on Whiteboard Magnets Change lines of data fast and easy.
These are one of our most popular magnet styles. Move a full line ofwhiteboard scheduling data on one long
2-Sided magnet Write on one side with a second write-on color on the reverse side. 5 magnet sizes. 4 color combinations.
Use both damp and dry-erase pens and markers.
TAPES
CLAMP PAPER HOLDERS
WRITE ON STRIPS
GRIP A SHEET - Up to 70" long - Magnetic backing
MAGNET LETTERS & NUMBERS - 1/4" to 1"
MAGNETIZED CLIP BOARDS
WRITE ON PANELS / VARIOUS SIZES
See more of our framing projects at our
Baxter's Frame Works Section
Call us...(800) New-Frame / National Toll Free
© 2005 Baxter's Frame Works / Badge Frame / All Rights Reserved
3811 Schaefer Ave., Suite A Chino, CA 91710 Local (909) 591-3033
EMAIL: fwbill32@verizon.net
EM us here
HEY!!! Don't forget to sign our GUEST BOOK before you bail.