Due Dates:
To increase the likelihood of having your project completed by when you need it,
please plan to have your order placed five weeks in advance of your due date.
Here's a list you may want consider for your career presentation...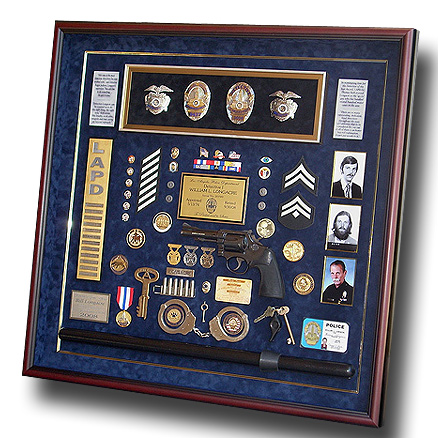 PRIMARY ITEMS:
Badges & Hat Pieces
Shoulder & Rank Patches
Assignment Challenge Coins (Pairs if you'd like front and back showing)
Identification Cards
Uniform Ribbon Bar
Uniform Name Plate
Service Year Pins
Sentimental Items
Early Career photo & Retirement and/or Later Career photos
SECONDARY ITEMS:
Firearm
Ammunition of various firearms used throughout career
Medals and Ribbon Pins
Handcuffs & Key
Assorted Keys (ignition, 999, gamewell, etc.)
Trinkets
Assorted photos
Knives
Pens
Various Department / Assignment Pins
Randomly Collected challenge coins
Business Cards
Whistles
Trading Cards
Baton
Miscellaneous Career Photographs (We print here, 90% of photos end up being resized,
so we prefer either providing us with a USB containing photos, or emailed to us.)
LARGE EQUIPMENT ITEMS (some requires extra deep shadowbox)
Mag Light
Uniform Radio
Uniform (preferably uncut and with all applicable patches, pins, and equipment already attached properly)
Certificates (can be resized smaller)
Large Jacket/Vest Patches
Holsters / Handcuff Pouch / Mag Pouch / Duty Belt
Flag
K-9 ITEMS
Dog Photos
Dog Photos with Handler
K-9 ID Card & Handler ID
K-9 Badge
Collar
Short / Long leash
Chew Toy, Tennis Ball, applicable toys, rewards, etc.
K-9 Pin
Police Dept. Patch / Soft Cloth K-9 Patch
Paw Print
ITEMS PROVIDED HERE
Photo Printing (typically $10 ea, may vary) - You can eMail us while placing your order, bring a USB with photos, or hard copies to scan and reprint/resize.
Fake ID ($20)- if you're required to return your ID, or want a replacement, take a quality photo of your ID, we can make a fake copy for your shadowbox.
Center Plaque (included in cost - excludes engraved plaques) - Please try to have the information ready for your plaque when you place your order.
Standard plaque information include Department, Rank, Name, Appointed and Retired Dates.
Feel free to customize your plaque with personal sayings, mottos, department wording, etc.
Year #'s ($20) - Typically used flanking the badges, silver or gold numbers to represent your appointed and retired year. (Ex: 1995 , 2021)
"fake" Laser Cut Logos, Emblems, Patches, Coins etc. ($45) - Don't have the real decal/item?
We can print and laser cut most images if you want a special seal or item included in your shadowbox. We will need the image.
Miscellaneous Information:
Payment is required upon pick-up, any amount the Department is willing to contribute can be paid after pick-up.
An average size is 25x25 , that would cost approximately $650, $550 if it's a standard frame, not shadowbox.
The shadowboxes are made to order, they can be any size up to 60x40.
It complicates our order to wait on additional items, please try to have all your items ready when you arrive.
You can view our website at
www.BadgeFrame.com
to see what other projects and products we have been up to.
How we work with projects delivered or dropped off to us is as follows:
Please drop off your items or ship your items via UPS or FedEx (We do not recommend USPS).
or drop off during normal business hours M-F 7:30-4:00.
If you plan to stay to design your layout one of our designers, please arrive by 3pm. We prefer appointments but walk-ins are welcome.
please print out and complete this information worksheet
http://badgeframe.com/information-worksheet.jpg
We will then:
notify you when your package is received.
create a layout proof and email it to you for approval along with applicable details and options. (plaques, frames, colors, etc.)
once the layout is approved, you will receive an estimate (our prices are (mostly) based on size and whether it's a shadowbox or standard frame).
once the estimate is approved, you will receive your name plaque proof.
payment is required before your order ships (if picking up, you can pay at time of pick up).
accounting will email an invoice with a link to pay online, an email receipt is sent automatically upon receipt of payment.
once your order is finished and paid you will receive confirmation by phone (if pick-up) or by email (if shipped).
our normal turn around is 6 weeks. RUSH services (2 weeks or less) available at additional cost.
We work hard to meet DUE DATES if applicable if they are
under the 6 week average timeline.
See more of our framing projects at our
Baxter's Frame Works Section
Call us...(800) New-Frame / National Toll Free
© 2005 Baxter's Frame Works / Badge Frame / All Rights Reserved
3811 Schaefer Ave., Suite A Chino, CA 91710 Local (909) 591-3033
EMAIL: fwbill32@verizon.net
EM us here
HEY!!! Don't forget to sign our GUEST BOOK before you bail.