Here's a list you may want consider for your career presentation...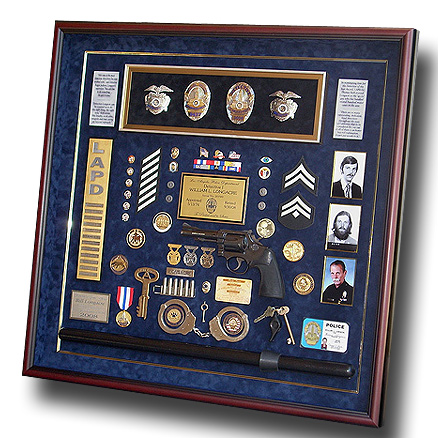 PRIMARY ITEMS:
Badges / Hat Pieces
Shoulder Patches
Rank Patches
Firearm (preferably with several rounds to said weapon)
Assignment Challenge Coins (Provide 2 of the same coin if you'd like both sides displayed)
Medals with Ribbon Pins
Name tags
Identification Cards
Handcuffs & Handcuff Key
Service Year Pins & Cloth Stripes/Stars
Sentimental Items / Trinkets
Name Plaque (We provide, just submit the information)
Academy / Early Career photo & Retirement / Later Career photo (on USB or emailed file preferably)
SECONDARY ITEMS (Fillers):
Keys
Knives
Pens
Various Department / Assignment Pins
Ammunition of various firearms used throughout career
Randomly Collected challenge coins
Business Cards
Whistles
Trading Cards
Baton
Miscellaneous Career Photographs (We print here, 90% of photos end up being resized,
so we prefer either providing us with a USB containing photos, or emailed to us.)
LARGE EQUIPMENT ITEMS:
Mag Light
Uniform Radio
Uniform (preferably uncut and with all applicable patches, pins, and equipment already attached properly)
Certificates
Large Jacket/Vest Patches
Holsters / Handcuff Pouch / Mag Pouch
K-9 ITEMS
Dog Photo
Dog Photo with Handler
K-9 ID Card & Handler ID
K-9 Badge
Collar
Short / Long leash
Chew Toy, Tennis Ball, applicable toys, rewards, etc.
K-9 Pin
Police Dept. Patch / Soft Cloth K-9 Patch
Paw Print
Paw Plaster Cast
Mounted Posse Items
Photo of Horse
Photo of Handler on Horse
Spurs
Braided horse hair from tail with ribbons
Mounted Posse Pins
City Patch
Reins
See more of our framing projects at our
Baxter's Frame Works Section
Call us...(800) New-Frame / National Toll Free
© 2005 Baxter's Frame Works / Badge Frame / All Rights Reserved
3811 Schaefer Ave., Suite A Chino, CA 91710 Local (909) 591-3033
EMAIL: fwbill32@verizon.net
EM us here
HEY!!! Don't forget to sign our GUEST BOOK before you bail.