This page will give you some great ideas on displaying Pedestal Presentations.
Give a call with any questions! (800) 639-3726
Pedestals can be made any size for accommodating various items. This piece's pedestal was approx. 5" X 6", was
black leather sided with black suede top and was approx 1.5" tall.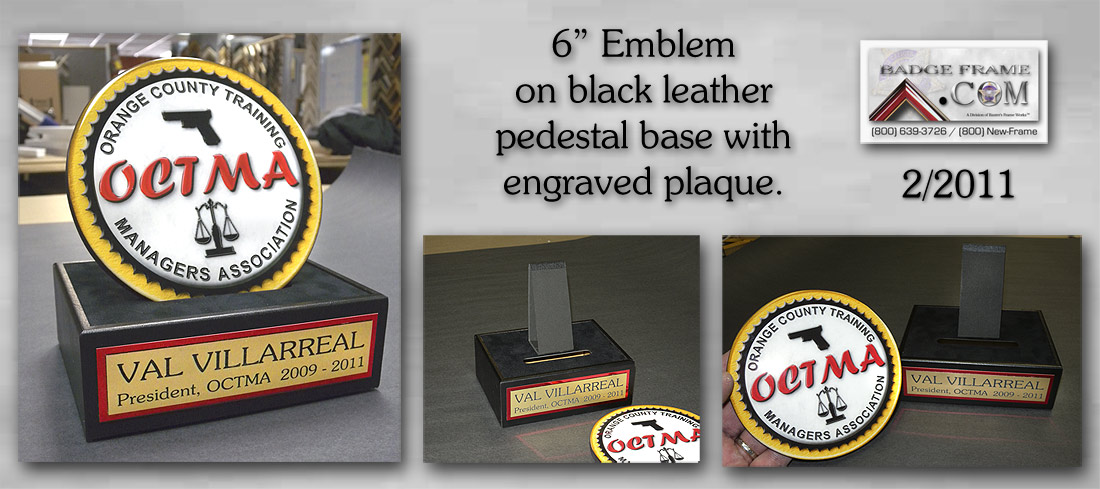 See larger image here
Pricing as shown...Emblem $72 / Pedestal $30 / Engraved plaque $45
SPREAD SOME CHEER!
Give a BADGE FRAME GIFT CERTIFICATE to your favorites.
Click here for details!
See more of our framing projects at our
Baxter's Frame Works Section
Call us...(800) New-Frame / National Toll Free
© 2005 Baxter's Frame Works / Badge Frame / All Rights Reserved
3811 Schaefer Ave., Suite A Chino, CA 91710 Local (909) 591-3033
EMAIL: fwbill32@verizon.net
EM us here
HEY!!! Don't forget to sign our GUEST BOOK before you bail.