PACKING / SHIPPING
You to us / Us to you
Firearms, Badges, Certificates.
etc.
Badge Frame / Shipping General Guidelines...


FIRST & FOREMOST...
Use UPS or Fed-Ex. DO NOT use the U.S. Mail

SHIPPING...YOU 2 US...
Be sure to package all the parts well, wrapping the "scratchable"
items in bubble-wrap or paper towels, and putting the paper items ie. certificates, diplomas,
photos all between some cardboard. Tape you box up with packing tape and
DON'T FORGET TO INCLUDE YOUR CONTACT INFO.
Make sure to put extra padding into your package so that items are not allowed
to move around inside your box during shipping. Our physical address is...
Baxter's Frame Works & Badge Frame
3811 Schaefer Ave. Suite A
Chino, CA 91710
(909) 591-3033 (800) New-Frame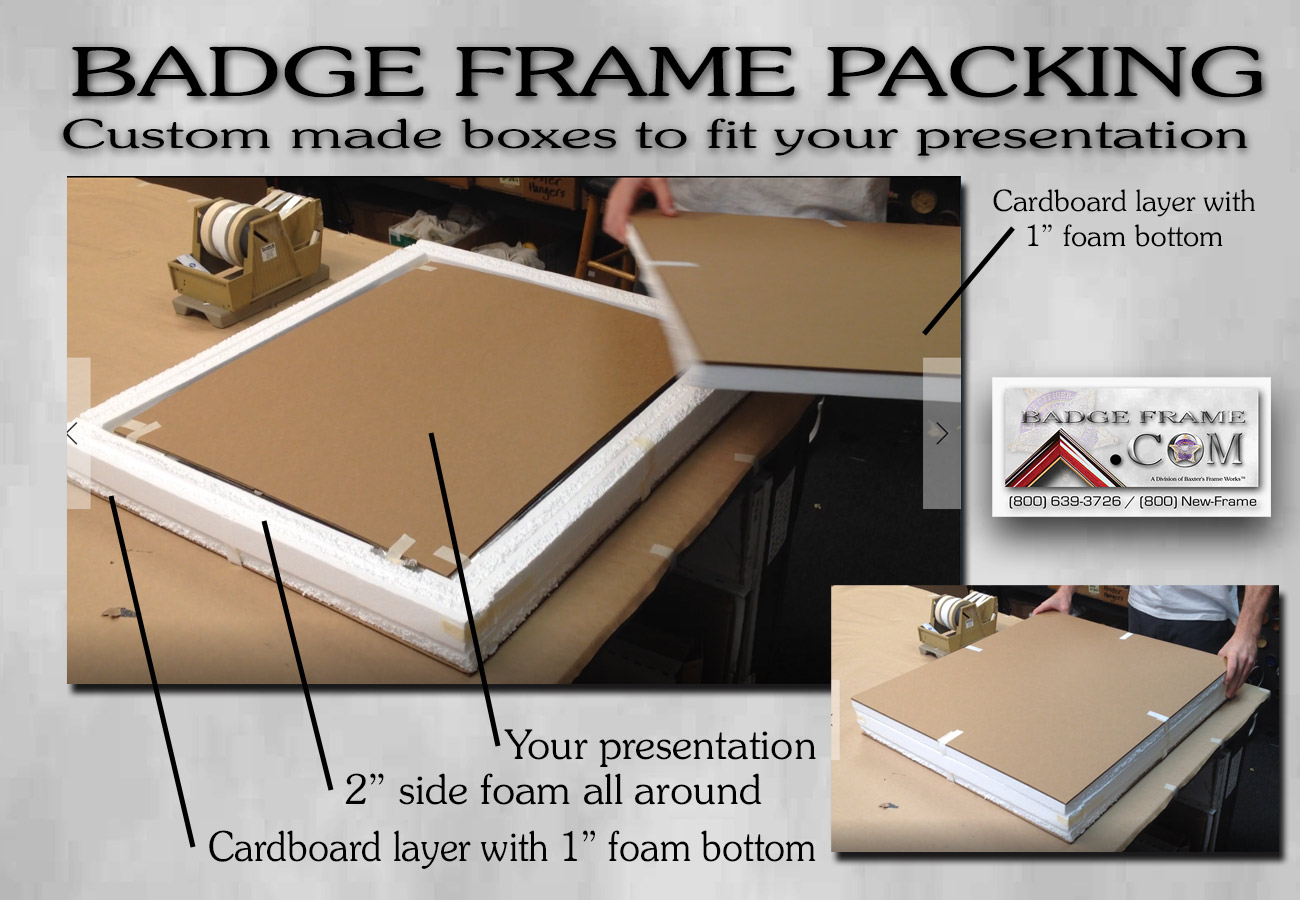 SHIPPING...US 2 YOU



Your shadowbox or framed item(s) will be professionally packed by us and returned to you. Your presentation is guaranteed to arrive safely and undamaged. Accidents however do happen.

If you have any damage or are not 1000% pleased with your product, please contact us immediately.

If your package arrives damaged, please note any damage with the carrier BEFORE YOU SIGN. Please also save all packaging and notify us within five days if there are any problems that we need to
be aware of.

We will resolve the issue(s) and get you up and running ASAP.










Shipping Rates...
All rates quoted for framing on this site DO NOT include shipping charges.
Shipping is based on your zip code location, and whether you would like it sent to a business
or residence (residence is about 15% higher).
You will be quoted exact shipping rates before we start any work on your project.

See more of our framing projects at our
Baxter's Frame Works Section
Call us...(800) New-Frame / National Toll Free
© 2005 Baxter's Frame Works / Badge Frame / All Rights Reserved
3811 Schaefer Ave., Suite A Chino, CA 91710 Local (909) 591-3033
EMAIL: fwbill32@verizon.net
EM us here
HEY!!! Don't forget to sign our GUEST BOOK before you bail.